The Best Concert Venues in Los Angeles for Live Shows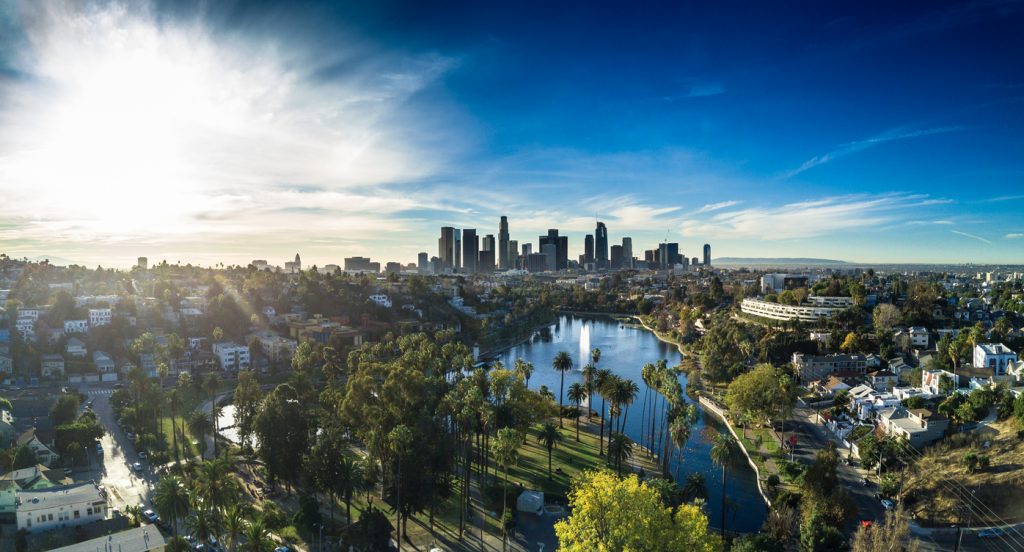 There's never a shortage of things to see and places to go in Los Angeles. LA boasts a legendary music scene that has given rise to countless iconic artists and genres. From intimate indie venues to grand arenas, the city offers a kaleidoscope of musical experiences for every taste, including amphitheaters, historic venues, arenas, clubs, and more. Not only do new destinations keep popping up, but the existing ones are continuously being improved and restored. Get to know some of La La Land's finest places to catch a concert and immerse yourself in the rhythm and soul of LA's vibrant music landscape.
Los Angeles Music Venues
---
The 5,000-capacity Hollywood Palladium concert hall on Sunset Blvd. has been a staple in the Los Angeles live music and entertainment scene since it opened in 1940. Sinatra graced the stage in the '40s, Jimi Hendrix and Stevie Wonder in the '60s and '70s; following a thorough renovation in 2008 (including a new dance floor), the Palladium hosts acts from Nine Inch Nails and Robyn to LCD Soundsystem and Björk. It's also been the location for many a live concert recording. The Art Deco space is standing-room only, including a wrap-around mezzanine, with a half circle-shaped dance floor and a ceiling accented by lights whose curves reflect those of the floor.
---
The home of the Lakers and the Kings until 1999, the Forum is now L.A.'s premier arena-sized concert venue for world-class acts like Elton John, Fleetwood Mac, and Travis Scott. Located southwest of downtown L.A. in Inglewood, the Forum was erected in 1967 (designed and named to invoke the historic Roman Forum) and was the first building of its kind to be engineered entirely without major support pillars. It can hold up to 18,000 guests and plays host to a range of events besides concerts: boxing, MMA, Cirque du Soleil, and it will be the site of the 2028 Olympics gymnastics competitions.
---
Beverly Hills' historic Saban Theatre — originally known as the Fox Wilshire Theatre — opened in 1930 in the heyday of L.A.'s Art Deco period, and architect S. Charles Lee's masterpiece hosted everything from big cinema to Vaudeville in its early days. Today, the 1,900-capacity Wilshire Blvd. theater features live music from popular legacy acts like Paul Anka, The Temptations, and Wilson Phillips, and also hosts film festival events and special movie screenings. While the building has seen numerous renovations over the years and the lighting and sound systems have been extensively updated, they've adhered to a preservation of the look and feel of Lee's timeless design; the Saban has been listed on the National Register of Historic Places since 2012.
---
On the edge of L.A.'s Koreatown neighborhood, the Wiltern theater hosts a diverse slate of shows from both indie and major-label artists like STS9, Kurt Vile, Dido, Dream Theater, and Noname. Built in 1931, the Wiltern stands below the unmissable blue-green 12-story Pellissier Building and was originally the main movie theater for the Warner Brothers chain. The loge and mezzanine balcony levels still have fixed theater-style seats, while the elegant main floor can be arranged for either standing room or partially seated for shows like the Nutcracker ballet. Look up at the ceiling and you'll see a glimmering sunburst decoration emblematic of Los Angeles' many buildings. The venue is now also easily accessible via the the adjacent Wilshire and Western (hence the name, Wiltern) Purple Line subway station.
---
One of L.A.'s newer go-to spots for rock and indie concerts opened its doors in 2015. Teragram Ballroom, in the space of a former movie theater, was reimagined by the same folks who run N.Y.C.'s stalwart Bowery Ballroom; with live music from acts like Cloud Nothings, Poolside, and Dead Sara, it has quickly carved a foothold in downtown L.A. There are three bars serving the venue, and the building has reinforced arches instead of pillars, so nothing blocks your view of the stage. For a bite to eat before a show, you can pop into Cafe Teragram and grab tacos, a burger, or apps, a clutch amenity for a 600-person venue.
---
A truly multipurpose facility, Anaheim's 18,000-plus-capacity Honda Center hosts a range of events, from the NHL's Ducks and the Big West conference college basketball tournament to concerts from acts like KISS, P!nk, Garth Brooks, and The Rolling Stones and even UFC and WWE showdowns. There's also plenty of family programming — Disney On Ice and the Harlem Globetrotters, for instance — to round out this catch-all arena's events slate. The entrance plaza to the arena, known as the Grand Terrace, is unforgettable: a stunning 15,000-square-foot space that includes shopping and the large Shock Top Terrace and bar, which opens 1 1/2 hours before events and two hours before Ducks games.
---
Don't confuse the House of Blues at Anaheim's Garden Walk with the previous location in Downtown Disney. In 2016, HOB launched the current iteration of House of Blues Anaheim and it's twice as big as before, with a ton of bells and whistles. For starters, there's four total stages between the 2,200 person main concert hall, more intimate 450 person Parish Room, 175 person Foundation Room for VIP nightlife and even the Crossroads Restaurant and Bar. Come for indie and hip-hop up-and-comers or nostalgic radio standbys, then stay for drinks and dining. And yes, the famous Sunday Gospel Brunch is still a staple.
---
Nestled among the trees on Griffith Park's Los Feliz side, the Greek Theater is a uniquely intimate 5,900 capacity outdoor amphitheater and a killer place to catch a show. While the pit section seats are always the first to go, terrace seats have great sightlines, bench seating is an affordable option and Box Suites come with dedicated wait staff for a high-end experience. Being that it's an outdoor venue, most of the programming occurs in the warmer months. Every summer's slate opens in May 10th with everything from composers, to rising stars on their first big stage, to a spectrum of classic rock standbys often making special appearances under the stars. 
---
Where else can you bring your own picnic to a concert? Bringing your own food and drink to a show at the Hollywood Bowl is pretty sweet, but the programming at the enduring 17,500-person amphitheater always steals the show. Countless icons have played the Bowl in it's 100 year history, from Ella Fitzgerald to The Doors to Roger Waters. And it's an even more impactful experience coming from the picturesque band shell-covered stage tucked into the Hollywood Hills. There isn't a bad seat in the house, but catching a show from a Garden Box is a special LA experience. The LA Philharmonic hosts its summer series at the Hollywood Bowl, as does KCRW's World Festival and the Playboy Jazz Fest. Not enough, there's a museum dedicated to Hollywood Bowl history on-site as well.
---
Browse Los Angeles Concerts by Genre
You Might Like
Step inside EverBank Stadium, home of the Jacksonville Jaguars, and learn more about this Florida staple for sports and entertainment.
Step inside Paycor Stadium, home of the Cincinnati Bengals, and learn more about this Ohio staple for sports and entertainment.
See what keeps the Sea of Red rising.