What It's Like Seeing The Weeknd for the First Time Live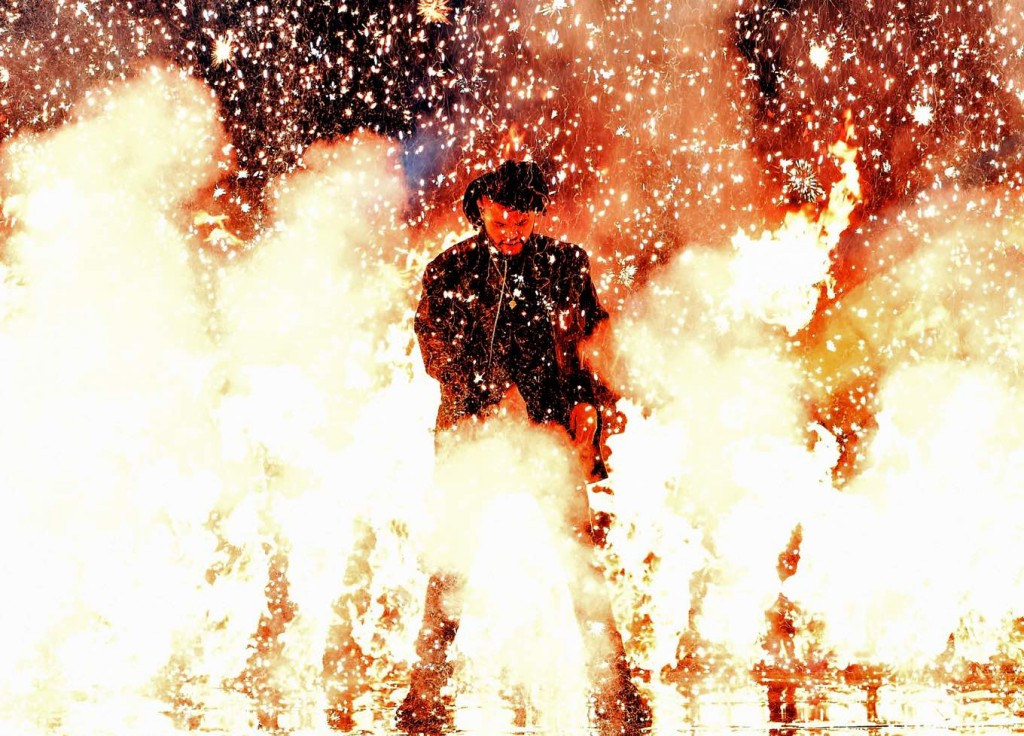 If you follow Ticketmaster at Twitter, you may have noticed that we've been asking fans to tell us what their #MyWeekendWish would be if they could attend ANY event.
Self proclaimed "Full-time Fangirl Professional" @reneekennet responded to one of our Tweets, and told us her ultimate wish was to see The Weeknd who has been heating things up across the country with The Madness Fall Tour featuring Travis $cott. We couldn't help but oblige, and we sent @reneekennet to go see The Weeknd — it was her first time seeing the breakout pop sensation live — here is her story*.
#MyWeekendWish came true thanks to @Ticketmaster!!! #TheMadnessFallTour @theweeknd ❤️🎤🎟❌⭕️ pic.twitter.com/zdxV7QfBX2

— allie (@curlyyonce) December 7, 2015
Ticketmaster: When and where did you see The Weeknd?
@reneekennet: I had the pleasure of seeing The Weeknd in San Jose, California on Sunday December 6th (2015).
TM: Was it your first time seeing him? If not, how many times have you seen The Weeknd before?
@reneekennet: This event was the first time I was able to see him perform live.
TM: What's your favorite song that was performed live by The Weeknd and why?
@reneekennet: Well my favorite song on his most recent album is, "Tell Your Friends" but surprisingly enough it wasn't my favorite during the show. It was awesome to see live, but seeing The Weeknd perform "The Hills" pretty much topped that. The amount of effects used, and the pyrotechnics made the song and performance amazing. Another song that he surprised a lot of people with was "Crew Love". I don't think that anyone was anticipating him to perform it since the song was not on his album (it's on Drake's Take Care album from 2011), but everyone went nuts and it was very enjoyable to listen and watch him perform to it.
TM: What was the overall concert like? How did it begin (Lights, crowd, first song, backdrop, etc.)? Did he do an encore?
@reneekennet: Overall, the concert was great. His set list was better than expected! I think it has a lot to do with the fact that he found the perfect mix of his older music and his more recent records. What I also enjoyed was having a big screen to watch from another angle made it better so that I was able to see a different point of view of the show. But for a good chunk of the show he was performing behind this screen, which was cool at first but after while it kind of killed the vibes. I thought it took away the experience that I wanted from him; to connect to him. Visual effects are nice, but sometimes having a simple set for a few songs can do the trick as well. He started off his set with the first song from his newest album titled, "Real Life." It was totally awesome because the entire set seemed to follow the track-listing of the album. And to top it off, he used a ton of pyrotechnics, which made it insane to watch. He did an encore of "Wicked Games" after which surprised a lot of people when they thought the show was over although I was already anticipating him to perform it. The mellow effects and mood he set after his crazy performance of "The Hills", made the whole show come together to a great ending.
TM: Tell us what it means to you to be a fan.
@reneekennet: I think it's just important to have a higher appreciation for the art this person is making as well as being able to support and relate to it. I also think it means you believe in something bigger than yourself essentially. Music is such a vital part of people's lives, it's truly life changing for some. And with all the technology we have now it makes it easier to connect with other people who feel the exact same way about an artist and their work. It gives you a sense of community or for some people like myself: family.
Ticketmaster: How do you stay connected with your favorite artists?
@reneekennet: Twitter! I think most artists use Twitter on a daily basis (except Beyoncé), which is amazing because Twitter is such a vital part in the artist to fan relationship these days. Fans have never been able to connect with their favorite artists this way ever before. So I take my part very seriously. I have the Tweet notifications turned on for all of my favorite artists!
TM: Tell us your #FirstLastNext concert.
@reneekennet:
First: Destiny's Child Farewell Tour, "Destiny Fulfilled… and Lovin' It" in 2005.
Last: The Weeknd, "Fall Madness" Tour in 2015
Next: Justin Bieber, "Purpose World Tour" in 2016!
TM: What are your top 3 favorite things to do?
@reneekennet: Besides going to concerts……? In no particular order
a. Karaoke to Pop & R&B classics
b. Annoy my dog
c. Crocheting or knitting blankets & beanies #GrandmaLife
TM: What do you do for a living?
@reneekennet: I work with kids as a recreation/day camp leader!
TM: Anything else you'd like to share about the experience?
@reneekennet: I am so glad I was able to watch Travi$ Scott, Halsey, and The Weeknd after thinking I wouldn't be able to due to the fact that they sold out instantly. It was a great experience and I enjoyed every minute of it. I was a bit shocked to see small children (elementary school age) there as I realized he was performing the explicit versions of his songs and especially the fact that his music is not generally for a younger audience. But other than that I had the greatest time!
---
So there you have it. Sounds like @reneekennet had an awesome time at The Weeknd concert. Have you seen The Weeknd this year? Tell us about your experience in the comments below.
*This fan review was created by @reneekennet who was given a ticket by Ticketmaster to attend the event. We asked @reneekennet to share her story about the experience and she agreed. The opinions are completely her own based on her experiences and do not reflect the opinions of Ticketmaster or Live Nation Entertainment.
Tags