10 Tips for Bringing Your Kids to Hot Summer Festivals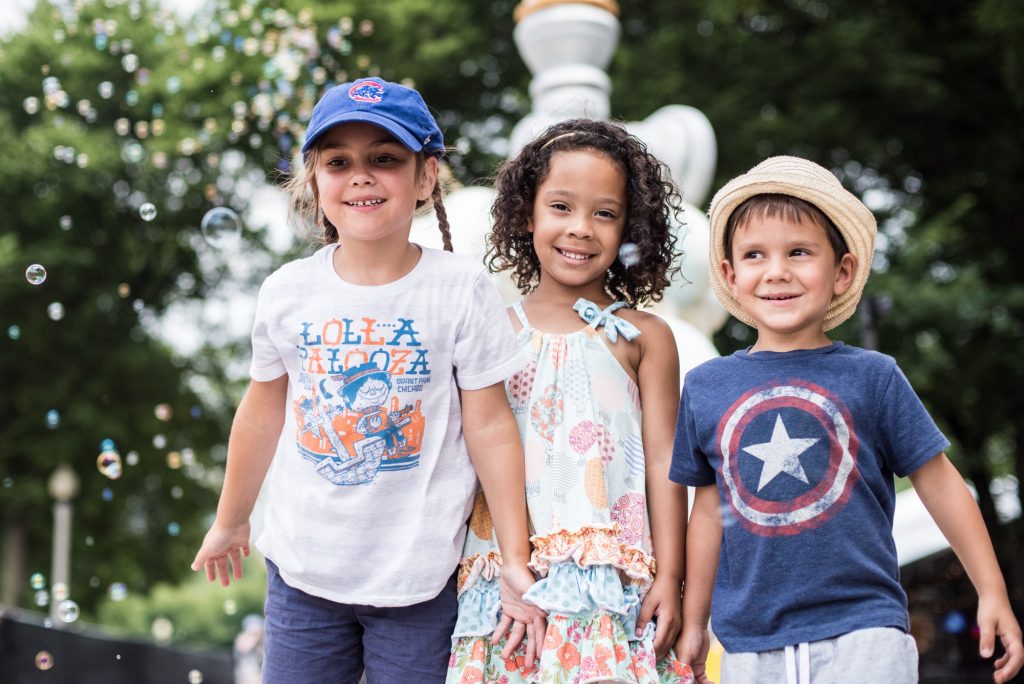 It's that time of year here in Southern California where the cities and suburbs empty out and everyone heads to the desert for the legendary Coachella Music Festival. And while the place is packed with adults — and the occasional Kardashian or two, in their perfectly curated festival garb — it can actually be a kid-friendly scene, if you know how to do it right. Here are Minimaster's tips for turning a music festival into a fun family outing for all ages.
1. Pick A Kid Friendly Festival
Turns out, most music festivals will let kids under a certain age in for free. At Coachella, it's under 5 years old, and at the country music fest Stagecoach, it's 10. Both of these festivals permit strollers, and Stagecoach even has three breast-pumping stations (BYO pump), where moms can milk it up in private. There's even a spot to refrigerate your breastmilk! If that's not family-friendly, I don't know what is.
Even better, festivals like Lollapalooza and Bonnaroo have entire areas inside their grounds just for kids. Bonnaroo has a Family Camping zone, and their Kidz Jam space inside the festival is packed with age appropriate music, crafts, games, and instruments for kids to, ya know, jam out on. Also on hand, "fresh water, sun block, earplugs and safety tips." I'll take it. And Lollapalooza's Kidzapalooza is a can't miss with music, activities and — new this year — lounge areas and ping pong tables. How awesome is that?
2. Manage Your Expectations
Look, let's be real: Any festival experience with kids is gonna be, uh, very different from your child-free days. Every parent knows that any activity with kids is a gamble; sometimes things go off without a hitch, other times everything — and everyone — falls apart. Keep an open mind as to how the day is going to go, be flexible, and try to enjoy it no matter what kid-tastrophe might come your way. You may miss your favorite band, or have to bail early, or spend most of your time standing in Port-o-Pottie lines with your little ones. However it goes, you deserve a pat on the back just for trying.
3. Get Everyone Excited
Countdown to the festival as a family, just as you would a holiday or the first day of school. Involve kids in your planning, and ask for their help prepping for the big event. Show your children photos or videos to help them understand and feel comfortable with their upcoming festival experience, and let them plan their outfits for the big weekend. If you're into it, they will be too. And don't forget to make some DIY flower crowns together before you go!
4. Protect Those Ears
Definitely don't leave home without ear protection for your kids. But also don't forget that adult ears need love too! Ear plugs for all should be a family rule when music-going together. And they'll definitely come in handy if you're camping and want to get a full night's rest.
5. Find The Food (Or Bring Your Own)
Check the festival's FAQ and figure out their food policy before you hit the road. Bonnaroo, for example, doesn't allow outside food in the festival grounds, but will permit "small snacks." Still, you'll probably need to purchase grub for you and your littles once inside, so read up on the food offerings and make a list of the vendors and choices you think your kids will snarf down. Make sure you know exactly where they're located — find the food booths before the music starts. It will cut down on wondering and wandering — and hopefully whining — when your kids get hungry.
6. Create A Family Survival Kit
Prepare a fanny pack or bag full of things you might need in a pinch — sunscreen (wipes are super easy to carry around and apply in a crowd), hand sanitizer, band aids, phone chargers, extra diapers, a change of kid clothes (you never know!), tissues, and of course, some baby wipes. Better to be safe than sorry, or worse—sunburnt.
7. When In Doubt, Safety First
If you really want some peace of mind, make or buy your children ID bracelets with their name and your info (name, phone number) on it. Chances are they won't get lost, but if it will help you relax and enjoy the music a little bit more, why not do it? You can even get ones with GPS so you can track them moving around the festival, like little tiny Ubers.
8. Water Bottles, Water Bottles, Water Bottles
Most festivals will let you bring in empty water bottles to fill inside. So don't hesitate to bring your biggest, kid-friendliest water bottles with you, and then encourage everyone to chug water through out the day, parents included. Staying hydrated is one of the easiest things you can to to stay safe, healthy, and have a good time. Bottoms up!
9. Save The Stylish Outfit For When You Have A Babysitter
Sure, we've seen the cool threads people through together for festivals. But when dressing for your big weekend, think practical first, stylish second. Pick shoes and clothes that you can dance —- and chase kids in. Chances are some little person is going to spit up on you, dump ice cream on you, or bath you in cracker crumbs. Wear something that can last through out a long day, even if it's not the coolest thing you own.
10. Lead By Example
Your kids will be looking to you as their models of how to "do" a festival right — so remember that all eyes are on you. You're creating memories for them, no matter their age. Be sure to be on your best behavior, and most importantly, dance really, really hard.
Need help picking a fest for your family? Head over to Ticketmaster's handy Festival Guide for tickets, tips and more.
Kate, the Minimaster Mom, lives and works in Southern California with her husband and daughters, ages 6 and 4. They never yell, watch TV, or eat sugar.
Tags
You Might Like
As we prepare for Lollapalooza's virtual 2020 installment, let's look back at the moments that made the festival iconic.
Headed to Voodoo? Here's everything you'll need.
The first weekend of Austin City Limits Music Festival was picture perfect.