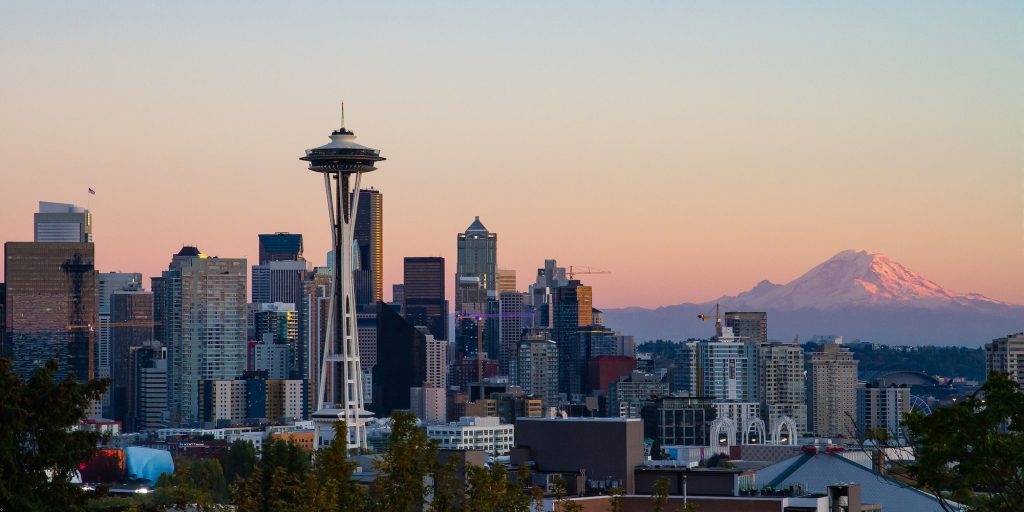 Seattle offers a live experience for every sort of fan. And it should be a crime to eat or drink at home on a game day or show night in Seattle — there are simply too many great options for pre- and post-event indulgence. If you're heading to any of the city's excellent venues, be sure to brush up on your best options before hitting the town.
Best Bars & Restaurants Near CenturyLink Field
CenturyLink Field is surrounded by some of Seattle's most vibrant neighborhoods, so the only issue you'll have is deciding exactly where to go.
Best Bars & Restaurants Near The Gorge
The Gorge Amphitheatre's food and drink offerings vary from event to event — and campsite to campsite — but nearby town Quincy has reliable brick-and-mortar options.
Best Bars & Restaurants Near Tulalip Amphitheatre
Tulalip Amphitheatre patrons looking for nearby food and drink needn't look too hard — the venue is part of the greater Tulalip Resort Casino, which contains myriad options.
The resort's best options are its fanciest: oyster flights and seared ahi at Blackfish, or bone-in ribeye and cacio e pepe from Tula Bene (both at 10200 Quil Ceda Blvd.).

For more affordable fare, try the brisket chili at

Jeff's Texas Style BBQ (9214 State Ave.), or the many-meat-supporting street tacos of La Terraza (9501 State Ave.).

Up the road, take your pick of top-notch liquid refreshment at the

Whitewall Brewing Company (14524 Smokey Point Blvd.), where they have crisp cream ales, juicy IPAs and tart hard ciders.
Best Bars & Restaurants Near The Moore Theatre
The Moore Theatre's location in Belltown ensures that show goers won't go hungry or thirsty.
For quick and easy, there's

Serious Pie (316 Virginia St.), a pizza joint known for its truffle cheese.

Those in search of a more involved Italian experience can venture to

The Pink Door (1919 Post Alley), where saucy cioppino and raviolis may be accompanied by surprise burlesque shows, depending on the night.

A few steps south, the

James Moore Bar & Kitchen (1920 2nd Ave.) has a delectable enchilada verde, while PennyRoyal (2000 2nd Ave.), across the street, mixes up superb drinks, from flaming tiki riffs to powerful whiskey concoctions served on a single rock. 
Best Bars & Restaurants Near Neptune Theatre
The Neptune Theatre is nestled in Seattle's University District — which means cheap, delicious eats abound.
U:Don (4515 University Way NE) fills bowl after bowl with thick, steaming noodles and offers a generous selection of self-serve sides.
Chi Mac (4525 University Way NE) churns out fried chicken wings however you like them: sweet, spicy or salty, and with or without a mug of frosty beer.

Meanwhile, spots like

Just Burgers (4510 University Way NE) and Aladdin Falafel Corner (4541 University Way NE) keep their offerings simple, sauced and portable. 
Best Bars & Restaurants Near Paramount Theatre
Members of the Paramount Theatre's Paramount Club gain access to a downstairs lounge complete with coat-check, cocktails and complimentary bites from the nearby Carlile Room. Non-members are hardly out of luck though.
The Grilled Cheese Experience (909 Pike St.) is just around the corner and serves its sandwiches on parmesan-crusted sourdough.

For a sit-down situation,

Daawat Grill (820 Pike St.) specializes in fluffy flatbreads and rich curries.

The

Tribeca Kitchen & Bar (809 Olive Way) is known for hearty pastas and chocolate cheesecake.

A block away, Caribbean bar

Rumba (1112 Pike St.) pours rummy punches and daiquiris.
Best Bars & Restaurants Near Marion Oliver McCaw Hall
As part of the Seattle Center, the Marion Oliver McCaw Hall is brimming with pre-show meetup spaces whether you're looking for bites or drinks.
Best Bars & Restaurants Near Showbox SoDo + The Showbox
Showbox SoDo may appear a bit isolated by its industrial environs, but pizza abounds.
Best Bars & Restaurants Near Tractor Tavern 
The humble Tractor Tavern happens to be in Seattle's Ballard neighborhood, which has some of the best dining options in town.
Best Bars & Restaurants Near The Crocodile
The back bar at The Crocodile is a destination unto itself thanks to its wood-fired pizzas, but the surrounding Belltown blocks offer stiff competition.
You Might Like
Visiting New York City is a bucket-list destination for any decorated traveler. The vast array of different avenues of culture you can explore is endless: fo...
One more place to catch excellent entertainment on the strip.
The Home of the Blues celebrates music, sports and entertainment of all kinds.