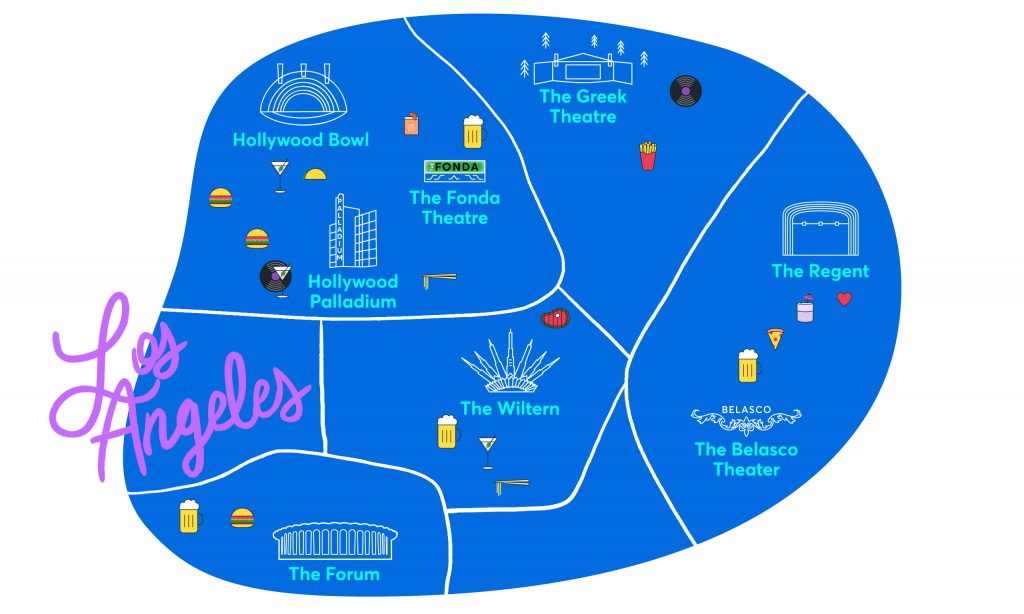 Planning on seeing a show in L.A. and making a night of it? Whether you're on a date, hanging out with buds, or flying solo, here are some of our picks for fun spots near your designated venue.
Best Bars & Restaurants Near The Wiltern
Open 'til midnight every night, Southland Beer (740 S Western #112) offers a huge draught list.
If you're looking for something more adventurous near The Wiltern, XIII Social Clubar (3514 W 8th St) has great cocktails, karaoke, and solid DJ sets.
Trying to get a classic Koreatown bite? Road to Seoul (1230 S Western) and Hae Jang Chon Korean BBQ Restaurant (3821 W 6th St) are worth visiting.
Best Bars & Restaurants Near The Hollywood Palladium
If you're feeling some stir-fry before the show at the Hollywood Palladium, The Original Hoy-Ka Thai Noodles (5908 Sunset Blvd) is a great option.
If an enormous list of tantalizing burgers and worldly beers is more your speed, try Stout Burgers and Beers (1544 N Cahuenga Blvd).
If you just want to hang, drink, and listen to some classic vinyls, check out Sunset & Vinyl (1521 Vine St).
Best Bars & Restaurants Near The Forum
One of L.A. Weekly's favorite spots in this area is Three Weavers (1031 W Manchester Blvd A-B), a brewing company where you'll find at least a dozen original beers, from saisons to — take a deep breath — a bourbon-barrel-aged imperial porter with vanilla and lactose.
Market Street Bar & Grill (244 S Market St) is another great choice, with plenty of elevated, drool-worthy bar food near The Forum.
Best Bars & Restaurants Near The Greek Theater
Big Bar (1927 Hillhurst Ave) stays true to its word: The bar menu is huge. With options like truffle fries and crab toast, this is a worthwhile stop.
Otherwise, meet up at Jacknife Records & Tapes (3149 Glendale Blvd) and pick up an LP by your favorite group. Who knows, maybe you'll get it signed at the Greek Theater.
Best Bars & Restaurants Near The Hollywood Bowl
If your night calls for something a bit upscale near the Hollywood Bowl, you won't do better than Musso & Frank Grill (6667 Hollywood Blvd), a super famous L.A. restaurant serving spectacular American food.
Otherwise, hit up 25º (7000 Hollywood Blvd), a swank hotel bar and burger joint that's open 24 hours a day, making it the perfect place to go for a late-night drink or bite.
If you just want to chill with a margarita and some solid Mexican food, head to Loteria Grill (6627 Hollywood Blvd).
Best Bars & Restaurants Near The Regent, DTLA
Clifton's Cafeteria (648 S Broadway) near The Regent is only open a few nights a week, but it's worth it for the old-timey vibe and wildly cool drinks.
Otherwise, swing by The Love Song Bar (446 S Main) to enjoy a great happy hour in their attractive, wood-laden space. Oh, and they play vinyl records.
Best Bars & Restaurants Near The Belasco Theater
Check out one of L.A.'s best beer bars in Mikkeller DTLA (330 W Olympic Blvd), which serves imported beer from around the world, including, of course, their own.
The Stocking Frame (911 South Hill Street) is a superb joint with good pub food; its killer late-night pizza special ($10 Neapolitans) makes it a perfect post-show hangout spot from the Belasco Theater.
Best Bars & Restaurants Near The Fonda Theatre
If you dig historic dive bars, Frolic Room (6245 Hollywood Blvd) is your move — they're open late and offer good, strong drinks.
For a solid menu with vegan-friendly eats, visit Blue Palms Brewhouse (6124 Hollywood Blvd), which has a nice tap list that's rotated daily and is situated just off the lobby of the Fonda Theare.
If you're nearby on a Thursday night, hit Tabula Rasa Bar (5125 Hollywood Blvd) for its weekly La Morra Pizzeria pop-up featuring a seasonal rotation of toppings and fire-roasted chili peppers from a mobile brick oven.
You Might Like
One more place to catch excellent entertainment on the strip.
The Home of the Blues celebrates music, sports and entertainment of all kinds.
The Sooner State boasts a premier destination for sports, music and a vast array of other entertainment.