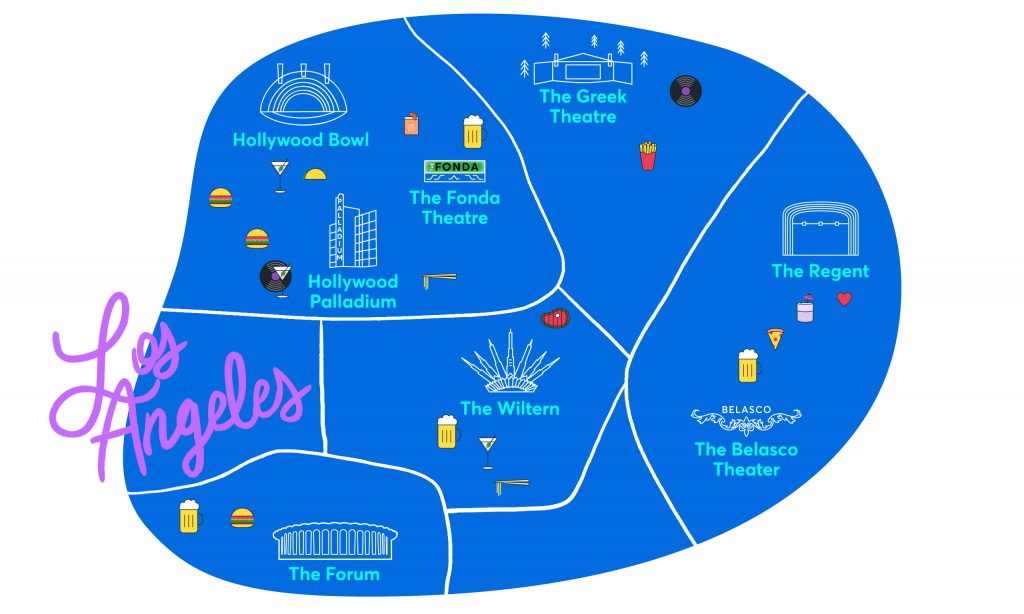 Planning on seeing a show in L.A. and making a night of it? Whether you're on a date, hanging out with buds, or flying solo, here are some of our picks for fun spots near your designated venue.
Open 'til midnight every night, Southland Beer (740 S Western #112) offers a huge draught list. If you're looking for something more adventurous, XIII Social Clubar (3514 W 8th St) has great cocktails, karaoke, and solid DJ sets. Trying to get a classic Koreatown bite? Road to Seoul (1230 S Western) and Hae Jang Chon Korean BBQ Restaurant (3821 W 6th St) are worth visiting.
If you're feeling some stir-fry before the show, The Original Hoy-Ka Thai Noodles (5908 Sunset Blvd) is a great option, but if an enormous list of tantalizing burgers and worldly beers is more your speed, try Stout Burgers and Beers (1544 N Cahuenga Blvd). If you just want to hang, drink, and listen to some classic vinyls, check out Sunset & Vinyl (1521 Vine St).
One of L.A. Weekly's favorite spots in this area is Three Weavers (1031 W Manchester Blvd A-B), a brewing company where you'll find at least a dozen original beers, from saisons to—take a deep breath—a bourbon-barrel-aged imperial porter with vanilla and lactose. Market Street Bar & Grill (244 S Market St) is another great choice, with plenty of elevated, drool-worthy bar food.
Big Bar (1927 Hillhurst Ave) stays true to its word: The bar menu is huge. With options like truffle fries and crab toast, this is a worthwhile stop. Otherwise, meet up at Jacknife Records & Tapes (3149 Glendale Blvd) and pick up an LP by your favorite group. Who knows, maybe you'll get it signed at the show.
If your night calls for something a bit upscale, you won't do better than Musso & Frank Grill (6667 Hollywood Blvd), a super famous L.A. restaurant serving spectacular American food. Otherwise, hit up 25º (7000 Hollywood Blvd), a swank hotel bar and burger joint that's open 24 hours a day, making it the perfect place to go for a late-night drink or bite. If you just want to chill with a margarita and some solid Mexican food, head to Loteria Grill (6627 Hollywood Blvd).
Clifton's Cafeteria (648 S Broadway) is only open a few nights a week, but it's worth it for the old-timey vibe and wildly cool drinks. Otherwise, swing by The Love Song Bar (446 S Main) to enjoy a great happy hour in their attractive, wood-laden space. Oh, and they play vinyl records.
Check out one of L.A.'s best beer bars in Mikkeller DTLA (330 W Olympic Blvd), which serves imported beer from around the world, including, of course, their own. The Stocking Frame (911 South Hill Street) is a superb joint with good pub food; its killer late-night pizza special ($10 Neapolitans) makes it a perfect post-show hangout spot.
If you dig historic dive bars, Frolic Room (6245 Hollywood Blvd) is your move—they're open late and offer good, strong drinks. For a solid menu with vegan-friendly eats, visit Blue Palms Brewhouse (6124 Hollywood Blvd), which has a nice tap list that's rotated daily and is situated just off the venue's lobby. If you're nearby on a Thursday night, hit Tabula Rasa Bar (5125 Hollywood Blvd) for its weekly La Morra Pizzeria pop-up featuring a seasonal rotation of toppings and fire-roasted chili peppers from a mobile brick oven.
You Might Like
When people say, "I'm going to Orlando," it's generally accepted as shorthand for a Disney vacation. But this city planted nearly in the center of The Sunshi...
Though Chicago historically is known as the font of a distinctive strain of blues music, this gorgeous city on Lake Michigan has the venues (and artists and ...