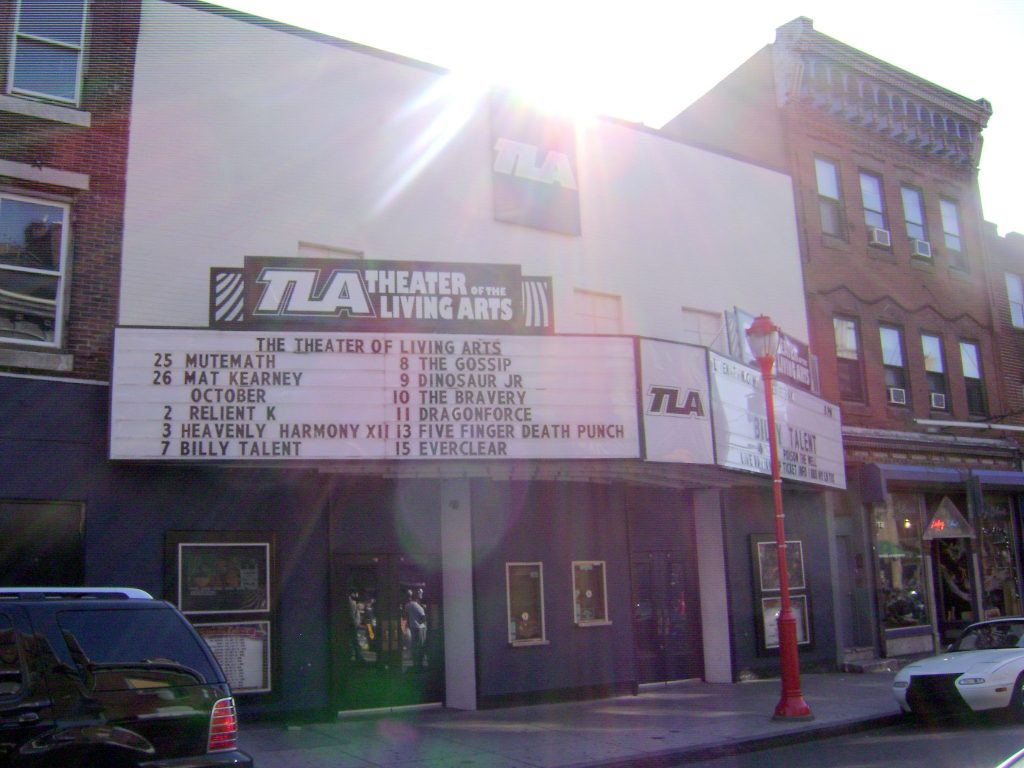 Theatre of Living Arts History
South Street's premier place for live music was a nickelodeon known as the Crystal Palace when it opened in Philadelphia in 1908, and in the years since, the space has hosted opera performances, art shows and screenings of The Rocky Horror Picture Show. Christened the Theatre of Living Arts by actress Anne Ramsey and her husband Logan during its stint as a repertory theater in the 1950s, the space became a full-time concert venue in 1988.
Theatre of Living Arts Performers
In addition to hosting intimate hometown shows by the likes of The Roots, Dr. Dog, and G. Love and Special Sauce, the TLA is a favorite venue for They Might Be Giants, Yonder Mountain String Band and mewithoutYou.
Planning Your Visit to Theatre of Living Arts
The South Street area is one of Philadelphia's most vibrant neighborhoods, with a wide variety of dining and drinking options. Tattooed Mom is a South Street staple that offers an eye-popping display of art, reasonably priced cocktails and Taco Tuesdays; Neighborhood Ramen is a BYOB noodle shop with a fast-moving line; Puyero Venezuelan Flavor serves up arepas, patacones and other street food; and Serpico is a collaboration between restaurateur (and former TLA owner) Stephen Starr and chef Peter Serpico that focuses on globally inspired, seasonally rooted fine dining.
Theatre of Living Arts Frequently Asked Questions
What are the Theatre of Living Arts parking options?
Metered parking is available on South Street and other streets near the venue. There is also a cash lot at 5th and Bainbridge streets.
Does Theatre of Living Arts serve food?
The concession stand serves popcorn.
What are the seating options at Theatre of Living Arts?
Most shows are general admission. Access to the bar areas is limited to those 21 and over with identification. ADA seating and other accommodations for concertgoers with disabilities are also available. Contact the venue's box office at 215-922-1011 for details. Find tickets here.
What are the Theatre of Living Arts' safety & security guidelines?
Flash photography is not allowed without artist approval. The TLA's clear bag policy allows only clear plastic, vinyl or PVC bags (maximum size 12″x6″x12″) or small clutch bags (maximum size 4.5″x6.5″) inside the venue. For more information, including details on the TLA's COVID-19 policies, visit the venue's safety guidelines page.
""