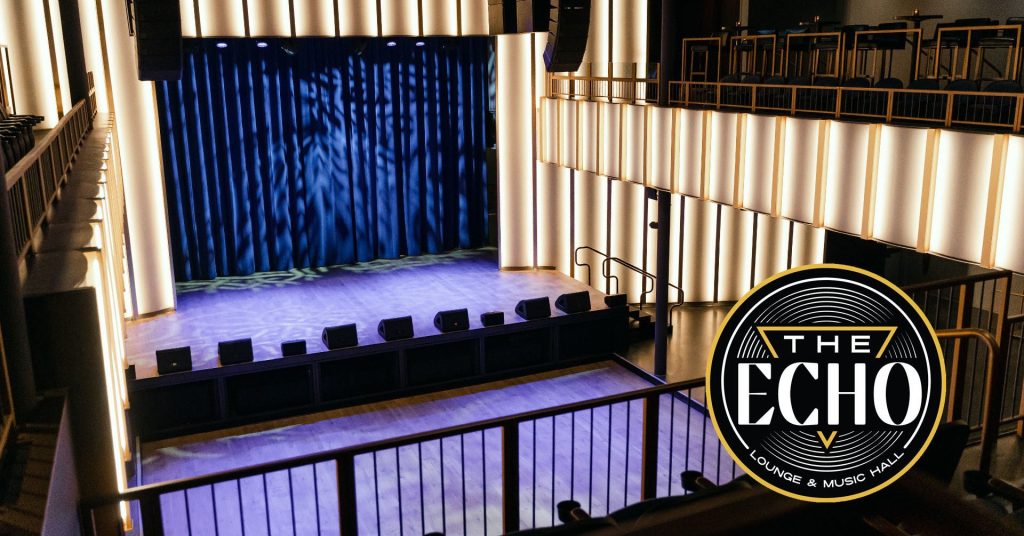 The Echo Lounge & Music Hall History
Originally set to open in May 2020, The Echo Lounge rescheduled its first live events for 2021, making it the first concert venue in Dallas' famed Design District. And true to the neighborhood's name and heritage, The Echo Lounge has transformed a former furniture-warehouse site into a striking two-story architectural marvel — complete with large-windowed walls that lend its exterior a lightbox effect — with room for 1,000 attendees.
The Echo Lounge Performers
Early bookings at The Echo Lounge include modern-rock acts like The Revivalists and Two Feet, with subsequent programming to accommodate a variety of genres including EDM, country, hip-hop and metal. And given that The Echo Lounge is the brainchild of Dallas Mavericks CEO Mark Cuban (owner of the lot on which the building stands), expect crossover events between the venue and the team, who train at a facility right next door and play at the nearby American Airlines Center.
Planning Your Visit to The Echo Lounge
The Dallas Design District is no misnomer — the neighborhood is largely the domain of furniture showrooms, creative studios and industrial plazas populated by carpet and fabric suppliers. So although the area surrounding The Echo Lounge & Music Hall isn't teeming with nightlife, the nearby Community Beer Co. is a popular local microbrewery where you can grab a pre-show pint (interested in learning about the best bars in Dallas for live music?)
The Echo Lounge Frequently Asked Questions
What are The Echo Lounge parking options?
Parking is available on-site.
Does The Echo Lounge & Music Hall serve food?
Yes. Food, beer and cocktails are available inside the venue, in the VIP-only Echo Lounge and on the outdoor patio.
What are the seating options at The Echo Lounge & Music Hall?
The Echo Lounge & Music Hall is split between a general-admission floor space and a seated balcony section. Visit our website for current seating charts.
What are The Echo Lounge & Music Hall safety & security guidelines?
The Echo Lounge & Music Hall allows clear plastic, vinyl or PVC bags with a maximum size of 12"x6"x12". Small clutch bags are also permitted with a maximum size of 4.5"x6.5". For a complete list of security guidelines, including COVID-19 protocols, visit The Echo Lounge & Music Hall website.
You Might Like
The essential spots to take in music entertainment throughout the Valley of the Sun.
Fill your visit with unforgettable entertainment on anything from a Bulls basketball game to a top-tier arena-filling concert blowout.
Pier Six Pavilion History Since 1981, the Pier Six Pavilion has been one of Baltimore's most instantly identifiable landmarks, with a white big-top tent ceil...