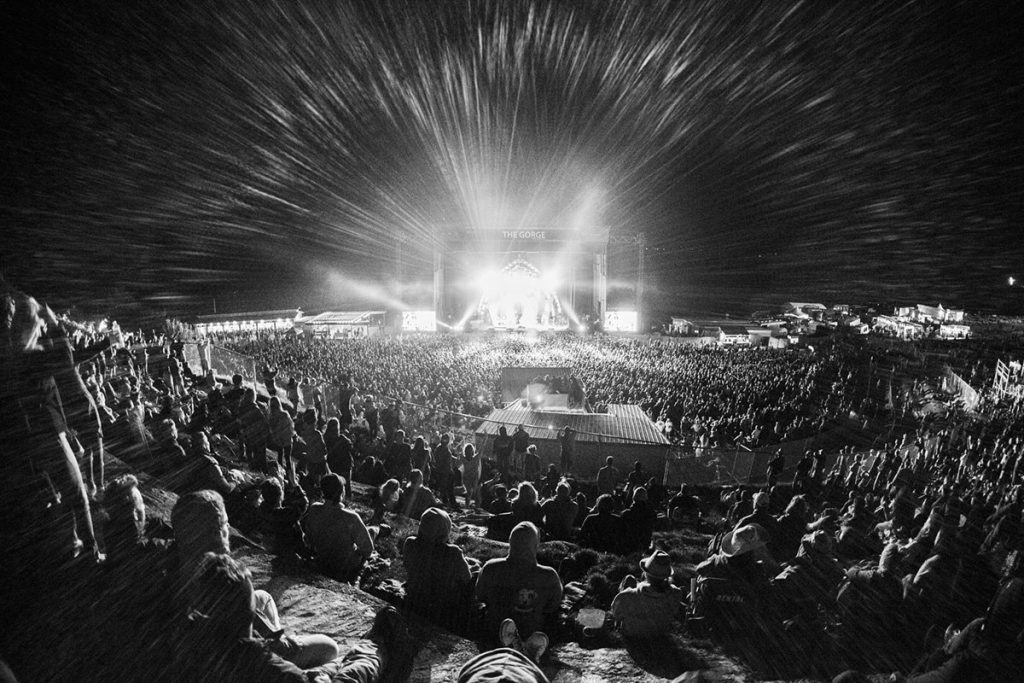 The Gorge Amphitheatre History
Widely considered one of the world's most scenic concert locations, The Gorge Amphitheatre is an unforgettable place to see a show. Originally known as the Champs de Brionne Music Theatre, it opened in 1986 in a stunning spot 150 miles east of Seattle near the Columbia River Gorge. It was later expanded into a 20,000-capacity venue that plays host to many of music's biggest acts and most iconic festivals.
The Gorge Amphitheatre Performers
The Gorge's combination of spectacular scenery and state-of-the-art sound makes it a favorite of performers and audiences alike. Among the many return visitors are Pearl Jam and the Dave Matthews Band, both of whom have released live recordings of shows performed here. Phish have been another regular sight on The Gorge's stage since the jam band's inaugural appearance in 1997. Lollapalooza, H.O.R.D.E., Lilith Fair, Vans Warped Tour, Sasquatch and Ozzfest have all been major events here, too.
Planning Your Visit to The Gorge Amphitheatre
Many concertgoers take advantage of The Gorge's incredible surroundings by staying over at the official campground adjoining the venue. Event ticket-holders with a love for the outdoors have a range of choices that include standard sites for single tent and vehicle as well as Glamping and Gorge Oasis options for campers who enjoy a little more luxury. The Sagecliffe Resort & Spa offers another means for patrons to stay over in style, with Northwest cuisine at Tendrils as a further bonus. More dining options are available in the nearby town of Quincy.
The Gorge Amphitheatre Frequently Asked Questions
What are the Gorge Amphitheatre parking options?
Regular parking is available in the main lot, which generally opens two hours before event start time. Alternatively, visitors can upgrade to STAR parking for reserved spots close to the main gates. There is no parking or camping on nearby county roads or private property. Find designated parking for physically challenged patrons at the front gate.
Does Gorge Amphitheatre serve food?
Yes. The Pavilion has many concession stands, bars and lounges with a wide array of food and drink options. Along with special stands like ArtBird, Questlove's Cheesesteak and Trejo's Tacos, there's also an onsite convenience store.
What are the seating options at Gorge Amphitheatre?
Options include reserved seats, general admission lawn tickets, and PIT tickets for visitors who want to get close to the action onstage. Accessible options are also available in the reserved seating.
What are the Gorge Amphitheatre safety & security guidelines?
For the safety of all patrons of The Gorge, the following items cannot be brought into the venue: outside alcoholic beverages, lounge or elevated chairs, laser pointers, large bags, and flash photography, video and removable lens cameras. More safety and security guidelines can be found here.
You Might Like
Everything you need to know about Miami's hub for sports and entertainment.
Xfinity Center History Since 1986, Xfinity Center has been Massachusetts' premier venue for outdoor concerts in a tree-lined setting. Originally known ...
Gainbridge Fieldhouse History In the heart of Indianapolis, Indiana, Gainbridge Fieldhouse has hosted a dizzying number of all-star athletes and world-class ...