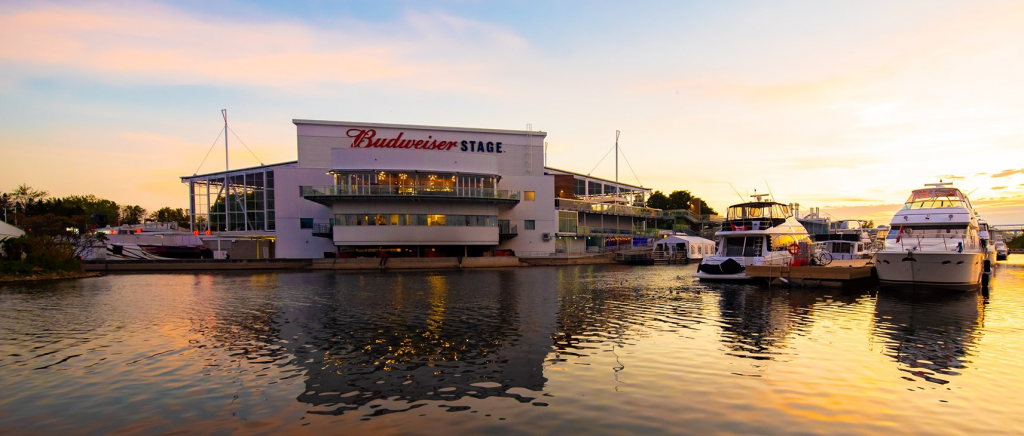 Budweiser Stage History
Located on the grounds of Toronto's waterfront amusement park, Ontario Place, the Budweiser Stage first opened in 1995 as the Molson Amphitheatre, before acquiring its Budweiser moniker in 2017. Built on the site of the beloved — but much smaller — Ontario Place Forum, the Budweiser Stage is Toronto's largest outdoor venue dedicated exclusively to concerts. Its 16,000-person capacity is evenly divided between covered pavilion seating and a large open-air lawn at the back. Open from May to October, the Budweiser Stage is Toronto's premier summertime concert destination.
Budweiser Stage Performers
In true Canadian style, the amphitheatre opened with two sold-out performances from national icon Bryan Adams, and over the years, the venue has welcomed the biggest names in rock, including Rush, R.E.M., Foo Fighters and The White Stripes. But since 2010, the amphitheatre has been unofficially known as the House of Drake — the Toronto rapper has made the space his headquarters for his recurring, star-studded OVO Festival, whose superstar guest list has included JAY-Z, Stevie Wonder, Rihanna and Cardi B.
Planning Your Visit to Budweiser Stage
The Budweiser Stage's waterfront location puts it at a bit of a remove from Toronto's downtown core, so eating options are mostly limited to on-site concession stands, unless you plan to grab a bite in Liberty Village, about a 15-minute walk away. Those attending in late August can double their fun by hitting the neighboring Canadian National Exhibition fairgrounds for a pre- or post-show carnival experience. And if you'd rather leave the car at home, the Budweiser Stage is easily accessible via the Martin Goodman Trail, a foot and bike path that runs along Toronto's shoreline.
Budweiser Stage Frequently Asked Questions
What are Budweiser Stage's parking options?
The Budweiser Stage does have on-site parking lots, but space is very limited. Other nearby parking options within walking distance include the Exhibition Place grounds, the Fort York National Historic Site and the Liberty Village neighborhood.
Does Budweiser Stage serve food?
On-site concessions serve typical outdoor-event staples like pizza slices, nachos and hot dogs. The Budweiser Stage also hosts a select number of local food trucks on the venue grounds.
What are the seating options at Budweiser Stage?
The Budweiser Stage features three tiered sections of seating, a general-admission lawn section, and a small floor area in front of the stage that can be converted from a seated section into a general-admission space.
What are Budweiser Stage's safety & security guidelines?
Consult the venue's website for a complete list of rules and restricted items.