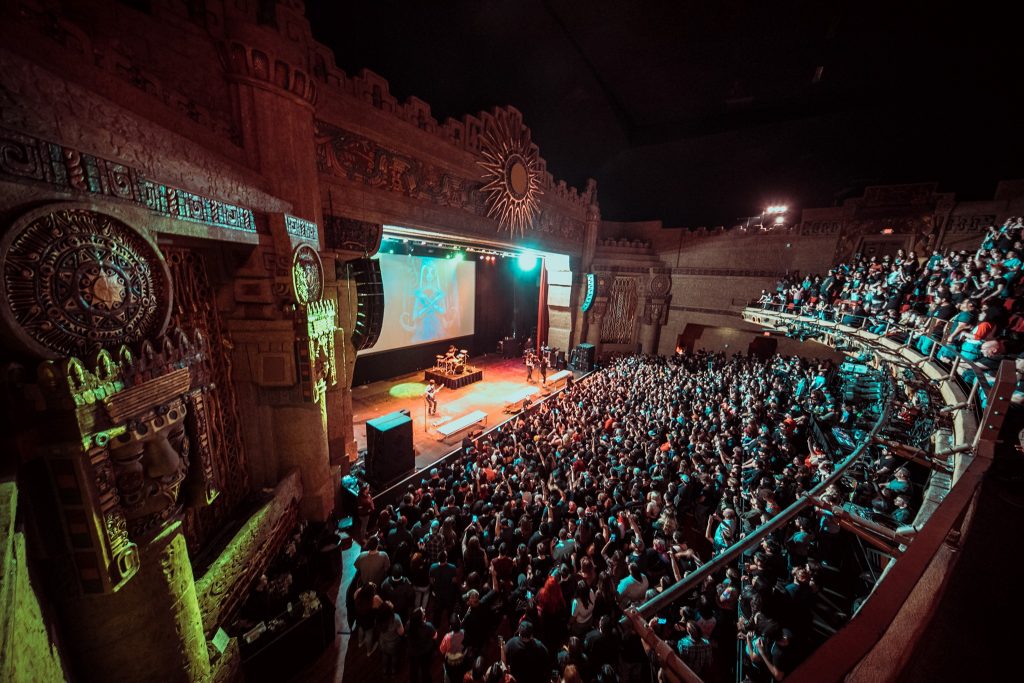 Aztec Theatre History
The Aztec Theatre in downtown San Antonio is a crown jewel of the city's cultural legacy. It opened in 1926 as a grand movie theater with a dazzling mix of modern architecture and ancient Aztec imagery, located right alongside the San Antonio River. It closed in 1989 but was added to the National Register of Historic Places, and when it was rebooted as a music venue in 2009 it was restored to all its former glory — from the eye-popping murals to the jaw-dropping two-ton chandelier in the lobby. Since 2013 the Aztec's been a multipurpose venue, offering rental facilities for private functions while still bringing cutting-edge concerts to the public.
Aztec Theatre Performers
In its original incarnation, the Aztec filled visitors with a cinematic sense of wonder. Now its 21st-century iteration accomplishes a similar task but with live music instead of movies. The theater's gorgeously framed stage has hosted roots-rock legends Los Lobos, country hitmaker Chris Lane, funk godheads Parliament-Funkadelic and rockers from Marilyn Manson to The Raconteurs.
Planning Your Visit to the Aztec Theatre
The Aztec's close proximity to the River Walk means more than just a picturesque setting. It puts patrons near spots like the Iron Cactus, a top-tier Tex-Mex eatery offering lobster tacos, pork tamale pops, Mexican meatloaf and pollo relleno. And if you're a tequila lover, you can tumble right into the Agave Bar, one of the most celebrated tequila bars in the nation, where you'll get your margarita on in style.
Aztec Theatre Frequently Asked Questions
What are the Aztec Theatre parking options?
The Aztec doesn't have its own lot. But the theater is at the corner of St. Mary's and E. Commerce, with multiple parking lots along E. Commerce.
Does the Aztec Theatre serve food?
Along with beverages offered at the bar, the Aztec has anticipated patrons' snack attacks by adding some food like pizza and nachos to its concessions.
What are the seating options at the Aztec Theatre?
With a capacity of nearly 1,500, the theater offers floor, mezzanine and balcony-level seating. Premium seating packages are also available. Find tickets here.
What are the Aztec Theatre safety & security guidelines?
The theater enforces a clear bag policy. COVID-19 safety regulations include mandatory masks, reduced capacity, social distancing and sanitization. Detailed guidelines can be found here.
""
You Might Like
Everything you need to know about Miami's hub for sports and entertainment.
Xfinity Center History Since 1986, Xfinity Center has been Massachusetts' premier venue for outdoor concerts in a tree-lined setting. Originally known ...
Gainbridge Fieldhouse History In the heart of Indianapolis, Indiana, Gainbridge Fieldhouse has hosted a dizzying number of all-star athletes and world-class ...