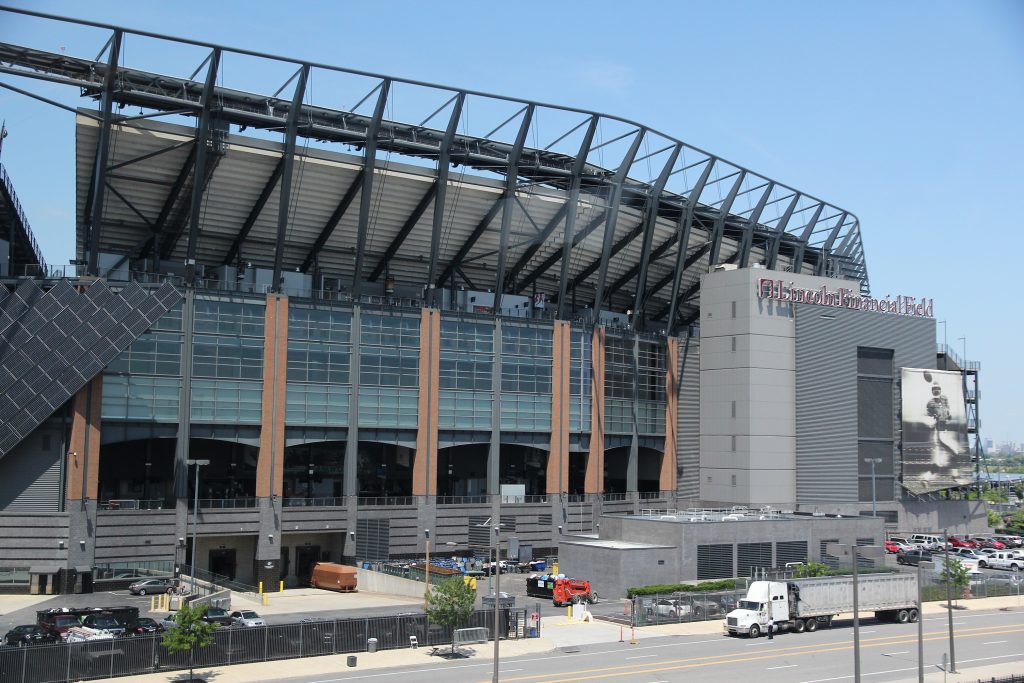 From hulking 21st-century stadiums to storied theaters that opened in the vaudeville era, Philadelphia has a wide variety of places to take in a sporting event or concert. Below, we've rounded 10 of the most iconic and exciting venues to experience a live event. And be sure to check out all the places you can dine before and after shows, too.
Philadelphia Sports and Music Venues
Home to the Philadelphia Eagles — who brought their first Super Bowl championship home in 2018 — and the Temple Owls, Lincoln Financial Field has anchored the Sports Complex in South Philadelphia since its opening in 2003. The 69,000-capacity stadium, known to locals as "The Linc," opened its doors with a soccer match between Manchester United and FC Barcelona on August 3 of that year, and five days later, New Jersey's favorite son Bruce Springsteen ushered in the stadium's live-music offerings with three concerts. Since then, artists like Taylor Swift, Fall Out Boy and Kenny Chesney have made tour stops there, while the Eagles have headed up a sports roster that includes the Owls, NCAA Lacrosse and multiple instances of the Army-Navy Game. 
Putting the "multi" in the phrase "multipurpose arena," the Sports Complex's indoor arena is home to the NHL's Philadelphia Flyers, the NBA's Philadelphia 76ers, the AFL's Philadelphia Soul and the NLL's Philadelphia Wings. The arena, which holds almost 18,000 for arena football games and more than 20,000 for basketball, opened in August 1996 with a private concert by Ray Charles, and in the decades since it's been one of the city's most versatile large venues. It's hosted the WWE's Royal Rumble, the extreme-sports extravaganza known as the X Games and multiple instances of the NBA and NHL finals. Banners hanging from the arena's rafters honor the multiple sold-out performances by rock luminaries Billy Joel, Bruce Springsteen and Pearl Jam. 
Since 2004, Citizens Bank Park has been home to the Philadelphia Phillies, replacing the legendary Veterans Stadium with a more modern structure that gives baseball and music fans a ballpark with a view of the city's skyline. The Phillies won their second World Series at Citizens Bank Park in 2008 in a memorable way, wrapping up a game on October 29 that began on October 27. Citizens Bank Park has hosted a number of massive concert tours, including shows by Jason Aldean, Billy Joel and Bruce Springsteen, who in 2012 became the first musical act to perform at every one of Philadelphia's major concert venues.    
Camden's year-round entertainment complex anchors the waterfront across the Delaware River from Philadelphia, bringing in an assortment of artists to its 25,000-capacity amphitheater during the summer concert season and its 7,000-capacity indoor theater when the weather gets cold. Opened in 1995, the amphitheater has a view of the Philadelphia skyline and Ben Franklin Bridge, and it's accessible from Philadelphia via car or the RiverLink Ferry, which runs extended hours when shows are occurring.   
Nestled in Philadelphia's sprawling Fairmount Park — one of the country's most historic urban parklands — The Mann has hosted pop, classical, and hip-hop artists since 1976. It's the summer home of the Philadelphia Orchestra, and it's featured classical-music luminaries including violinist Itzhak Perlman, cellist Yo-Yo Ma, and violinist Midori. It's also broadened its programming horizons, welcoming artists Sigúr Ros and Jack Johnson, musicals like "Cats" and the home-grown Philadelphia tradition The Roots Picnic to its stage. 
A historic North Broad Street jewel, The Met Philadelphia was built in 1908 as the Philadelphia Metropolitan Opera house. In the century-plus since, it has served a variety of functions for Philadelphians, hosting concerts by the likes of Mahalia Jackson, boxing matches and basketball games. It even had a life in the '20s as a movie palace. A fixture on the National Register of Historic Places since 1972, The Met was restored to its full glory by its owners and Live Nation in the 2010s, and it commemorated its rebirth with a Bob Dylan concert in December 2018. 
Located in a 125-year-old former metal factory in Philadelphia's Fishtown neighborhood, The Fillmore Philadelphia is actually a complex made up of three venues: The 2,500-capacity main room, which boasts great sightlines for even those in the back, the 450-capacity Foundry and the lounge-y Ajax Hall. Blending gritty urban touches like a VW bus and graffiti with fancy flourishes like grand chandeliers, The Fillmore Philadelphia builds on the rock 'n' roll history established by the original Fillmore in San Francisco while also harnessing lots of Philadelphia charm.    
South Street's live-music anchor began its life as the Crystal Palace in 1908, showing five-cent movies to all comers. Since then, it's had multiple lives as a repertory theater (which gave it its present-day name), an art-film mecca and a nightclub. In 1988 the Theatre of Living Arts began its current incarnation as a music hall, featuring next big things like Lennon Stella and outright big things like the Red Hot Chili Peppers. 
A joint venture between Philadelphia promotion company R5 and New York-based Bowery Presents, the 1,200-capacity Union Transfer is located in an 1889 structure that originally hosted the Spring Garden Farmers Market. In the early 20th century it was the headquarters for the Union Transfer Baggage Express Company, and that baggage-storage outfit gave the venue its current name. Located on Spring Garden Street right near Northern Liberties, Union Transfer opened as a music venue in 2011 and since then has hosted shows by Frank Ocean, M83 and many more.   
Built in 1927 as one of Upper Darby's first movie palaces, the Tower Theatre sits right by the 69th Street Terminal. While it opened as a movie and vaudeville house, the 3,100-capacity Tower also has incredible acoustics, and David Bowie's 1974 album David Live was recorded over the course of an engagement there. The Tower lurks in a lot of record collections: A 1980 Paul Simon show was filmed and released as the film Paul Simon in Concert, and a 1987 Jethro Tull show at the Tower was recorded for an episode of The King Biscuit Flower Hour.