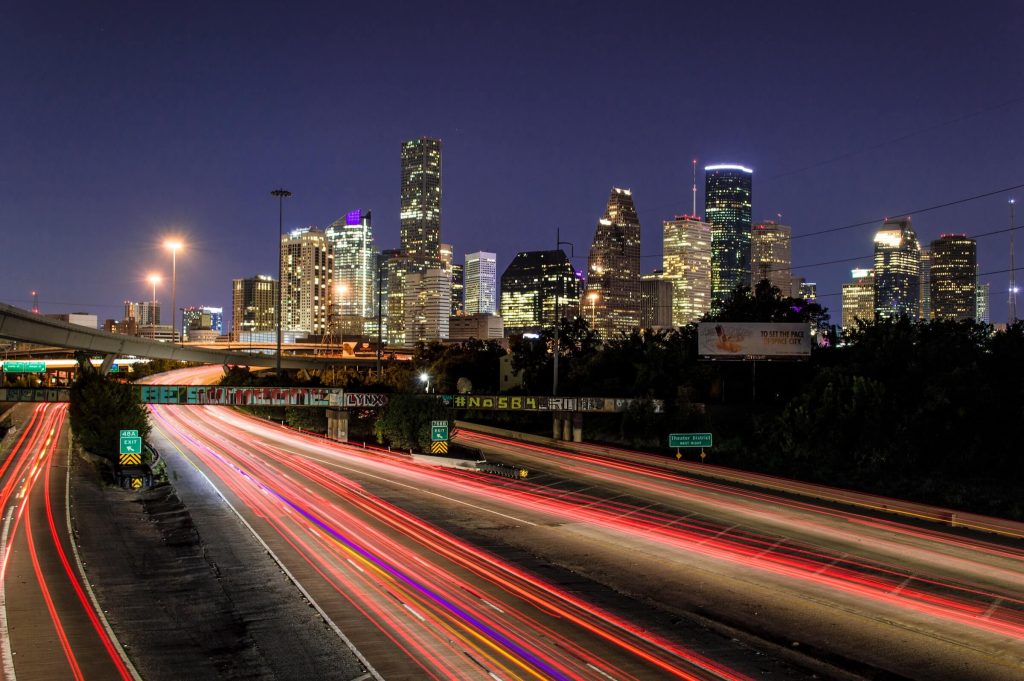 Don't let the Texas heat slow down your adventures in Houston, the nighttime is the perfect setting to explore the Space City. With a booming tourist economy, the largest city in Texas has you covered for any and all after-dark shenanigans. Whether you're a sports fan, a concertgoer, a comedy junky, a thrill-seeker, or a brainiac, you better be ready to put on your cowboy boots and flannel shirt because there's a never-ending list of things to do in Houston at night.
Cheer on Houston Sports
View this post on Instagram

A nighttime professional sports game is an amazing family friendly activity to do in Houston. Baseball is one of the prides of Texas, and with night games mostly starting at 7:10 p.m., checking out the World Champion Houston Astros at Minute Maid Park is a must-do while exploring Houston at night. Located in the heart of downtown Houston, Minute Maid Park has an incredible 242-foot-high retractable roof and natural grass field. Come enjoy the fresh Texas air in one of the 41,000 seats and slam a couple of hot dogs while watching one of the best baseball teams in the country compete on their home field. If baseball is not your thing, the Houston Texans football team at NRG Stadium offers more than 72,000 general seating options. Also with a retractable roof, enjoy the hard-hitting football action of Monday Night Football or Thursday Night Football, rain or shine, in this spectacular Houston arena. Basketball enthusiasts will love the Toyota Center in the center of downtown Houston. Home to the Houston Rockets, this venue offers a wide variety of food and drink options, making it the ultimate atmosphere and perfect location to enjoy a sports game.
Rock Out at a Concert
View this post on Instagram

From intimate head-banging raves to large upscale venues, a concert is a fun and exciting thing to do in Houston at night. The House of Blues in Houston is an extravagant 43,000-square-foot, multi-level venue that hosts some of the top acts in the world. Grab a drink at the full bar or get a bite at the Southern-inspired restaurant while enjoying your favorite live music. You can also catch a great live concert featuring artists of all genres — from country to rock — at the Bayou Music Center. This general-admission venue  is standing-room-only so you can catch the show from the front of the stage. Or, you can also purchase reserved booth, box and perimeter seating. With a capacity of 2,400, you will be sure to find the right spot in this mid-sized venue. If clubs are more your thing, Numbers Night Club is a counterculture landmark in Houston. With a state-of-the-art laser/light show, numerous video projectors and no dress code, this club caters to high-intensity fans who love DJs, crowds and live music.
Find concert tickets in Houston
Laugh at a Comedy Show
View this post on Instagram

The Houston comedy scene is quickly gaining popularity and is a go-to nightly hot-spot. Improv, stand-up and sketch comedy are expertly performed throughout this happening city. The Houston Improv comedy club contains a full bar and kitchen and holds a variety of events. See a family friendly comedy magic show, a famous stand-up or a laugh-out-loud local improv group at this 450-guest-capacity venue. The Riot comedy club in Houston holds nighty stand-up events such as "Cancel Culture," "Unbelievable Stories" and "Saturday Night Late Show." Grab a bite and a drink while performers push the boundaries of dark comedy at these 18+ events. Improv and sketch comedy thrive at Crush City Comedy, located in the Black Box Theatre of Houston's ComedySportz, this venue is in the heart of downtown Houston and has a BYOB policy. Enjoy these hilarious comedy troupes performances, while enjoying the drinks of your choice.
Find comedy tickets in Houston
Get Cultured and Learn Something New
View this post on Instagram

Nights in Houston are not just for partying, they can also be fun and educational. Take for example, the Houston Ballet at the Brown Theatre-Wortham Center or the Houston Museum of Natural Science, which has a number of night attractions for children and adults. Explore the majesty of the museum as well as individual programs that can include events such as scavenger hunts, planetarium shows and even a Sleuths & Secrets detective game. As one of the most haunted cities in America, Houston has a number of Ghost Tours. These nightly tours take you around downtown Houston to show the most evil and spirit-filled locations. Come learn the creepy history of Houston and experience why it has become a hub for ghost research and exploration. If you'd rather use your brain for problem-solving and creative solutions, come to an escape room in Houston. With multiple locations throughout the city, these escape rooms offer the chance to show off your inner Sherlock Holmes by solving a series of clues and puzzles to figure your way out of the locked enclosure.
Find arts & theater tickets in Houston