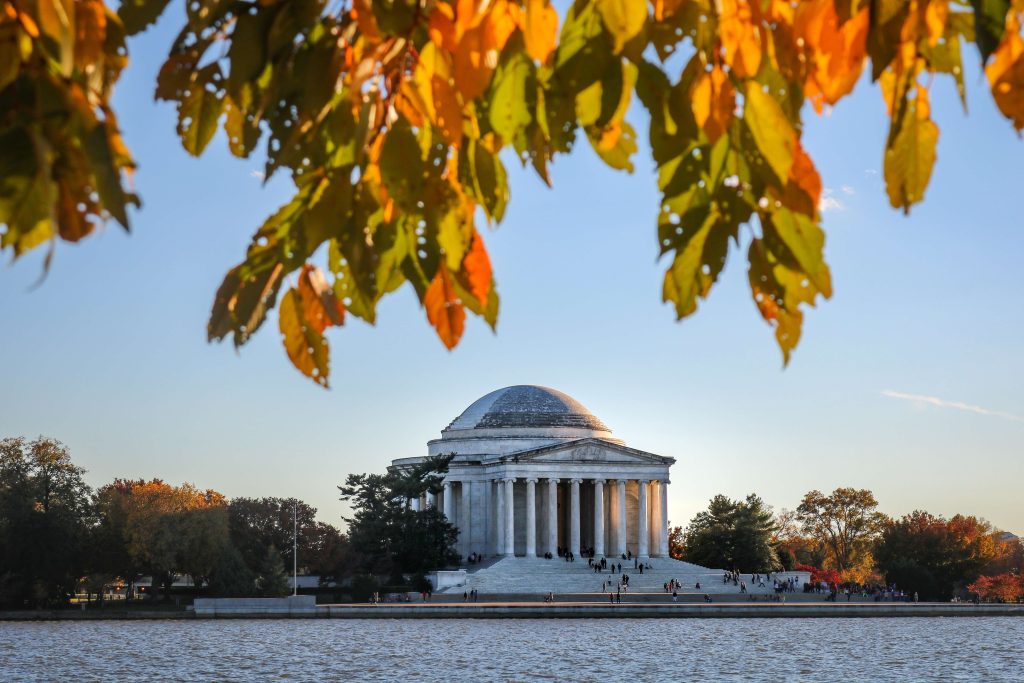 As the temperature cools and the leaves change into their mystifying red, orange and golden hues, a serene calm comes across Washington, D.C. in the fall. One of the most beautiful places in the country, fall in D.C. is full of fun and exciting activities for everyone to enjoy. Whether it is cheering on a local sports team, jamming out at one of the many concert venues, laughing till you cry at a comedy club, or exploring world-renowned museums, Washington, D.C. has you covered. We created a list of fall activities that are sure to satisfy any visitor's needs; so forget the vigorous planning, we've got you covered below.
Cheer on Washington, D.C. Sports
View this post on Instagram

Fall is the perfect time for professional sports, especially in the sports-heavy town of Washington, D.C. It is one of the rare times of the year where football, basketball, soccer, and hockey are all in season. Come watch a D.C. United match at the stunning Audi Field. Enjoy the outdoor seating by breathing in the crisp autumn air and rooting for the local soccer team. Or head to Capital One Arena for a Washington Wizards basketball game or a Washington Capitals® hockey game.
Located in the heart of downtown Washington, D.C., the indoor Capital One Arena is the perfect location to blow off steam after a long day of exploring. For fans of football, be sure to check out the Washington Commanders at FedEx Field. With a capacity of 82,000, you will be sure to find the perfect seat at this outdoor stadium. Take in the lovely fall D.C. weather and get some snacks as you surround yourself with cheerful and enthusiastic football fans.
See sport events in Washington, D.C.
Rock Out at a Concert
View this post on Instagram
From shoulder-to-shoulder raves to large individual seating concert halls, Washington, D.C. in the fall is an excellent time to catch a show. The legendary 9:30 club has been voted the No. 1 nightclub by Rolling Stone, Billboard and Pollstar more than any other venue in the country. Previously hosting acts such as Bob Dylan, Johnny Cash, Radiohead, The Foo Fighters, and Drake, and with a capacity of 1,200 people, this venue is the perfect size for an intimate concert experience.
If you're trying to experience a more personal setting, stop by the Pearl Street Warehouse for a drink, a meal and show. Located at The Ward on the Southwest Waterfront, The Pearl Street Warehouse is a neighborhood go-to. With craft beers, a diner and a max capacity of 300, every row is the front row for this cozy live music hotspot.
If raving is more your thing, Soundcheck is a nightclub in Washington, D.C. that specializes in DJs, performing house, techno, hip-hop, and Latin music. Known for their amazing sound system and stunning light show, this location will keep you dancing all night long. For the large arena experience, check out The Anthem. It is a top-tier 57,000-square-foot venue holding up to 6,000 concertgoers. Opening in 2017, The Anthem is a miraculous place to see a show. With balcony seating options accompanied by general admission tickets, every seat in the house has an excellent view.
See concerts in Washington, D.C.
Laugh at a Comedy Show
View this post on Instagram
Sketch Comedy, improv and stand-up are all exhilarating activities to do during the fall in Washington, D.C. DAR Constitution Hall hosts some of the world's best comedians. Located adjacent to the White House, in the heart of Washington, D.C., and opening in 1929, this venue was designated as a national landmark in 1985. Who doesn't want to experience a hysterical show live from inside a historic building?
If large venues aren't your thing, head to the DC Improv to experience one of the best comedy clubs in Washington, D.C. This quaint venue has stand-up, sketch comedy and improv events daily. With multiple rooms, there is an event for all types of comedy fans.
Stand-up also lives at Underground Comedy in Washington, D.C. It contains a full bar and intimate comedy shows. A must-visit for true comedy fans, it has a number of local legends and big names performing on a nightly basis.
See comedy shows in Washington, D.C.
Learn Something New at a Museum
View this post on Instagram
The world-renowned Smithsonian Institution Museums are a must-see when visiting Washington, D.C. in the fall. With 17 museums, galleries and a zoo, enjoy walking from museum to museum while experiencing the majesty of the changing tree colors. With more than 150 million objects and works of art scattered throughout, there are endless things to see and learn about. The entire museum collective is also free, so you can enjoy a carefree day while learning about world history.
If you're visiting with children, the National Children's Museum of Washington DC combines science, technology, engineering, arts and math (STEAM) in an extravagant display of hands-on learning for young ones. Come participate in the open space while letting your child explore and imagine. Located on Pennsylvania Avenue, it is the perfect location to surround yourself with history and science. If you fancy a walk around 1700s America, come to George Washington's riverside estate. Open 365 days a year, view the first president of the United States' mansion, surrounding buildings, farm, tomb, and garden. The absolutely perfect thing to do in Washington, D.C. in the fall, the outdoor estate gives a glimpse of what life was like 250 years ago.
You Might Like
Step inside EverBank Stadium, home of the Jacksonville Jaguars, and learn more about this Florida staple for sports and entertainment.
Step inside Paycor Stadium, home of the Cincinnati Bengals, and learn more about this Ohio staple for sports and entertainment.
See what keeps the Sea of Red rising.