Things to Do in Atlanta: The Ultimate Super Bowl LIII Travel Guide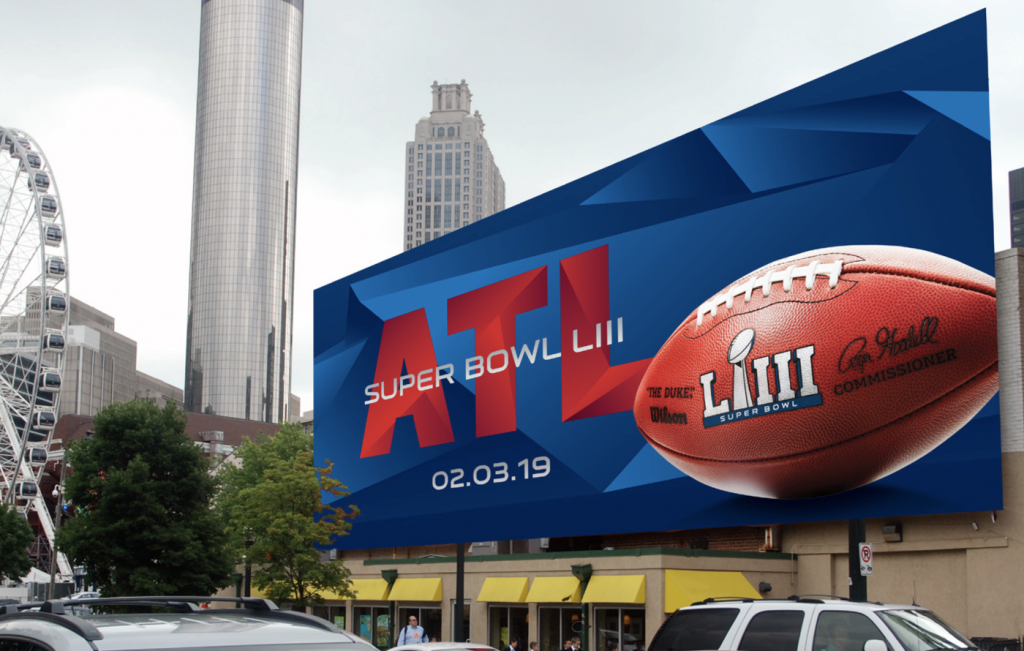 A new gem in the heart of Atlanta, Mercedes-Benz Stadium will host Super Bowl LIII on Feb. 3, 2019, making the ATL the center of the sports world for one big weekend. The stadium itself provides a state-of-the-art experience, but there's a lot more to love about the area. With countless bars, restaurants, and event venues, fans traveling to see football's biggest game will have a ton of things to see and do.
A Well-Designed Machine
Mercedes-Benz Stadium became the new home of the Falcons in 2017, replacing the now-demolished Georgia Dome. The new stadium boasts advanced technology while being one of the most environmentally friendly arenas in sports. It is the first professional sports stadium in the U.S. to achieve LEED Platinum status, the global standard that measures a building's sustainability.
The stadium has 4,000 solar panels that provide enough renewable energy to power 10 Falcons games. It has the capacity to store more than 2 million gallons of storm water, allowing it to prevent flooding in surrounding areas. It uses 82,000 square feet of LED lighting, reducing energy usage by up to 60 percent. It is a modern marvel of sustainability, but also provides fans with an unmatched gameday experience.
The Front Porch is a 61,000-square-foot outdoor plaza that provides fans with live entertainment, food, and drinks on gameday. The Window to the City gives fans an incredible view of the Atlanta skyline while also providing natural light. The stadium's retractable roof means fans never have to worry about bad weather affecting their experience. Mercedes-Benz Stadium clearly is ready to host the NFL's biggest game.
Hanging Out in Hotlanta
The Super Bowl is obviously the big event that will bring people to Atlanta, and it will attract fans from all over the world. But there's so much more to enjoy in the area, which is full of historic districts that inform the culture of the city. Here are just a few suggestions of places to visit when you travel to Atlanta:
Midtown
The cultural center of the city, Midtown is colloquially known as the "Heart of the Arts" and offers one of the widest selections of art and cultural institutions in the entire Southeast United States. It is the home of the Atlanta Botanical Garden, the High Museum of Art, the Atlanta Ballet, and the Atlanta Symphony Orchestra. But that's just scratching the surface of what this district has to offer. If you're looking to experience culture while you're in the city, this is the place to go.
Piedmont Park
Located on the edge of Midtown, Piedmont Park is a huge urban park. It has more than 180 acres of open space, walking trails, tennis courts, and playgrounds, providing a little something for the whole family. It's also a common host for cultural festivals and other community events — everything from beer gardens to arts & craft fairs to the Atlanta Dogwood Festival. The park is open to the public and is bordered by Lake Clara Meer, providing beautiful scenery either during the day or at night (it's open from 6 am-11 pm).
West Midtown
This district's location may seem straightforward (it's west of Midtown), but its borders are not officially defined by the city, leaving some debate about where the district starts and ends. Adding to the confusion, this district also is simply called the "Westside" by locals. But no matter what geography or name you use, the district is full of tons of great options for food and drinks.
Martin Luther King Jr. National Historical Park
Located in the Old Fourth Ward district of Atlanta, this park contains buildings that memorialize the early days of Martin Luther King Jr.'s life. These include his boyhood home as well as Ebenezer Baptist Church, where King and his father were pastors. The area was designated a National Historic Park in January 2018, and also includes a museum focused on the American Civil Rights Movement. If you're going to spend a couple weeks in Atlanta before Super Bowl LIII, there are events in January every year on Martin Luther King Jr. Day that celebrate King's life.
Treats for Your Taste Buds
Mercedes-Benz Stadium has plenty of concession options, but the site of Super Bowl LIII isn't the only place you can get some grub. In fact, there are tons of options for bars and restaurants, many relatively close to the stadium.
The Optimist
If you're a fan of seafood and oysters, you can't do better than The Optimist. It offers one of the most unique dining experiences you'll find. It's named after a boat, has an oyster bar shaped like a surfboard, and has an outdoor turf lawn with miniature golf. But don't let the trappings distract you from the incredible food and drink options. The chefs expertly cook over a wood fire and their cocktail menu is sure to please even the most discerning drinkers. It's not cheap, but the menu and atmosphere are worth the price. Plus, it's just a short drive away from Mercedes-Benz Stadium.
The Porter Beer Bar
Looking for a place to grab a beer? This is your spot. The Porter has more than 50 beers on draft — whether you like stouts, wheats, or lagers, you'll find something to love. They also have whiskey, wine, and cocktails, though the selection is not as vast. Their food is delicious bar fare, with a few unique menu items (goat cheese fritters) as well as interesting spins on the classics (Belgian fries with charred onion mayo). They also offer daily specials and weekend brunch.
Fox Bros. Bar-B-Q
Owned by a pair of brothers from Texas, Fox Bros. delivers mouth-watering BBQ in a classic bar setting. All your favorite BBQ dishes are here: ribs, sausage, brisket, pulled pork. The restaurant's Texas roots are impossible to miss, from the state flag on the wall to the incorporation of Texas Toast to the consistent references on the menu ("The Big Tex," "The Texacutioner," "Texas Fries"). It all adds up to a wholly unique experience you can't get anywhere else in Atlanta. Oh, and while you're there: Get a bottle of the Fox Bros. BBQ sauce or wing sauce and take it home with you. You'll be glad you did.
The EARL
Located in East Atlanta and acting as both a restaurant and concert lounge, you can get dinner and a show at The EARL. They serve classic bar food as well as salads, sandwiches, and burgers (vegan options available). You can check their website to see what bands are scheduled to play on a given night, and you can get tickets for cheaper beforehand. Something to know: The EARL is a 21-and-over establishment, so if you're trying to find a place to take the kids, it's best to look elsewhere.
Set your sights on the southern charm of Atlanta for a once-in-a-lifetime experience at Super Bowl LIII. Get in the door safe and securely with Ticketmaster – the Official Marketplace of the NFL. 
Tags
You Might Like
Pop and R&B star Rihanna is set to headline the very first Super Bowl sponsored by Apple Music, which takes place on February 12, 2023, at State Farm Stadium...
Step inside M&T Bank Stadium, home of the Baltimore Ravens, and learn more about this Baltimore staple for sports and entertainment.
State Farm Stadium in Glendale, Arizona, is a magnificent place to see an Arizona Cardinals game or other live event. However, it can be tough to decide what...