The From-Home Artist Collaborations That Are Lighting Up 2020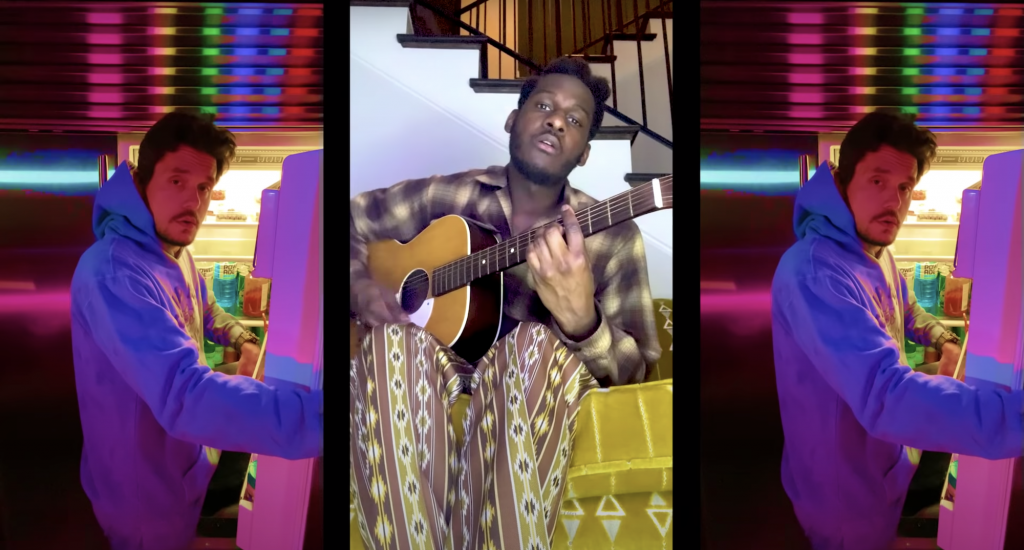 For most of 2020, musicians have been keeping themselves busy in new ways — with livestream performances and DJ sets and elaborate TikTok masterpieces, and by playing mix-and-match with their peers, reaching out to them for inspiration and collaboration. Here are a few of the collabs that have popped up this year and made 2020 sound even better.  
Near the end of July, Taylor Swift surprised fans with the announcement that her eighth album, folklore, would be released within twenty-four hours. Swift worked on folklore while in isolation, trading voice memos and songwriting ideas with longtime collaborator Jack Antonoff and Aaron Dessner of the Brooklyn indie outfit The National. Bon Iver's Justin Vernon, who also collaborates with Dessner in Big Red Machine, co-wrote and sang on the stormy duet "exile," while Dessner's twin brother, Bryce — a composer and The National's guitarist — contributed orchestrations to songs like the smoldering "seven" and the pensive "cardigan."   
The synthy, summery "Be Kind," the first collaboration between masked EDM star Marshmello and outspoken pop belter Halsey, came out at the beginning of May, while its colorful confection of a music video followed in June. In July, Halsey included "Be Kind" on her Collabs EP, which also contains team-ups with K-Pop superstar SUGA, angst titan Alanis Morrisette and the late hip-hop star Juice WRLD. 
Pop superstars and longtime pals Justin Bieber and Ariana Grande came together for the lovey-dovey "Stuck With U," which celebrates the idea of being cooped up with a special someone for long stretches of time. The two got a few celebrity pals like Chance the Rapper, Gwyneth Paltrow and Demi Lovato to shoot their own scenes for the video, and they were joined by a slew of fans who were unable to attend their high-school proms because of the pandemic — appropriate, given the song's last-dance vibes. Proceeds from the song, which hit No. 1 on the Hot 100, benefit the scholarship charity the First Responders Children's Foundation. 
A 2019 jam session between soul explorer Leon Bridges and troubadour John Mayer led to "Inside Friend," a gently sweet come-on with a Mayer guitar solo. "The concept for 'Inside Friend' came about from Mayer and I joking around in the studio about what an ideal date for an introvert or homebody like myself would be," Bridges said in a statement. "I tour most of the year, so I'd rather invite a gal over to lounge comfortably in the crib as opposed to go out somewhere crowded." It seemed like the right song for the times, so the two finished the track and its attendant homespun video, earlier this spring. 
Here we go !! #StreamingOuttaFenway featuring a 'Double Play' with @Springsteen — Share photos of you and your family watching the stream with the tag #DropkickMurphys – This stream is brought to you by @Pega https://t.co/hJkHxeK39W

— Dropkick Murphys (@DropkickMurphys) May 29, 2020
When Boston's Celt-punk heroes Dropkick Murphys graced the infield of Fenway Park back in May, they played a full set that included ballpark favorites like the jubilant "Tessie" (a post-game standard for the Red Sox) and the rousing "I'm Shipping Up to Boston," and they raised more than $700,000 for local charities. They also had a friend stop by via the Fenway scoreboard: New Jersey's rock king Bruce Springsteen, who joined the band on their spirited 2012 track "Rose Tattoo" and his own anthem "American Land." 
Country superstar Brad Paisley has been keeping busy during quarantine, reprising his 2011 duet with Carrie Underwood, "Remind Me," in March, fronting the ad-hoc band The Quarantine All-Stars in July and dropping by a Zoom meeting of Mississippi teachers in a show of support in April. In his video for his new single "No I In Beer," Paisley continues his party-crashing ways, popping up in famous pals' Zoom screens to lead them in a sing-along about coming together to not only raise a glass but also to show support for "the farmers and the first responders/ To the truck drivers shiftin' gears/ [and] every nurse that needs a break." 
One of the highlights of the pandemic has been Instagram's Verzuz series, where heavyweights in hip-hop and R&B put their discographies up against each other, song for song. The series, created by Timbaland and Swizz Beatz, has matched up canine-friendly MCs DMX versus Snoop Dogg and New Jack Swing architects Babyface and Teddy Riley, among others. But the good vibes radiating from the "battle" between soul mystic Erykah Badu and Philadelphia belter Jill Scott turned the night into a celebration — for nearly three hours, the two traded songs and stories, dropping wisdom and lifting spirits.
Tags
You Might Like
If taking in this classic ballet is part of your traditions, these dance companies have you covered.
Cue up these performances and enjoy them in your jammies.
These streaming performances are proving that the medium can keep the joy coming for both performers and fans.