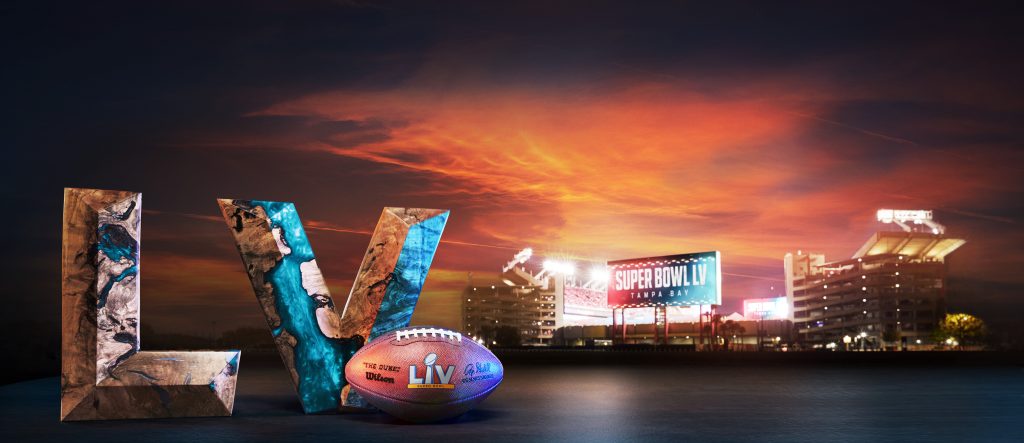 The Super Bowl is always one of the year's most in-demand events, and this year is proving to be no exception. While tickets will be more limited than in years' past, the NFL is welcoming 14,500 fans to Raymond James Stadium in Tampa, Florida, along with 7,500 healthcare workers who have been on the frontlines battling Covid-19. For the first time ever, 100% of tickets will be mobile this year!
Thinking about heading to the game? With Ticketmaster, every ticket is verified and instantly delivered. So you never have to worry about getting in on game day.
Read on to learn what you need to know about buying tickets to Super Bow LV this year, and check out available tickets here.
How many tickets are being sold this year?
Raymond James Stadium seats 65,000 people and can be expanded to a maximum of 75,000, but the NFL is operating a reduced capacity this year with socially distanced seating pods for 14,500 fans and 7,500 vaccinated healthcare workers to see the action in person.
When do tickets go on sale?
We have a wide selection of seats available for Super Bowl LV. Tickets will remain available until kickoff, and all tickets purchased through Ticketmaster are instantly delivered to your phone via mobile ticketing. This is how Ticketmaster gives you peace of mind that the seat you buy, is the seat you'll be in for the game.
How much are Super Bowl LV tickets?
At the time of writing, you can get a ticket for $7,950, but prices fluctuate day-by-day and can vary based on the seat or type of package you purchase. Check our listings to see what's available today. 
How do I buy tickets to Super Bowl LV?
Buying your tickets on Ticketmaster is the safest way to be sure that the ticket you buy is real. As a preferred partner of On Location Experiences, we also have premium ticket packages that will make your Super Bowl LV experience even more memorable. Head here to see what's available or learn more about the benefits of buying on Ticketmaster. Download the app to get relevant updates and information from us about tickets.
What types of packages are available for Super Bowl LV?
We've partnered with On Location Experiences to offer premium packages to make your experience even more memorable. Benefits include:
Exclusive pre-game virtual event with four-time Super Bowl Champion Joe Montana and other surprise guests

A $255 gift card to use on in-stadium food, beverage, or merchandise

Exclusive post-game virtual event with NFL Legends and surprise guests

Early access to Super Bowl LVI packages
To see if your ticket is a VIP ticket, click on the listing and see what's included. 
Why are tickets so expensive?
Going to the Super Bowl is a lifetime bucket list experience, especially if your favorite team is playing the matchup. This year, the Tampa Bay Buccaneers will be the first team ever to play the Super Bowl in their home town stadium. Patrick Mahomes and Tom Brady will be the first two quarterbacks to start in a Super Bowl after winning the last two respectively—Brady in 2019 and Mahomes in 2020. Now that's special! With Ticketmaster, you can make your purchase confidently knowing that all of our tickets are 100% verified and instantly delivered, meaning you won't have to worry about the authenticity of the reseller's ticket. You'll be on your way to a priceless experience in a cinch!
When's the best time to buy Super Bowl tickets?
Last year, prices dropped from the peak in the ~10 days leading up to the event. However with a reduced capacity this year, we recommend checking our listings often and making your purchase whenever you've found a socially distanced seating pod in an area that works for you and your group. 
Ready to start searching for your Super Bowl tickets? See available tickets now.
Curious what gameday will be like? For starters, tickets are 100% mobile this year. The NFL has partnered with state and local officials alongside the Centers for Disease Control (CDC) to develop new protocols to help maximize safety. You can show up to Raymond James Stadium confident that you'll enjoy a seamless experience, from the parking lot and turnstiles to concourses and ultimately, your seats. 
The 19 NFL teams that welcomed over 800,000 Ticketmaster fans back this season all followed strict CDC guidelines to ensure safe outdoor experiences, including requiring masks, installing hand sanitizing stations, regularly testing staff, and utilizing mobile ticketing for contactless entry. Thank you to all the teams and venue staff who worked tirelessly to make this happen. Our love for this sport was only made stronger thanks to your help.
Learn more about gameday guidelines for Super Bowl LV by checking out the NFL's Fan Gameday Playbook.