Step Inside: Soldier Field – Home of the Bears & Chicago Fire FC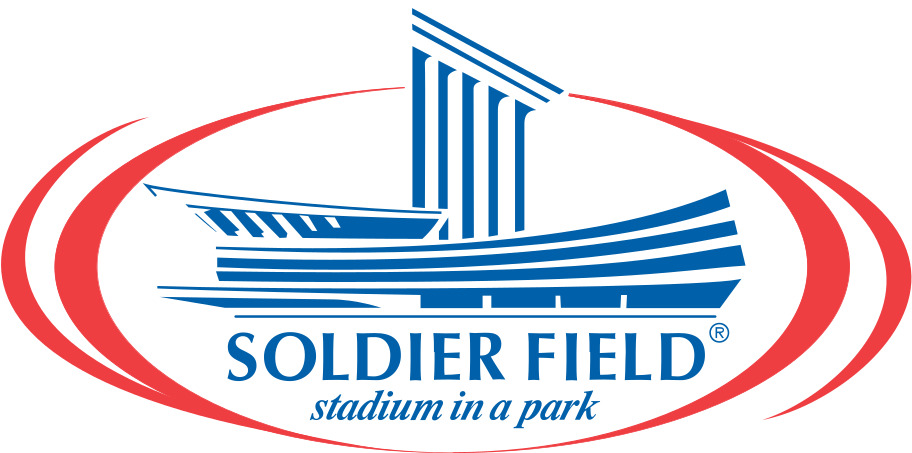 Stadium History | Parking & Admission | Seating & Capacity | Food & Concessions
Soldier Field is located in the Near South Side of Chicago. Having opened in 1924, with renovations taking place in 2003, Soldier Field is the home of the Chicago Bears of the National Football League and Chicago Fire FC of Major League Soccer. It's the oldest stadium in both the NFL and MLS. Known as the Stadium in a Park, Soldier Field is a 17-acre site right in the Chicago Park District — a beautiful parkland for the public that includes the surrounding Children's Garden and Veteran Memorial Water Wall.
The Chicago Bears used Soldier Field for charity games dating back to 1926, but moved into the stadium for their full-time home in 1971. The Bears had previously played home games at Wrigley Field, home of Major League Baseball's Chicago Cubs. The Bears were required to move after the AFL–NFL merger, which required NFL teams to have stadiums that sat at least 50,000 fans.
Chicago Fire FC utilized Soldier Field as their home field from 1998 to 2005, and returned to Soldier Field in 2020. Before returning to Soldier Field, Chicago Fire FC played at Toyota Park, located in Bridgeview, a suburb of Chicago.
What events are coming up at Soldier Field?
See upcoming events and buy tickets for Soldier Field right here on Ticketmaster.
Soldier Field History
Soldier Field opened in 1924 and was officially dedicated on October 9, 1924, on the 53rd anniversary of the Great Chicago Fire. Upon its opening, it was dedicated as Municipal Grant Park Stadium. The first football game at the stadium was played on October 4 between Louisville Male High School and Austin Community Academy High School. The first college game was a matchup between nearby Northwestern and Notre Dame, which took place over a month later on November 22.
On November 11, 1925, the stadium became known as Soldier Field. The name was changed to honor soldiers who died in service during World War I.
The official rededication of the stadium took place during the 1926 Army–Navy game, which to this day is one of the biggest games to be played in the stadium's existence. Over 100,000 spectators attended to see the two teams play for the National Championship. Navy entered the game undefeated, and Army had only lost one game, to Notre Dame. The game ended in a 21–21 tie and Navy went on to win the National Championship.
The attendance record was set one year later in 1927 when more than 123,000 fans watched Notre Dame beat the USC Trojans 7–6. This was the all-time collegiate attendance record until 2016.
The Chicago Bears used the stadium for select games against the Chicago Cardinals beginning in 1926, and the Cardinals used Soldier Field as their home field in 1959, their final home season in Chicago. The Bears officially made Soldier Field their home field in 1971.
Soldier Field has undergone several renovations in its history. In 1978, bleacher seats were replaced with individual seats. In 1982, a new press box was installed. By 1988, Soldier Field had 116 skyboxes, increasing capacity to 66,946. The most extensive renovation for the stadium began in 2002. Immediately after the Bears lost a playoff game against the Philadelphia Eagles on January 19, demolition began. During the 2002 season, construction was still underway so the Bears played their home games at Memorial Stadium on the campus of the University of Illinois. These renovations modernized the stadium and reduced capacity to 61,500 while maintaining the exterior.
As a premier multi-use venue, Soldier Field has hosted a wide array of events, including high school football games, college football games, college and NHL® hockey games, World Cup games and concerts.
The first concert at Soldier Field featured Lily Pons, Rudy Vallée, Jascha Heifetz, and Bobby Breen as part of the annual Chicagoland Music Festival.
The highest attended event in the stadium's history was a wartime speech by President Franklin D. Roosevelt on October 28, 1944, which drew more than 150,000 in attendance and many more being turned away at the gate.
Parking and Admission at Soldier Field
Parking rates at Soldier Field vary depending on the specific event. To find out how much parking rates are for your event, view parking options on Ticketmaster. There are several lots located around Soldier Field. The North Garage, Waldron Deck and South Parking Lot are reserved for those with season parking for Bears events. All other lots are available for cash payment, or pre-purchased parking.
Lots open approximately four hours before kickoff for Bears or Fire games, and close one hour after the event has finished.
There are several public transit options to Soldier Field. Chicago Transit Authority operates the #128 Soldier Field Express bus route to the stadium. There is also a Chicago "L" line nearby at the Roosevelt station, which is serviced by the Orange, Green and Red lines. The city has convenient Metra service to the Museum Campus/11th Street station.
Soldier Field recommends fans get through the gates early when arriving at the stadium. Gates open two hours prior to kickoff. All fans are required to enter the stadium by walking through metal detectors. If the device detects something, you will be required to check your pockets before additional screening with a handheld metal detector.
In accordance with NFL policy, Soldier Field recommends fans do not bring any bags. According to stadium rules, the only bags permitted inside Soldier Field are:
Clear plastic bags that do not exceed 12″x6″x12″
One-gallon resealable clear freezer bag
Women's clutch purse no larger than 4.5″x6.5″
Medical bags for accompanying patron
All items are subject to search, and all other bags will be denied.
Soldier Field Capacity & Seating Options
Soldier Field has a capacity of 61,500 and is the smallest stadium in the National Football League. The earliest configuration allowed Soldier Field to seat 74,280 spectators, and open areas along the concourses and field allowed over 100,000 to attend games. This was reduced during renovations with the most recent taking place in 2003.
With 133 executive suites, Soldier Field has plenty of VIP seating.
What are the best seats at Soldier Field?
The best seats at Madison Square Garden vary depending on the event and personal preferences. Check out Soldier Field seating charts and find your favorite seat today.
Food & Beverage Options at Soldier Field
Chicago is a food-lover's paradise, and Soldier Field will give you a crash course in its culinary thrills — by the time you're finished loading up you might forget that you came there for any other reason than chowing down. Soldier Field has a wide selection of food and beverage options throughout the stadium. Whether you want to keep it simple or get a full meal, you can find anything you want.
First off, there's the Midway Club, an expansive bar and eatery that you can access by purchasing a mobile pass. But if you want to sample the rest of the stadium's eateries, you can find Italian sandwiches at Café L'Appetito, Greek delights at Kronos Gyros, cheesy goodness at Beggar's Pizza or mouthwatering Mexican fare at Pilsen Tacos, to name just a few of the possibilities. Other popular options for food include local chains like Beggar's Pizza, Kronos Gyros, Nuts on Clark, Buona Beef, and DMK Burger Bar.
There's no shortage of options in the sweets department, either. Whether you're up for churros, donuts, or the dried fruits and nuts of Nuts on Clark, tasty treats abound among Soldier Field's concession stands. And if you're out to quench your thirst, you can take your pick of soaking up some suds from the bar on two wheels known as Beer Cycle or hitting up Heartland Hops for a more traditional, stationary experience. For libations that are a little more mixed up, check out the top-shelf liquor and imaginative craft drinks at the Chicago Cocktail Company, with their signature "Monster Mary".
Some of the Soldier Field offers vegetarian or gluten-free options throughout the stadium to accommodate guests with dietary restrictions.