Step Inside: SoFi Stadium – Home of the Rams & Chargers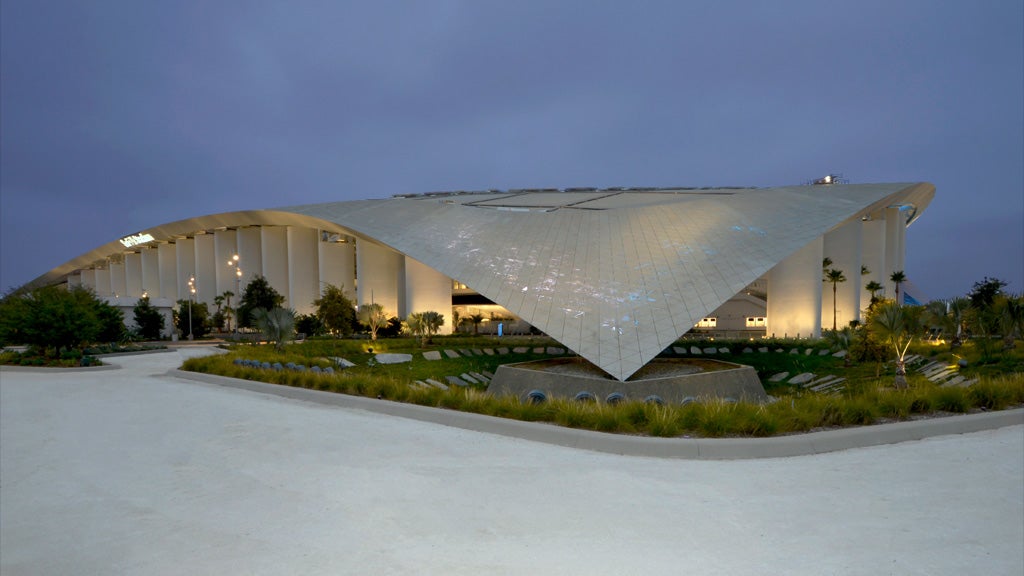 History | Parking & Getting There | Seating & Capacity | Food & Concessions
Home to NFL's Los Angeles Rams and the L.A. Chargers, SoFi Stadium is located on the westside of L.A. in Inglewood between the 110 and 405 freeways. Part of one of Los Angeles' most impressive and sprawling entertainment complexes, SoFi Stadium features a four-story Infinity screen spanning the field and a seismic moat to keep the stadium safe during earthquakes. It's also the centerpiece of the burgeoning Hollywood Park entertainment complex — a whopping 98 acres of retail shops, restaurants, hotels, residential units, and outdoor park spaces.
Read More: Things to Do Near SoFi Stadium Before & After an Event
What events are coming up at SoFi Stadium?
See upcoming events and buy tickets for SoFi Stadium right here on Ticketmaster.

SoFi Stadium History
Opening in late 2020 after breaking ground in 2016, the state-of-the-art SoFi Stadium has already made history as the first stadium to host a conference championship game and the Super Bowl in the same year in 2022. Located on the site of the former Hollywood Park racetrack, the stadium has the honor of hosting several notable events, including the College Football Playoff National Championship in January 2023, WrestleMania 39 in April 2023, FIFA World Cup matches in 2026, and the opening and closing ceremonies of the 2028 Summer Olympics in Los Angeles.
Privately funded by L.A. Rams owner Stan Kroenke, SoFi Stadium is one of the most expensive football stadiums in the U.S. The complex also includes Hollywood Park, the largest urban mixed-used development in the Western United States, boasting 12 miles of trails, 25 acres of parks, 20,000 square feet of market space featuring restaurants and cafes, and a 12-screen luxurious Cinepolis movie theater. What's more, the complex houses the YouTube Theater, a cutting-edge 6,000-seat music venue and theater that hosts live concerts, e-sports and other events.
In addition to sporting events, SoFi has also hosted performances by some of the biggest names in music, including Paul McCartney, The Rolling Stones, The Weeknd, Doja Cat, Def Leppard, and Mötley Crüe.
The design of SoFi Stadium is unique and unforgettable; its swooping lines are an homage to the curves of California's coast, it has a transparent, asymmetrical roof and a 1 million-square-foot canopy made up of 302 ETFE panels and 27,000 embedded LED pucks, which can project images and video that can be seen from airplanes flying overhead to the nearby LAX airport.
Parking and Admission at SoFi Stadium
Parking during NFL games is limited, so spaces must be reserved and paid for in advance via Ticketmaster or the SoFi Stadium website. Everyone who purchases a parking space will be assigned a specific access point for entering the parking lot. It's advisable to arrive early and allow plenty of time to navigate traffic and find your spot. SoFi Stadium and Hollywood Park also have several accessible ADA parking stalls, available for anyone displaying an ADA placard on a first-come, first-served basis.
Sports fans can also take advantage of off-site parking offered by the City of Inglewood. Public transportation is another option, taking the Metro C Line to the Hawthorne/Lennox Station and Express shuttle service to SoFi Stadium.
The Stadium enforces a clear bag policy; only bags that are clear plastic, vinyl or PVC and do not exceed 12″ x 6″ x 12″ or one-gallon clear plastic freezer bags will be permitted. Large purses, backpacks, diaper bags and briefcases are not allowed, but small clutch bags that are 4.5″ x 6.5″ or smaller may be carried into the stadium along with one of the clear bag options.
SoFi Stadium Capacity & Seating Options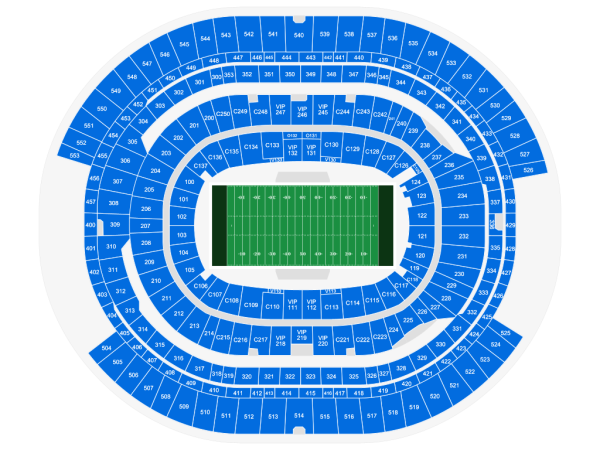 The Stadium bowl has open sides and seats 70,240 spectators for most events, with the ability to expand by 30,000 seats for larger events. VIP Club Sideline seats are located in the midfield with excellent sight lines. There are four sections on the 100 level and six sections on the 200 level consisting of VIP sidelines. The reserved section of the 200s level offers spectacular views and comfortable loge boxes.
What are the best seats at SoFi Stadium?
The best seats at SoFi Stadium vary depending on the event and personal preferences. Check out SoFi Stadium seating charts and find your favorite seat today.
Food & Beverage Options at SoFi Stadium
SoFi offers a wide assortment of food and beverage options at spots named for iconic Los Angeles streets, including Fairfax Avenue, Sawtelle Boulevard and Olvera Street. Focused on representing the city's prolific food culture, SoFi Stadium partnered with award-winning chefs Jon Shook and Vinny Dotolo to create "LA Eats," which puts a local spin on stadium favorites shaped by the diverse cuisine of the city. Deli sandwiches, hamburgers and hot dogs are plentiful, Mexican food is offered at Olvera Street, and Asian-inspired flavors are available at Sawtelle Boulevard. There are also a few vegan and vegetarian options for plant-based fans. Beer, wine and soda can be found at all food locations.