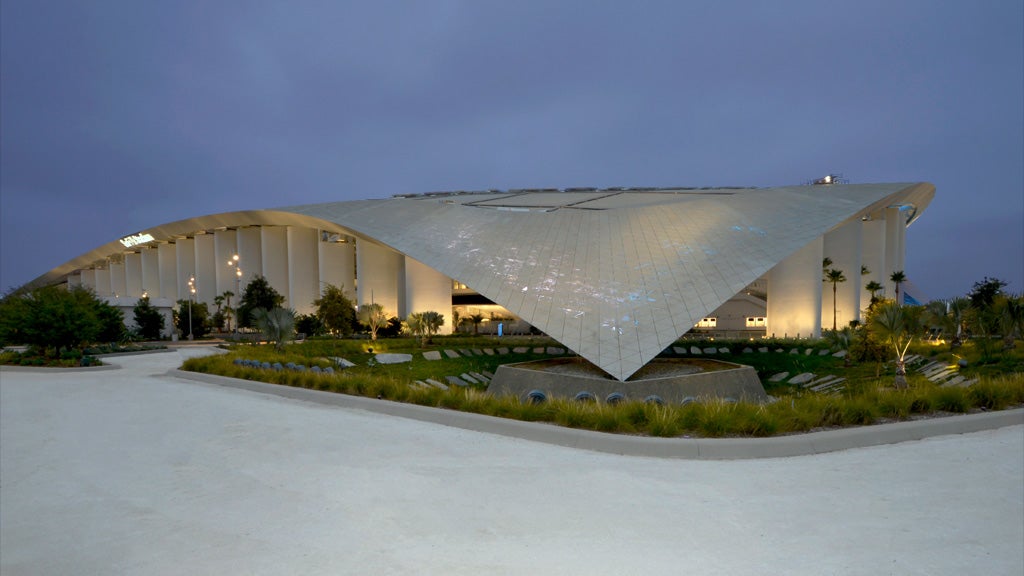 Before an Event | After an Event
As home to NFL's Los Angeles Rams, the L.A. Chargers and the anchor of the burgeoning Hollywood Park entertainment complex, SoFi Stadium in Inglewood has plenty to offer sports fans and concertgoers. With a four-story Infinity screen spanning the field and a seismic moat to keep the stadium safe during earthquakes, the state-of-the-art venue has become known as a sports cathedral.
As the first stadium to host a conference championship game and the Super Bowl in the same year in 2022, and as host of the 2028 Olympic opening ceremony and games in Los Angeles, the impressive structure has quickly made a name for itself since opening in 2020.
The Inglewood neighborhood surrounding the stadium boasts many gems that offer a taste of the local flavor, whether it's delicious traditional soul food or an upscale wine bar owned by lifelong Inglewood residents. Here are several options to try before or after an event.
Where to Eat & Drink Before an Event at SoFi Stadium?
Fiesta Martin Bar and Grill
View this post on Instagram

Known as the best Mexican restaurant in Inglewood, Fiesta Martin Bar and Grill has a wide-ranging menu offering everything from tacos and enchiladas to fajitas and chile relleno. For those who can't decide on just one dish, the fiesta platter offers a little bit of everything, and you can wash it all down with an impressive selection of imported and domestic beers and margaritas de la casa.
Roscoe's House of Chicken and Waffles
View this post on Instagram

Once thought of as strange bedfellows, Roscoe's has become such an institution that nobody even questions the pairing of chicken and waffles anymore. If you stop here before kickoff for the classic fried chicken and waffle combo, you surely won't go hungry during the game.
1010 Wine Bar
View this post on Instagram

Owned by two Inglewood sisters, Leslie and Leann Jones, this inclusive community space is Inglewood's very first wine bar and features the largest selection of Black-owned wines in California. Just north of Centinela Avenue, it offers a spacious and modern environment where you can relax with a glass of wine or watermelon sangria and some tasty nibbles before or after a game. Happy hour specials, live music and DJs keep the good vibes flowing.
Dulan's Soul Food Kitchen
View this post on Instagram

For the best soul food this side of the Mississippi, Dulan's Soul Food Kitchen is the place. Founded by the late Adolf Dulan, the man behind the famed Marina del Rey soul food restaurant Aunt Kizzy's Back Porch, Dulan's features Southern staples like delicious fried chicken, meatloaf, mac and cheese and delectable sides including black eyed peas and collard greens. It's high on comfort and large on charm.
---
Where to Go After an Event at SoFi Stadium?
There are lots of things to do after an event at SoFi Stadium. Here are some of our favorite bars and venues around the area.
Kia Forum
View this post on Instagram

Formerly known as The Forum, the famed indoor arena was once home to the Los Angeles Lakers and now features a whole host of A-list musical performers. Prince performed a legendary 21-show run here in 2011, and The Eagles headlined several concerts after the historic venue reopened following an extensive, multi-million dollar renovation in 2014. Now you can catch everyone from Mary J. Blige to Harry Styles at this state-of-the-art venue. Find tickets for the Kia Forum today!
YouTube Theater
View this post on Instagram

You'll only need to travel a few steps from SoFi Stadium to catch a live event at the YouTube Theater. Also housed in the Hollywood Park complex, this three-story 6,000-seat venue features luxury boxes and premium seats, and is intimate compared to the 70,000-seat SoFi. Whether it's concerts with the likes of Pitbull, Devo and Black Pumas, theater performances, awards shows or e-sports competitions, there's a wide variety of entertainment to choose from.
The Regent Theater
View this post on Instagram

With gothic-inspired ceilings and many original features including the ornate proscenium in front of the stage, the Regent Theater — built in 1914 and the oldest remaining theater on DTLA's South Main Street — is a gorgeous and unique place to catch a show. Offering a mix of concerts, movies, live comedy, and club nights with names like "Gimme Gimme Disco," you can keep the good times rolling after a game no matter what you fancy. There's also the stylish Prufrock Pizzeria and The Love Song bar with delicious signature cocktails where you can grab a bite or a drink before, during or after the show.
You Might Like
Hallowed halls of history and new era majesty surrounding the Nation's Capital.
The essential spots to take in music entertainment throughout the Valley of the Sun.
A handful of H-Town's finest destinations for live entertainment.