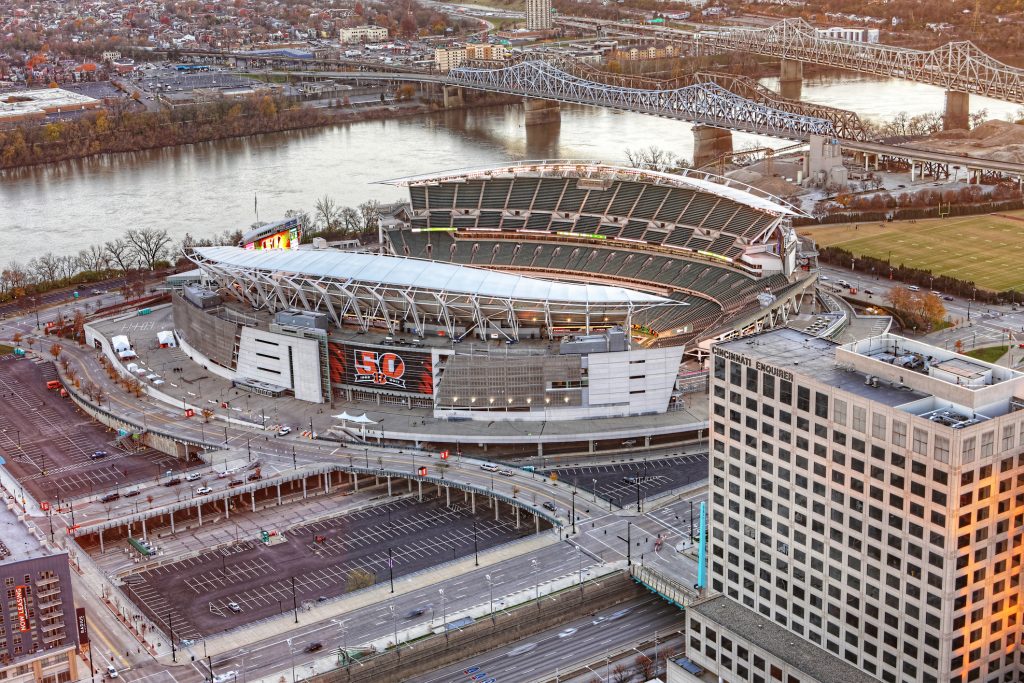 Football lovers far and wide know Cincinnati's Paycor Stadium as the place where the Bengals prowl in their native habitat. The NFL team's pump-up song, Guns N' Roses' "Welcome to the Jungle," not only gets adrenaline flowing in crowds and athletes alike, but is also responsible for Paycor Stadium's affection nickname among the hometown crowd: The Jungle. The stadium has been the Bengals' home since the start of the 21st century, and there's plenty more going on there, too — everything from college ball to spectacular music festivals. 
Paycor Stadium History
A relative youngster in terms of American stadiums in major metropolitan areas, Cincinnati's Paycor Stadium — formerly known as Paul Brown Stadium — first opened its gates on August 19, 2000, following two years of construction. The Bengals, who had previously called Riverfront Stadium their home when the Reds weren't using it, were happy to take up residence in a brand-new venue. With a capacity of more than 65,500, it's able to boast that more than 70 percent of the seats are positioned along the sidelines, and two towering video screens (one at either end of the field) ensure that no one feels left out of the action. None of these design considerations have gone unnoticed; among many architectural nods Paycor Stadium has received, the eminently crowd-friendly stadium was the first NFL venue ever to nab a coveted design award from the American Institute of Architects.
You really get a feel for Cincinnati at its best when you visit Paycor Stadium, not only on account of what's going on inside, but also for what's happening all around it. From the stadium, you can look out on the Cincinnati skyline, and get a glimpse of the bridges over the river. It's the kind of view that fills the local crowd with civic pride and also gives visitors a taste of the best the city has to offer.
Paycor Stadium Events
Besides catching the Bengals' home games, football fanatics have also been getting a good dose of college ball at Paycor Stadium since 2002. And then at perhaps the polar opposite end of the competitive spectrum — the stadium also hosts the annual Queen City Classic Chess Tournament. There's a lot less sweating and shouting, but certainly no less intensity on the part of the competitors. 
Over the last several years, the stadium has also become a go-to spot for some of the most renowned musical artists around, with the biggest names from multiple genres treading the boards. From country king Kenny Chesney and R&B siren Fantasia to pop superstar Demi Lovato — and yes, even the rockers whose aforementioned banger gave the stadium its nickname — Paycor Stadium has hosted them all. It's also the home of the Cincinnati Music Festival, which draws a huge flock of the most renowned R&B artists and their fans every year.
Paycor Stadium Food and Concessions
There's no need to settle for a dried-out hot pretzel or a cold hot dog when you're here. You'll find barbecued pulled-pork sandwiches, Philly cheesesteaks, tacos, meat-free Beyond brats, chicken salads and gourmet popcorn all there for the taking. And any thirst can be satisfied thanks to the array of craft beers, hard seltzer and cocktails from your choice of eight different bars.
There are 114 private suites that offer in-seat service for food and drink as well as lounges and fine dining. On your way out, if you want to bring a little piece of the whole Paycor Stadium experience back home with you, pay a visit to the Bengals pro shop, where fans can snap up all sorts of merchandise and souvenirs to help foster fond memories of both Cincinnati football's favorite sons and the stadium where they proudly prowl.
You Might Like
Whether you're a long-time local or just in town for a quick trip, the entertainment experts at Ticketmaster have you covered!
We're getting close to the Big Game — Super Bowl LVII. Thousands of fans will fill State Farm Stadium in Glendale, Arizona, on February 12, 2023, to see who ...
The Super Bowl is always one of the year's most in-demand events, and this year is proving to be no exception as the Big Game heads back to Arizona for the f...