Step Inside: Paycor Stadium – Home of the Cincinnati Bengals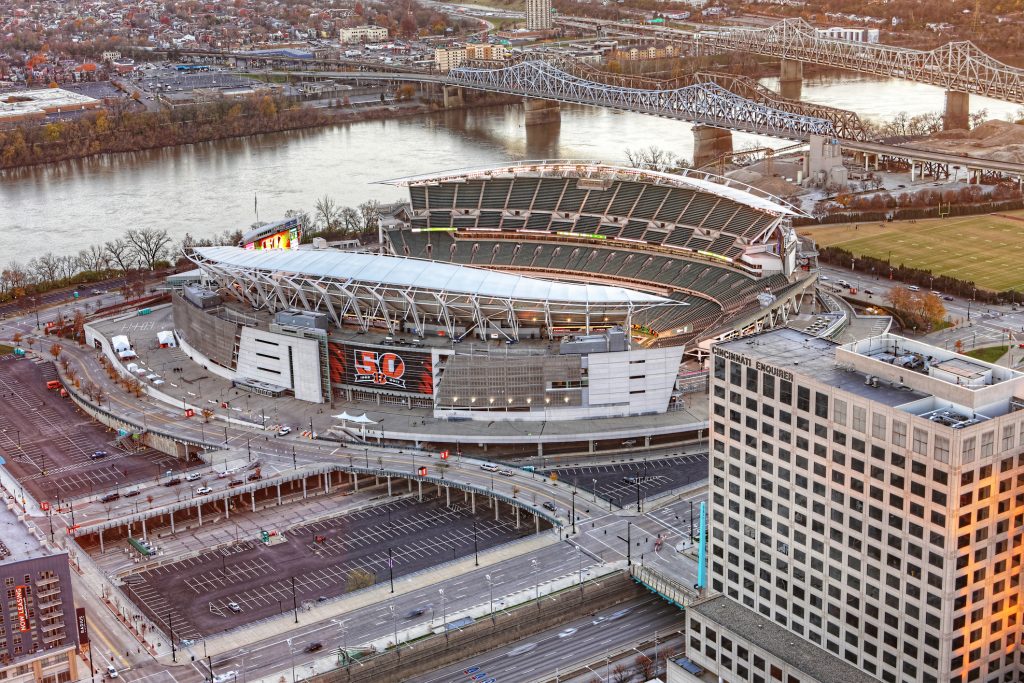 Stadium History | Parking & Admission | Seating & Capacity | Food & Concessions
Venue Quick Facts
Venue Name
Paycor Stadium
Location
Cincinnati, OH
Address
1 Paycor Stadium, Cincinnati, OH 45202
Phone #

(513) 455-4800

Capacity
65,515
Opened
August 19, 2000
Architect
Dan Meis
Website
https://www.bengals.com/stadium/
Football lovers far and wide know Cincinnati's Paycor Stadium as the place where the Bengals prowl in their native habitat. The NFL team's pump-up song, Guns N' Roses' "Welcome to the Jungle," not only gets adrenaline flowing in crowds and athletes alike, but is also responsible for Paycor Stadium's affection nickname among the hometown crowd: The Jungle. The stadium has been the Bengals' home since the start of the 21st century, and there's plenty more going on there, too — everything from college ball to spectacular music festivals. 
Originally named Paul Brown Stadium (after the late Bengals founder) until 2022, the stadium's nickname "The Jungle" dates back even further to the team's previous residence at Riverfront Stadium.
Nestled on the banks of the Ohio River in downtown Cincinnati and directly across from the Ohio state border with northern Kentucky, Paycor Stadium attracts a wide group of fans. In September 2022, the stadium reached a new attendance record when 67,260 people witnessed the Bengals defeat the Miami Dolphins, 27-15, during a Thursday Night Football matchup.
Aside from serving as the home turf for the Cincinnati Bengals, Paycor Stadium has played host to several bouts in the annual Victory Bell college football rivalry game between the University of Cincinnati Bearcats and the Miami University RedHawks. And then at perhaps the polar opposite end of the competitive spectrum — the stadium also hosts the annual Queen City Classic Chess Tournament. There's a lot less sweating and shouting, but certainly no less intensity on the part of the competitors. 
Over the last several years, the stadium has also become a go-to spot for some of the most renowned musical artists around, with the biggest names from multiple genres treading the boards. From country king Kenny Chesney and R&B siren Fantasia to pop superstar Demi Lovato — and yes, even the rockers whose aforementioned banger gave the stadium its nickname — Paycor Stadium has hosted them all. It's also the home of the Cincinnati Music Festival, which draws a huge flock of the most renowned R&B artists and their fans every year.
Paycor Stadium is located at 1 Paycor Stadium, with alternate local transportation options available via shuttle bus and riverboat.  
What events are coming up at Paycor Stadium?
See upcoming events and buy tickets for Paycor Stadium right here on Ticketmaster.
Paycor Stadium History
A relative youngster in terms of American stadiums in major metropolitan areas, Cincinnati's Paycor Stadium first opened its gates on August 19, 2000, following two years of construction. The Bengals, who had previously called Riverfront Stadium their home when the Reds weren't using it, were happy to take up residence in a brand-new venue. With a capacity of more than 65,500, it's able to boast that more than 70 percent of the seats are positioned along the sidelines, and two towering video screens (one at either end of the field) ensure that no one feels left out of the action. None of these design considerations have gone unnoticed; among many architectural nods Paycor Stadium has received, the eminently crowd-friendly stadium was the first NFL venue ever to nab a coveted design award from the American Institute of Architects.
Formerly known as the Paul Brown Stadium, this state-of-the-art facility was named after the Bengals' founder, Paul Brown. The Bengals' home became known as Paycor Stadium in 2022. Until then, the Bengals' stadium was one of the only NFL stadiums that didn't have a naming rights deal. When the stadium first opened in 2000, the field was paved with Kentucky Bluegrass, but due to maintenance issues they later installed synthetic turf.
The stadium's exterior boasts a sleek, eye-catching modern design and was the first NFL stadium to win an American Institute of Architects (AIA) design award. It remains one of only a select few sports venues to receive the distinction. You really get a feel for Cincinnati at its best when you visit Paycor Stadium, not only on account of what's going on inside, but also for what's happening all around it. The stadium was built with open corners, which allow for glimpses inside the stadium. Bengals fans can take in views of the downtown skyline and bridges crossing the Ohio River from inside the venue. It's the kind of view that fills the local crowd with civic pride and also gives visitors a taste of the best the city has to offer.
Parking and Admission at Paycor Stadium
Paycor Stadium encourages fans to purchase parking passes in advance of gameday for a hassle-free experience. Parking passes can be purchased on Ticketmaster.
The stadium's main parking lots open six hours prior to kick off. There are also rideshare pickup and drop-off locations on 2nd Street between Vine and Walnut. Fans can also take buses and shuttles from all around Cincinnati and Northern Kentucky that stop at Paycor Stadium.
Paycor Stadium Bag Policy
The Bengals encourage fans to travel lightly. When entering the stadium, only one-gallon clear plastic bags or other clear bags no larger than 12″ x 6″ x 12″ will be permitted. Small clutch purses no larger than 4.5″ x 6.5″ are also allowed. Backpacks, fanny packs, camera bags and diaper bags are not allowed inside the stadium. Other prohibited items include alcoholic beverages, coolers, recording equipment, drones, strollers, umbrellas and weapons of any kind.
Paycor Stadium Capacity & Seating Options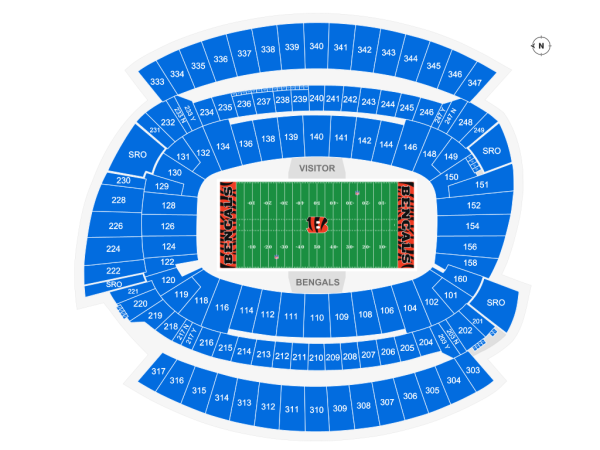 With a capacity of over 65,000, there's an array of seating options to accommodate all stadium guests. In addition to general seating, there are premium seating options available in 114 private suites and 7,600 club seats. Premium seating includes in-seat food and beverage service options and access to club lounges for fine dining.
What are the best seats at Paycor Stadium?
The best seats at Paycor Stadium vary depending on the event and personal preferences. Check out Paycor Stadium seating charts and find your favorite seat today.
Food & Beverage Options at Paycor Stadium
Paycor Stadium offers several food and beverage options and is specifically known for its affordable beer. The Jungle's concession stands received an upgrade in 2023, and enhanced self-service express markets were placed throughout the venue to reduce lines and wait times. 
There's no need to settle for a dried-out hot pretzel or a cold hot dog when you're here. You'll find barbecued pulled-pork sandwiches, Philly cheesesteaks, tacos, meat-free Beyond brats, chicken salads and gourmet popcorn all there for the taking. And any thirst can be satisfied thanks to the array of craft beers, hard seltzer and cocktails from your choice of eight different bars. Restaurants include the very popular Skyline Chili, Tenders, Love and Chicken (TLC) and the "Smoke and Sizzle" BBQ concept that offers up authentic smokehouse flavors.
There are 114 private suites that offer in-seat service for food and drink as well as lounges and fine dining. On your way out, if you want to bring a little piece of the whole Paycor Stadium experience back home with you, pay a visit to the Bengals pro shop, where fans can snap up all sorts of merchandise and souvenirs to help foster fond memories of both Cincinnati football's favorite sons and the stadium where they proudly prowl.
As a unique bonus, Bengals fans can take photos in front of the colorful, jungle-themed backdrop near the concession stands that the team uses for media photo opps.
You Might Like
Step inside Acrisure Stadium, home of the Pittsburgh Steelers, and learn more about this PGH staple for sports and entertainment.
Step inside Gillette Stadium, home of the New England Patriots & Revolution, and learn more about this Massachusetts staple for sports and entertainment.
Explore the fierce spirit of the Monsters of the Midway as they rally behind their team. From iconic players to memorable moments, discover the enduring prid...