Step Inside: Neyland Stadium – Home of the Tennessee Volunteers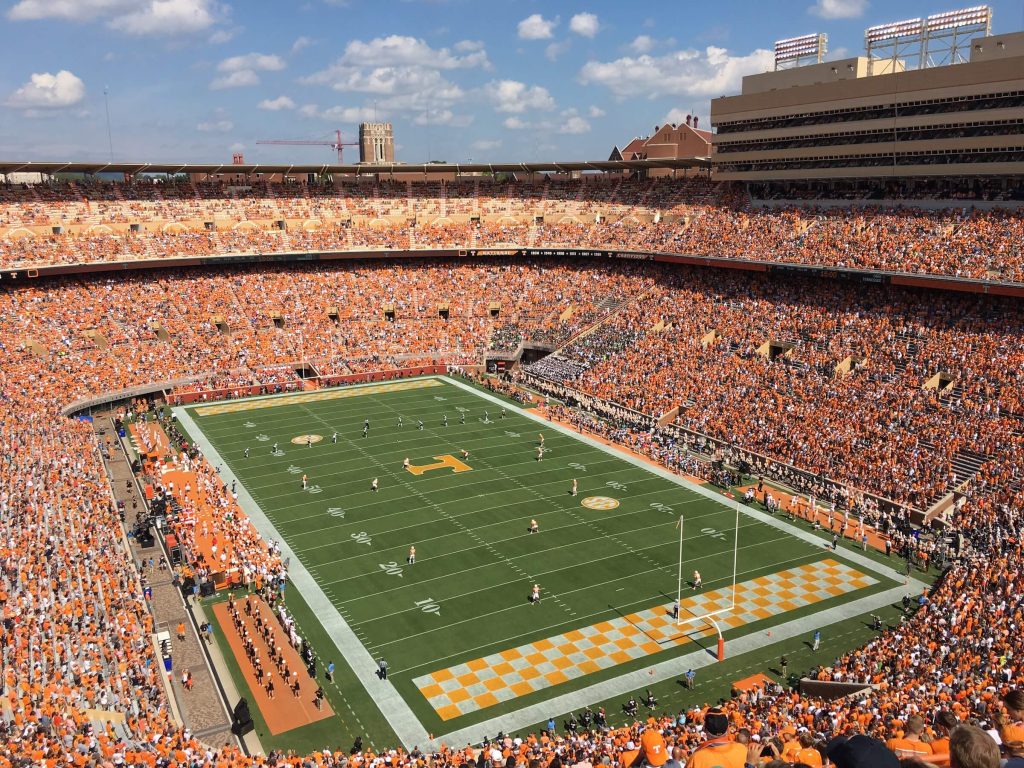 History | Parking & Admissions | Seating | Food & Beverages
Neyland Stadium has been home of the Tennessee Volunteers for more than a century. Nestled comfortably between the campus' iconic Ayers Hall at the top of The Hill and on the edge of the Tennessee River, Neyland Stadium is one of the most iconic landmarks not only in Knoxville, but arguably all of American sports.
Neyland Stadium History
The venue got its start in 1919 when Knoxville's City National Bank President and UT trustee Colonel W.S. Shields financed the construction. In September of 1921, the Vols played their first game at what was previously known as Shield-Watkins Field, beating Emory & Henry College 27-0.
Five years later, the Volunteers football program named General Robert Neyland head football coach. The school experienced unprecedented success over the next 21 years, winning 173 games and accumulating seven undefeated seasons, consecutive winning streaks of 33 and 28 games, seven conference championships and four national championships. As a result, Neyland Stadium was dedicated in his honor in October 1962.
As of 2021, the Tennessee Volunteers have a .799 winning percentage at Neyland Stadium. Their longest home win streak was 30 straight wins from December 1928 through October 1933. In 88 years of playing games at Neyland Stadium, the Tennessee Volunteers have had 74 winning seasons, including 35 undefeated campaigns.
Although Neyland Stadium is best known for its enclosed stadium build and high seating capacity, the Tennessee athletics department and Board of Trustees announced a plan to renovate Neyland Stadium that includes more than $288 million to modernize the fan experience and update the amenities. In 2021, Neyland Stadium added a state-of-the-art light show experience. In 2022, renovations included a new jumbotron in the north end zone, an added north end zone party deck and an overhaul of sections in the lower bowl club seats on the west side.
Additional amenity updates include Wi-Fi improvements, Founders Suites, added bathrooms, updated food and beverage services, the premium Lower West Club, added entry points, and skybox renovations.
Non-Tennessee Volunteer-related events hosted at Neyland Stadium include historic concert performances by The Jackson 5, Dolly Parton, Johnny Cash, Elton John, Garth Brooks, Taylor Swift, Miley Cyrus, the Jonas Brothers, and Kenny Chesney. The stadium also played host to a historic speech by President Richard Nixon on the Billy Graham Crusade shortly after a 1970 mass shooting at Kent State.
Parking and Admission at Neyland Stadium
Game day parking for Neyland Stadium opens at 7 a.m. across campus. For all lots surrounding the stadium, spots are reserved for specific passholders like media and season ticket holders. Limited on-campus parking at the UT Culinary Institute is available for $40 and includes cross-campus shuttle services. Additional paid and free parking is available on non-university lots and off campus.
All fans, regardless of age, must have a ticket to be admitted into Neyland Stadium. In 2022, the University of Tennessee opted for paperless ticket entry. Tickets can be scanned electronically via the Ticketmaster app or through the online Ticketmaster mobile portal. Additionally, Neyland Stadium has a clear-bag policy, where handbags larger than 4.5" x 6.5" will be permitted only if they're clear (not to exceed 12″x 6″x 12″). Smoking is not permitted inside Neyland Stadium, including vaporizers and electronic cigarettes.
Neyland Stadium Capacity & Seating Options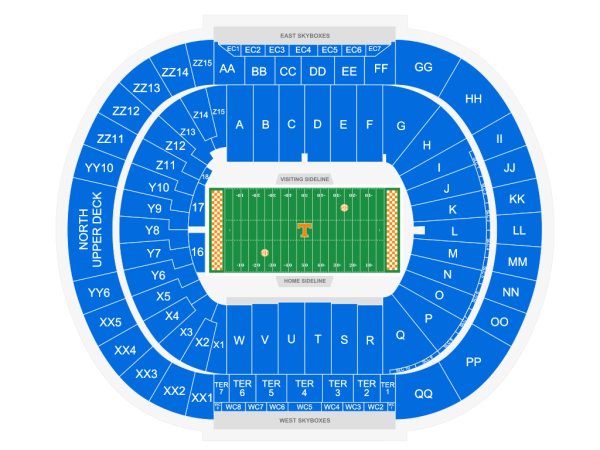 As the sixth-largest stadium in the United States, Neyland Stadium's official capacity is 102,455. However, the largest crowd to ever watch the Vols play in Neyland Stadium was 109,061 in 2004 when Tennessee bested their rival, the Florida Gators, 30-28. The stadium has four tiers of seating: the lower bowl, club seating, press and luxury boxes, and the upper bowl. Bleacher seats are the most available option, but there are select chair-back seats in addition to luxury seating options in suites and boxes. With the completion of the newly renovated party deck, standing room options are now available as well.
Food & Beverage Options at Neyland Stadium
Food and beverage options are primarily serviced by Aramark, with common options including hot dogs, hamburgers, chicken tenders, french fries, nachos, and pretzels. Other signature food items include Petro's Chili, Calhoun's BBQ and Papa John's Pizza.
In 2019, after a rule change that permitted alcohol sales at collegiate sporting events, Neyland Stadium approved the sale of alcohol. Beer is sold throughout the stadium at concession stands and kiosks, while wine is sold specifically in the Tennessee Terrace and in the East and West Clubs. There is a maximum of two beverages sold per transaction and sales will conclude at the end of the third quarter. Options include domestic, imports, local crafts, and seltzers.