Step Inside: Memorial Stadium – Home of the Clemson Tigers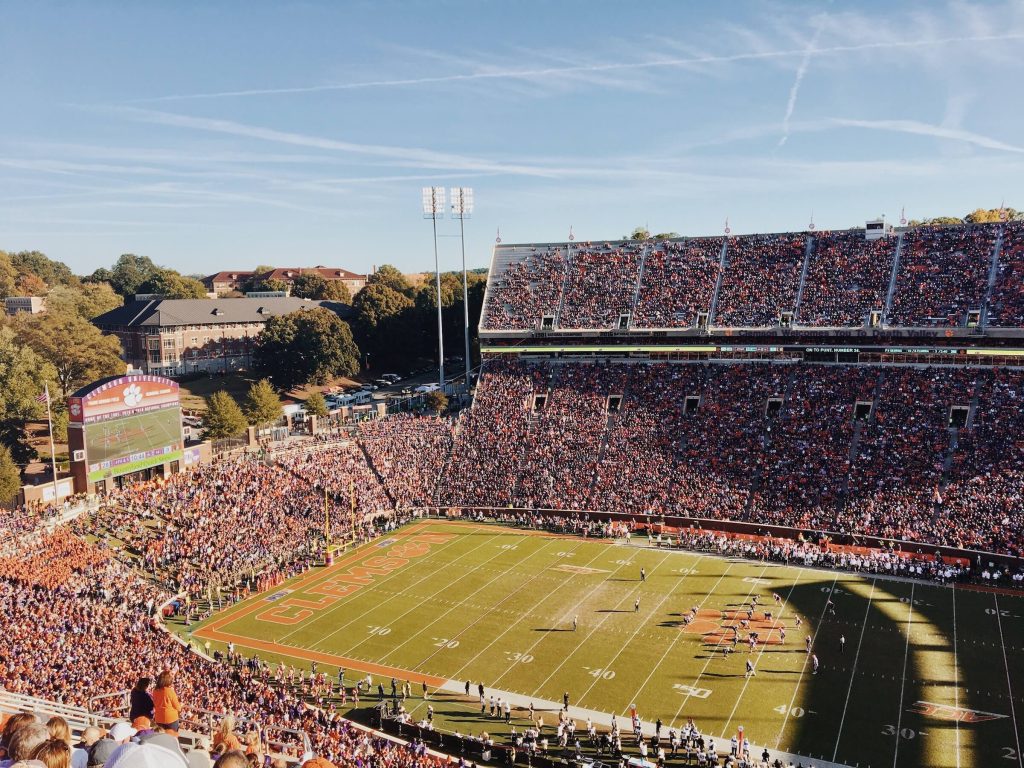 Stadium History | Parking & Admission | Seating & Capacity | Food & Concessions
If you're a college football fan, you've more than likely heard of the Clemson Tigers. The team has been among the best and continues to push for a national championship yearly. However, the football team's success isn't just a result of the talent on the field. Their stadium plays a significant role in the school's domination of the Atlantic Coast Conference.
Memorial Stadium is considered one of the best stadiums to watch college football. With an average attendance of nearly 80,000 fans, it's easy to see why the Tigers have won an impressive 75% of their home games since the program began in 1942.
However, the storied legacy of the complex known as "Death Valley" isn't just about football. It's full of time-honored traditions, incredible stories and a history that rivals any other stadium in the United States.

Memorial Stadium History
Memorial Stadium, often referred to as "Death Valley," is a multi-purpose stadium in Clemson, South Carolina. While the complex is synonymous with Clemson Tigers football, it has also hosted musical acts, including The Rolling Stones, Pink Floyd, Elton John, Billy Joel, and U2.
When the stadium was first discussed in 1939, coach Jess Neely was against building a new place for the Clemson Tigers football team. However, his replacement, Frank Howard, decided it was time to build a stadium that would capture the future glory of the team.
With support from the coach, team and community, Clemson officials planned to build the stadium to replace the current game day location, Riggs Field.
When Memorial Stadium was finally erected in 1942, it had a capacity of 20,500 fans. Over time, the capacity has increased to meet the demands of Clemson football fans, and it can now hold around 80,000 people.
Memorial Stadium also has a location outside Gate 1 known as the Scroll of Honor. This area features a memorial created in 2010 to commemorate the 493 Clemson service personnel that perished on military duty from World War I to the war in Afghanistan.
Parking and Admission at Memorial Stadium
Memorial Stadium has several options for general admission parking. Visitors can park in the C-1 parking lot for $30 or the P-8 parking lot for $20.
It's important to note that shuttle service is only available in the C-1 parking lot, and no grilling is allowed for anyone parked in the P-8 lot. Fans may also be able to find parking in off-campus locations where parking fees can range from $10 to $50 for spots.
Once you have secured your parking and tailgating spot, you should start planning what items you're bringing into the game. Since Memorial Stadium only allows certain clear, plastic, vinyl, or PVC bags, it's important to only bring the essentials. Keep in mind that the list of prohibited items is extensive and includes umbrellas, camera cases and video cameras.
Memorial Stadium Capacity & Seating Options
Officially, Memorial Stadium has a seating capacity of 81,500, making it one of the country's top 15 largest college football stadiums. Games have exceeded the capacity mark in the past, with the largest crowd reaching 86,092 in 1999. With various seating options, fans have the choice of where they want to view the game.
Even though most of the seating options are bleacher seats, there are other alternatives. For example, fans can choose to sit in the West zone with covered chairbacks, the club section, or purchase a suite for the game. Those who opt for one of the Clemson Tigers Suite Level packages will also get VIP parking.
Food & Beverage Options at Memorial Stadium
As with many venues, Memorial Stadium offers traditional stadium food ranging from pretzels and nachos to cheeseburgers and hotdogs. However, every true Tigers fan swears by The Clemson Bird Dog. This delicious option is a unique combination of grilled chicken and cheese placed inside a hot dog bun.
Fans will also love the new pricing model that the university implemented in 2018. Since Memorial Stadium houses nearly 80,000 people on game days, they wanted to make the experience as affordable as possible, so they launched an initiative to lower all concession prices. In some instances, they cut prices by 50%.