Step Inside: M&T Bank Stadium – Home of the Baltimore Ravens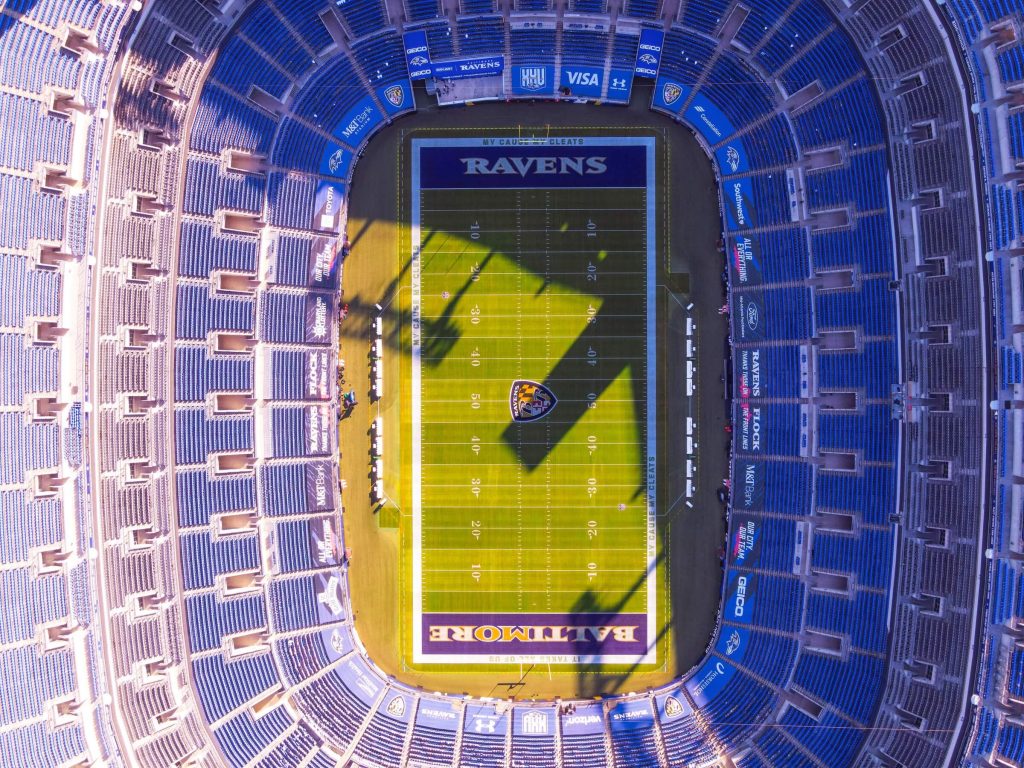 Stadium History | Parking & Admission | Seating & Capacity | Food & Concessions
Even though M&T Bank Stadium is home to the two-time Super Bowl champions Baltimore Ravens, the complex serves as a multi-purpose venue for concerts and other sporting events. Since its opening in 1998, the stadium has been used for events such as:
High school football championships
College football rivalry games
International soccer games
HFStival music festival
From 1998 to 2022, the Ravens won more than 68% of their games at home in Baltimore, Maryland. However, the impressive statistics shouldn't surprise anyone who has been to a game and experienced the atmosphere.
Baltimore Ravens fans are passionate about their team and create a challenging environment for opponents. If you've never had the chance to attend a Ravens home game, you're in for a treat. Not only does the stadium have several memorial areas paying tribute to past players, but there are also many traditions fans can participate in, including the Ravens Walk.
The RavensWalk is a unique opportunity for new and dedicated fans to experience an enormous strip of tailgates where they can have delicious food before the game kicks off.
M&T Bank Stadium History
M&T Bank Stadium, known affectionately by fans as "Ravens Stadium" or "The Bank," opened in 1998. Initially, the ground that the stadium currently stands on was the site of a giant piano factory that closed during the Great Depression. Today, the stadium features a keyboard mosaic sidewalk on the southwest corner of the complex to honor the company.
The ode to the company isn't the only memorial that can be found at M&T Bank Stadium. In fact, several places throughout the stadium pay tribute to some of football's greats. For instance, the main entrance plaza is named "Unitas Plaza" after former quarterback Johnny Unitas. There is also an area where fans can find bronze statues of Unitas and longtime Raven Ray Lewis.
Over time, the stadium has gotten several upgrades, including the playing surface where the game takes place. Originally, the stadium had natural grass before being replaced by artificial turf in 2003. However, after much debate, the decision was made to shift back to a natural grass playing surface in 2016.
While the stadium is mostly known for being the home of the Baltimore Ravens, M&T Bank is also the location for other major athletic events. For example, high school football state championships and lacrosse national championships are often held at the complex.
It has also hosted concerts featuring top entertainers such as Kenny Chesney, U2, Justin Timberlake, Beyoncé, and Jay-Z.
Parking and Admission at M&T Bank Stadium
Generally, a couple of parking options are available at M&T Bank Stadium. One option is to purchase a parking permit in advance that will allow you to park in the stadium lots. If you don't have a permit or can't get one, the stadium also allows you to reserve parking for $55.
Another popular option is to park at the Horseshoe Casino parking garage. The casino is within walking distance and offers special discounts for fans who want to use the garage for multiple home games.
Fans who don't mind walking a little further can find affordable parking options near M&T Bank Stadium. Most of the offsite alternative parking options offer transportation to the stadium.
M&T Bank Stadium has more than 100 accessible parking spaces, located in lots B, C, R. All accessible parking is sold ($45 per vehicle) on a first-come, first-served basis, and cannot be purchased in advance. Parking Lots open 4.5 hours prior to kickoff. Guests with a parking pass for a non-accessible lot can show that pass to avoid an additional charge, if accessible spaces are available. Access to accessible parking spaces is limited to vehicles with disabled license plates or valid accessible hangtags. A valid Ravens game ticket must also be presented. The person to whom the disabled tag was issued must be in the vehicle & may be asked to provide a state MVA disabled registration card.
The following gates are accessible for guests with disabilities: Gates A, B, C, D, F, A1, A2, Media Gate (South side of the stadium). Medical needs lines at all main gates (A, B, C, D). Wheelchairs, motorized wheelchairs & scooters are permitted inside M&T Bank Stadium. Guests may check their mobility device at any Guest Services Center (Sections 100, 127, 525, 553) or Club Concierge (204, 224, 229, 250) & pick up at the conclusion of the event.
Like all other NFL stadiums, M&T Bank has a strict policy on what items are permitted or prohibited for game day. Items that are prohibited inside M&T Bank Stadium include backpacks, beverages, noise makers, electronic cigarettes, fanny packs, laser pointers, purses larger than the size of a hand, selfie sticks, and umbrellas. Small clear bags, blankets, and binoculars (less the case) are all permitted inside the stadium.
M&T Bank Stadium Capacity & Seating Options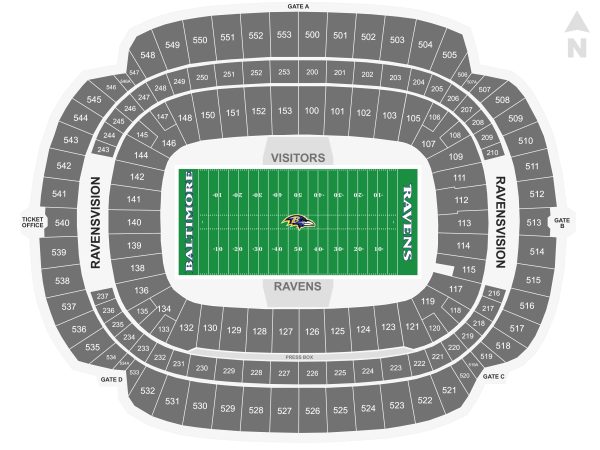 M&T Bank Stadium offers a variety of seating options and can hold a little more than 71,000 fans in the stands. The options are the lower, upper and club levels. Each section offers its own advantages and provides a different experience when attending the games.
For example, the lower level seats are a little more expensive than upper level seats. However, if you're looking for the closest seats to the field and want to see the action up close, there is no better option than the lower level. Likewise, if you're not as concerned about being close to the field, then the club level offers a more upscale football experience.
Those who purchase club level seats will have access to the following perks:
Climate-controlled club lounges
8 full-service bars and additional food options
Concierge service
Scenic views of downtown Baltimore from the lounge area
Smaller lines at concession stands and restrooms
Additionally, ADA seating may be available for purchase & exchanges. Please note that ADA seating is subject to availability. Ravens games are typically sold out of all seating, including ADA seats. Guests requiring ADA seats for all stadium events with assigned seating are strongly encouraged to contact the ticket office at 410-261-RAVE (7283) to ensure proper accommodations. There are 6 banks of elevators in M&T Bank Stadium; 3 on the north & 3 on the south side. North elevators are located near sections 102, 146, & 151. South elevators are located near sections 119, 124, & 129. Please note there are stairs to enter the elevator lobby at section 124. The elevators at sections 102, 119, 129, 146, & 151 have no stairs and are accessible for all guests.
Food & Beverage Options at M&T Bank Stadium
In addition to the RavensWalk, there are several food and beverage options available inside M&T Bank Stadium. While the venue offers traditional stadium food options such as hot dogs, pretzels, nachos, and chicken fingers, there are also several special treats available throughout the stadium.
For instance, The Pratt Street Hoagie and Frank's Buffalo Chicken Burger both pack a ton of flavor and are on the list of must-try foods for every fan.
Those looking to grab a drink before the game starts should head over to either the Dogfish Head Bar or the Devils Backbone Bar.