Step Inside: Lucas Oil Stadium – Home of the Indianapolis Colts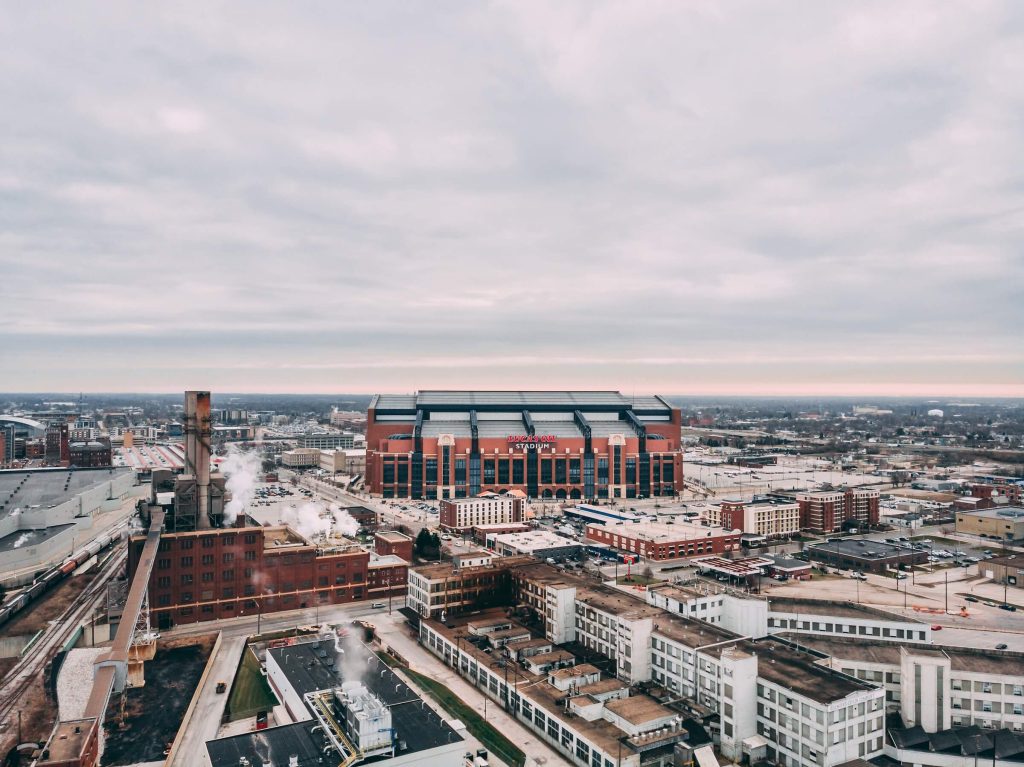 Stadium History | Parking & Admission | Seating & Capacity | Food & Concessions
Venue Quick Facts
Venue Name
Lucas Oil Stadium
Location
Indianapolis, IN
Address
500 S Capitol Ave, Indianapolis, IN 46225
Phone #

(317) 262-8600

Capacity
70,000
Opened
August 16, 2008
Architect
Bryan Trubey
Website
https://www.lucasoilstadium.com/
Lucas Oil Stadium, home of the Indianapolis Colts, is a state-of-the-art venue that opened in 2008. It's centrally located in downtown Indianapolis, Indiana, just a short walk from several renowned Indianapolis restaurants, hotels and nightlife venues.
In addition to being home to the Colts and hosting Super Bowl XLVI in 2012, Lucas Oil Stadium also hosts NCAA Division I Men's Basketball Tournaments, concerts from several big-name artists, the annual Drum Corps International (DCI) World Championships, monster truck events, national band competitions and more.
The address of Lucas Oil Stadium is 500 South Capitol Avenue.
What events are coming up at Lucas Oil Stadium?
See upcoming events and buy tickets for Lucas Oil Stadium right here on Ticketmaster.
Lucas Oil Stadium History
Lucas Oil Stadium replaced the RCA Dome as the home field for NFL team Indianapolis Colts in 2008. Construction on the new stadium began in September 2005 and it hosted its first games nearly three years later in August 2008. With a seating capacity of 63,000, the stadium has several state-of-the-art features including a retractable roof that can open and close in approximately 11 minutes. The decision whether to leave the roof open or closed is left up to the home team, which can make their choice up until 90 minutes before kickoff. With Indianapolis' warm humid summers and frigid winters, it often makes sense to keep the venue climate-controlled and close the roof. The stadium also features 360° ribbon boards, two 53-foot HD video boards and a retractable window that offers stadiumgoers views of downtown Indianapolis because of how it's angled on the city block. What's more, there's a convenient underground walkway that connects the stadium with the nearby Indiana Convention Center.
Automotive oil manufacturer Lucas Oil secured the naming rights for the stadium for a term of 20 years for $122 million in 2006 before it was built. There are also four gates leading into the stadium, which are named for sponsoring corporations including Lucas Oil, Huntington Bank, Indianapolis Colts and Verizon Wireless.
In addition to NFL football games, the stadium also plays host to numerous sporting events including NCAA Men's Basketball, Indiana High School Athletic Association State Football Championships, the NFL Scouting Combine and much more.
It's also a favorite concert venue with big-name artists having graced its stage, including Madonna, Kenny Chesney, Tim McGraw, Taylor Swift, Camila Cabello, U2, Beck and many others.
View this post on Instagram
Parking and Admission at Lucas Oil Stadium
There are approximately 73,000 parking spaces throughout downtown Indianapolis, approximately 40,000 of which are within a six-block radius of Lucas Oil Stadium. Parking fees vary depending on the event and can be $50 for Colts games. That said, many local businesses offer affordable options in their lots nearby. To book a parking spot at the stadium prior to the game, visit ParkWhiz.com.
When entering the stadium, clear plastic, vinyl or PVC bags no larger than 12″ x 6″ x 12″ are permitted. You can also bring in a small clutch bag no larger than 4.5″ x 6.5″ and a one-gallon clear plastic freezer bag.
Backpacks, camera bags, fanny packs and regular purses are prohibited. Also note that strollers, umbrellas, laptops, coolers and beverage containers of any kind are not permitted inside the stadium, except for fans with special medical or dietary needs. Fans without bags or purses can use the Express Lane security lines for quicker entry into Lucas Oil Stadium.
Lucas Oil Stadium Capacity & Seating Options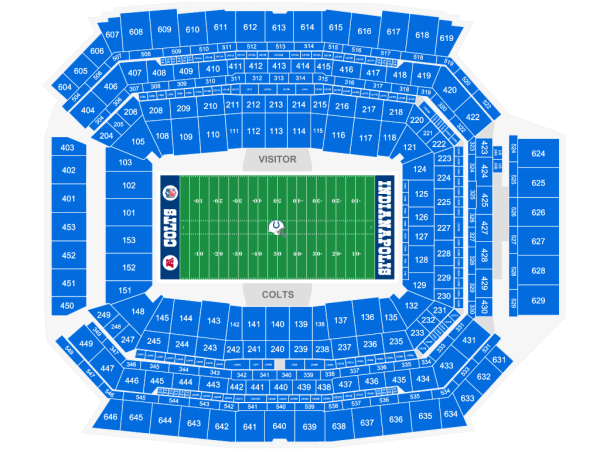 Lucas Oil Stadium has a seating capacity of approximately 63,000 for NFL games and up to 70,000 for larger events. The stadium covers approximately 1.8 million square feet and has 139 suites, two club lounges, two exhibit halls and 12 meeting rooms.
The street level sections located between the 25-yard lines are considered club seats as are certain loge-level seats and the stadium offers more than 7,000 club seats in total.
Club seats feature amenities such as comfortable padded seats with additional leg room, complimentary and discounted food and beverage options, access to club lounges and an option to buy a season parking pass.
There are also several luxury suites at Lucas Oil Field that accommodate 19-30 guests. They're climate-controlled and feature flat-screen HD televisions, catered food and beverage packages, free parking and access to all the club lounges, as well as comfortable theater-style seats with additional leg room.
What are the best seats at Lucas Oil Stadium?
The best seats at Lucas Oil Stadium vary depending on the event and personal preferences. Check out Lucas Oil Stadium seating charts and find your favorite seat today.
Food & Beverage Options at Lucas Oil Stadium
View this post on Instagram

Lucas Oil Stadium offers an array of delicious food options throughout the stadium, starting with Hotbox Pizza and Breadsticks, the official pizza place of the Indianapolis Colts. Barbecue pulled pork sandwiches is another fan favorite, as are Philly cheesesteaks and chicken strip baskets served with an array of dipping sauces, which can be found at various concession stands across the venue.
For some out–of-the-ordinary tater tots, try Buffalo chicken totchos, which are tater tots made with queso cheese and buffalo sauce, green onions and bacon bits. Colts hot dogs are another Hoosier favorite, especially when served with bacon bits and sweet corn relish.
There are also some great veggie options for vegetarian, vegan and health-conscious stadium visitors including the Lightlife Indiana Burger at East Street Grill and West Street Grill as well as tasty vegan cauliflower wings.
Those with a sweet tooth will appreciate hot chocolate, cotton candy and sweet roasted nuts available at many concession stands around the venue. Craft beer and White Claw Hard Seltzer are also served throughout the stadium. It's important to note that Lucas Oil Stadium is a cashless venue.