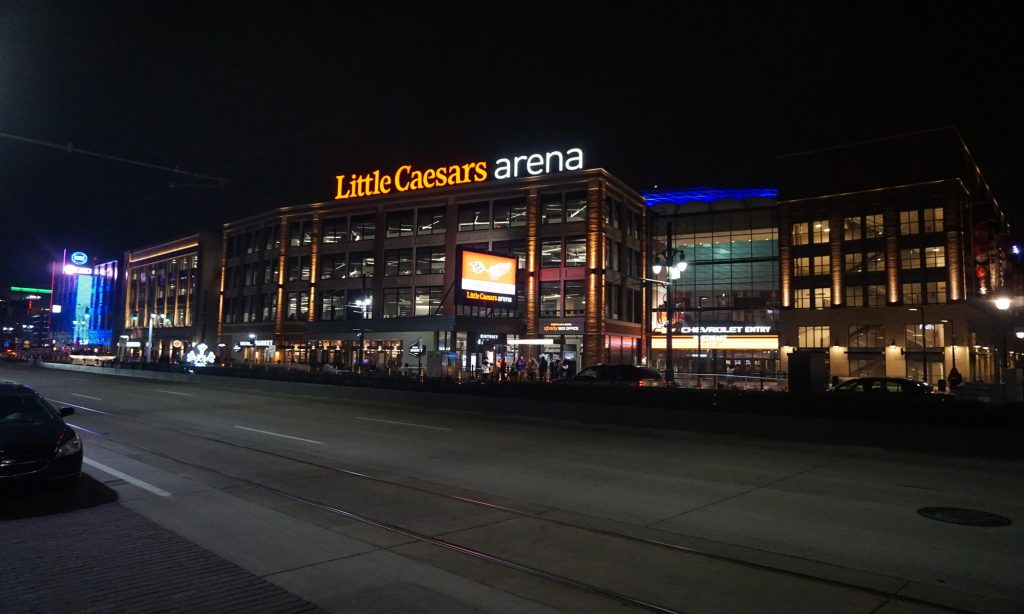 Little Caesars Arena became a part of Detroit's sports legacy by picking up the torch from the Joe Louis Arena and the Palace of Auburn Hills as the venue that the Red Wings and the Pistons call their home. Since opening in 2017, the arena has also hosted plenty of other sports in addition to hockey and basketball. Mixed martial arts, wrestling, skating and more have all found a home at Little Caesars. It's not all about sports, though. With a capacity of up to 22,000, the arena also welcomes huge names in rock, pop, country, R&B and beyond. 
The venue makes sure everyone knows exactly what's going in, thanks to a 5,100-square-foot scoreboard and 45 LED displays that encompass 13,500 square feet. Perhaps one of the most unique features of all is the "gondola" seating level, which is actually suspended up above the stands. 
Little Caesars Arena History
The arena's story started in earnest on April 24, 2015. That's when work began after years of dreaming big and planning smart, and on September 5, 2017, a ribbon-cutting declared Little Caesars Arena to be officially open for business at last. The Red Wings and the Pistons both enjoyed their first games there within a month. 
Soon other sports starting making their way to Little Caesars. Wrestling in particular helped to expand the venue's profile on a national level, as the arena became the site of 2017's pay-per-view Hell in a Cell event, a number of WWE RAW broadcasts and the WWE SmackDown. It didn't take very long for the arena to build up a reputation as one of the nation's premier sports destinations, and in 2018 the Sports Business Awards granted Little Caesars the title of Sports Facility of the year.
Little Caesars Arena Events
On the sporting side of things, along with all the Pistons' and the Red Wings' home games, Little Caesars Arena is a place where you can catch everything from the U.S. Figure Skating Championships to the NCAA Division Wrestling Championships. And in addition to all of that athletic action, it's also an awesome spot for concerts. The arena has seen some of the biggest, most exciting music figures on the planet dominate its stage.
In the first few months of its existence alone, the arena hosted concerts by Paul McCartney, Janet Jackson, the Eagles, Imagine Dragons, Lady Gaga, Jay-Z and Andrea Bocelli. That initial burst of titanic talent pretty much set the standard for both the level of artists and the range of styles to be found there. Subsequently, Little Caesars was the site of performances by an equally jaw-dropping tally of talent, with just a small sampling of the names including the Trans-Siberian Orchestra, Celine Dion, Carrie Underwood, Post Malone, Jennifer Lopez, The Who, Justin Timberlake, Eric Church and Kelly Clarkson.
Little Caesars Arena Food and Concessions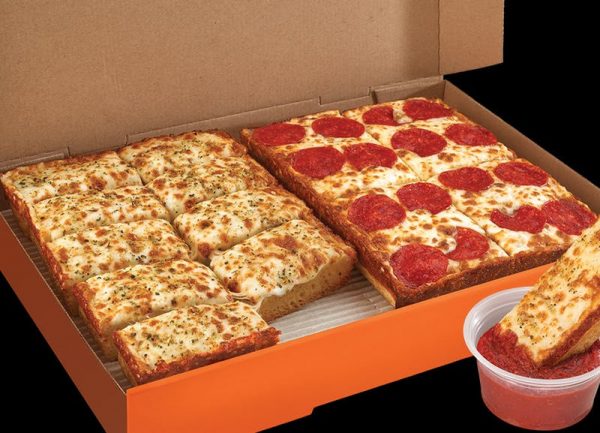 Technically speaking, one of the most unique and attractive aspects of Little Caesars' design isn't even a part of the arena itself. The concourse leading to the venue, covered by transparent roofing, features all sorts of shops, offices and food options, and it remains a hub of activity at all times, even when there isn't an event underway in the arena. 
Hungry entertainment-seekers have plenty of choices available to them. Restaurants include Sports & Social, Mike's Pizza Bar and The District Market (the latter is strictly a breakfast/lunch operation). And of course, as you might guess, there is indeed a Little Caesars pizzeria, where a good bet is to go big by digging into a decadent deep-dish pizza. You could also scarf up some chicken at The Coop, chow down on burgers and hot dogs at 313 Grill Co. or — if you just want something quick and easy — stop off at one of the handy stands for some nachos. 
To wash it all down, there are no less than nine different bars within the concourse. Whether you're a craft-brew aficionado or you prefer something a little more traditional, you won't go thirsty.