Step Inside: Lambeau Field – Home of the Green Bay Packers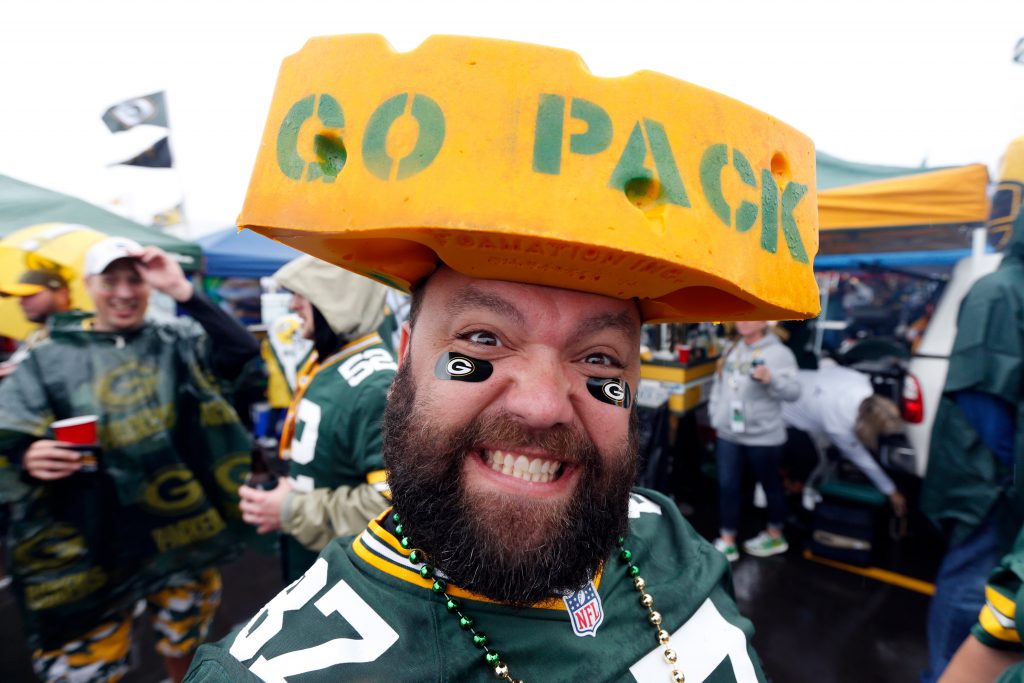 Stadium History | Parking & Admission | Seating & Capacity | Food & Concessions
Venue Quick Facts
Venue Name
Lambeau Field
Location
Green Bay, WI
Address
1265 Lombardi Ave, Green Bay, WI 54304
Phone #

(920) 569-7500

Capacity
81,441
Opened
September 29, 1957
Architect
Ellerbe Becket
Website
https://www.packers.com/lambeau-field/
Lambeau Field, home to the Green Bay Packers, is located in the center of Green Bay, Wisconsin, where it has stood since opening in 1957. It currently holds distinctions as the longest continuously-operated home field in the NFL, the second-oldest stadium used in the league and third-greatest active home game hosting streak across all American professional sports.
Throughout its lengthy existence, the 81,441-seat facility has undergone several renovations and expansions to become one of the largest stadiums in the league, yet it has maintained many time-honored traditions, including the "Lambeau Leap," a Packers touchdown celebration that sees the scoring player jump into the endzone stands to be among their adoring "Cheesehead" fanbase. The interior façade is lined with the names of esteemed past members of the Packers organization, while two bronze statues of Hall of Fame coach Vince Lombardi and team founder Earl "Curly" Lambeau stand in the stadium's exterior plaza.
Housing the league's winningest regular season team, Lambeau Field has presided over several notable playoff runs for the Packers, most recently a Super Bowl win in 2011. The Midwestern open-air stadium, also known as "The Frozen Tundra," has been the site of several historic NFL games, including the 1967 Championship Game Bowl, referred to as the "Ice Bowl" due its still-standing league record as the coldest game ever played with an average wind chill of -48 degrees Fahrenheit, and the 1985 "Snow Bowl," which dumped 16 inches of snow on Lambeau Field ahead of a Packers victory against the Tampa Bay Buccaneers.
The address for Lambeau Field is 1265 Lombardi Avenue, which honors the Packers' five-time NFL Championship-winning head coach Vince Lombardi. He has also been the namesake of the Super Bowl's Vince Lombardi Trophy since his death in 1970.
What events are coming up at Lambeau Field?
See upcoming events and buy tickets for Lambeau Field right here on Ticketmaster.
Lambeau Field History
Lambeau Field is one of the most historic stadiums in the NFL. Built in 1957 as City Stadium, Lambeau Field holds the distinction as the oldest stadium originally constructed for the NFL. Home to the Green Bay Packers, Lambeau Field has seen several renovations and expansions through its more than 65 years of operation. Originally, Lambeau Field had a capacity of 32,000. The first expansion was in 1961 when the capacity was upgraded to 38,669. The capacity was again increased, this time to 42,327, in 1963 and again in 1965 to approximately 50,837. City Stadium, nicknamed "New City Stadium," was renamed to Lambeau Field in August 1965, two months after player and long-time coach Earl Lambeau died. In 1985, Lambeau Field was expanded again, adding 72 luxury suites and additional seating, making the total capacity 56,000. Throughout the next 10 years, Lambeau Field added more than 150 extra suites, 1,900 club seats and a video board. A massive renovation took palce in 2001, adding an expanded concourse, a new upper concourse, extra bathrooms and almost 12,000 extra seats along the top of the stadium named "Titletown."
This 2001–2003 renovation also included a new Packers locker room, a team store, a Packers operation and administrative facility. A Packers Hall of Fame, opened in 2015, gives fans the opportunity to check out historic team memorabilia, hear famous Packers recount historic franchise moments in their own words, and learn more about Green Bay teams past and present in engaging interactive exhibits. The team's 13 championship trophies are on display and fans can even check out a replica of legendary coach Vince Lombardi's office.
Lambeau Field was again renovated in 2013, adding 7,000 more seats and a rooftop view platform in the north end zone, bringing the capacity to more than 80,000. Lambeau Field continues to renovate to this day, keeping up with technological trends by updating concession stands and video boards to give guests the premium stadium experience.
Beyond hosting every Green Bay Packers home game, Lambeau Field puts on unforgettable events across sports and entertainment. Headline music acts like Kenny Chesney, Zac Brown Band, and Billy Joel have used the space to put on memorable concerts. The venue has also housed collegiate sports events for the Wisconsin Badgers, like big-time football games and the "Frozen Tundra Hockey Classic" – an outdoor hockey match played against Ohio State in 2006 on a temporary rink placed inside the stadium.
Parking and Admission at Lambeau Field
Parking in the surrounding lots of Lambeau Field are sold out to season parking pass holders. Parking passes can still be purchased for individual games and prices vary depending on the game. Private property owners surrounding Lambeau Field also offer parking at pricing at their own discretion. Free parking is available on the many residential streets surrounding Lambeau Field.
Lambeau Field Bag Policy
Lambeau Field follows the NFL's Clear Bag Policy, allowing guests to bring in a clear bag that does not exceed 12″ x 6″ x 12″. Fans are also allowed to bring in a one-gallon clear plastic bag and a smaller clutch bag that doesn't exceed 4.5″ x 6.5″. Prohibited items at Lambeau Field include weapons of any kind, backpacks, coolers, strollers, umbrellas, fanny packs, outside food and drinks, noisemakers, selfie sticks, cameras with lenses over 12″ and obstructive banners and signs. Guests will be allowed to bring extra clothing and blankets, small cameras, binoculars and stadium seat pads with no zippers or pockets that are smaller than 18″ wide.
Lambeau Field Capacity & Seating Options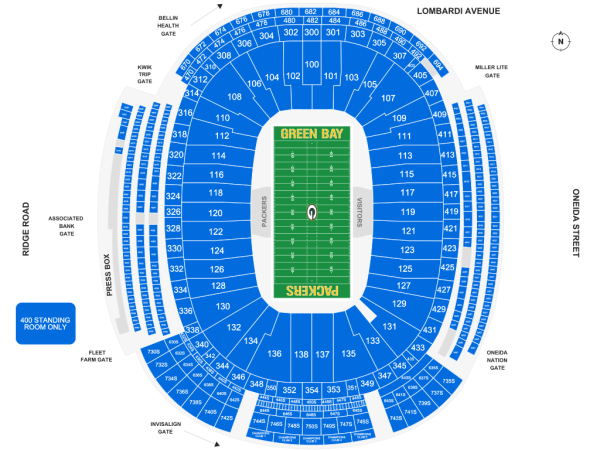 Lambeau Field has a capacity of 81,441. Along with thousands of general seating options, Lambeau Field also offers a wide variety of premium seating options. The stadium has 168 suites with packages that include 12, 20, 25 or 36 tickets, two to three parking passes, exclusive access to the premium level of the stadium, as well as high-end food and beverage options. Club seats are also available at Lambeau Field. There are approximately 3,000 indoor and 3,000 outdoor club seats that are sold on a season ticket basis. The indoor club seats offer cushioned seats in a climate-controlled setting and HD-TVs.
What are the best seats at Lambeau Field?
The best seats at Lambeau Field vary depending on the event and personal preferences. Check out Lambeau Field seating charts and find your favorite seat today.
Food & Beverage Options at Lambeau Field
Guests visiting Lambeau Field can expect premium cheese and burger options, as well as dozens of fan-favorite food and drink choices throughout the stadium. The food and beverage options include the Miller Lite Endzone, 1919 Kitchen & Tap, Pothole Pizza, Meat Packing Company, Against the Grain, Ale Mary, Bellin Fresh Grill, Block & Brew, Goin' Deep Pizza, Gridiron Grill, Lambeau Links, Pack 'n Cheese, Shotgun Spirits, Taco Verde Chips, TOASTed and Travel WI Supper Club/920 Burger.
Things to Do at Lambeau Field
If you have time before the game, be sure to check out the Johnsonville Tailgate Village. Located in Lambeau Field's east parking lot, the tailgate is a free gameday event and open to the public. Visitors can get autographs of team alumni, listen to live music, and enjoy food and drinks in the run-up to kickoff. And during the game, the party continues for fans without tickets via 35 plasma screen TVs broadcasting the action happening live next door.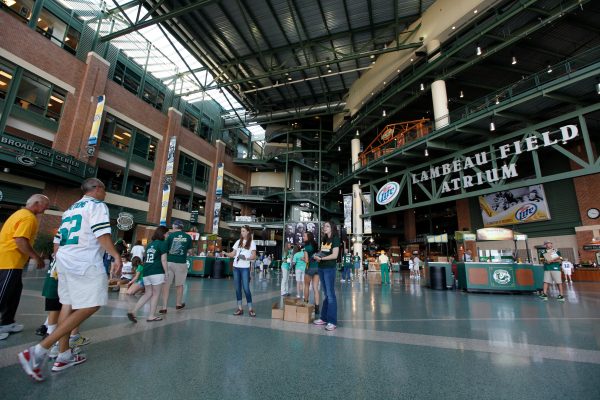 In the Lambeau Field Atrium, 1919 Kitchen & Tap offers fans an elevated dining experience with a fun spin on midwestern comfort food. Delicious options include Wisconsin classics like parmesan-breaded cheese curds and peanut butter bread pudding, all made with locally-sourced ingredients. Adults can also choose from a wide selection of beers brewed around the state and across the country.
You Might Like
Step inside Acrisure Stadium, home of the Pittsburgh Steelers, and learn more about this PGH staple for sports and entertainment.
Step inside Gillette Stadium, home of the New England Patriots & Revolution, and learn more about this Massachusetts staple for sports and entertainment.
Explore the fierce spirit of the Monsters of the Midway as they rally behind their team. From iconic players to memorable moments, discover the enduring prid...