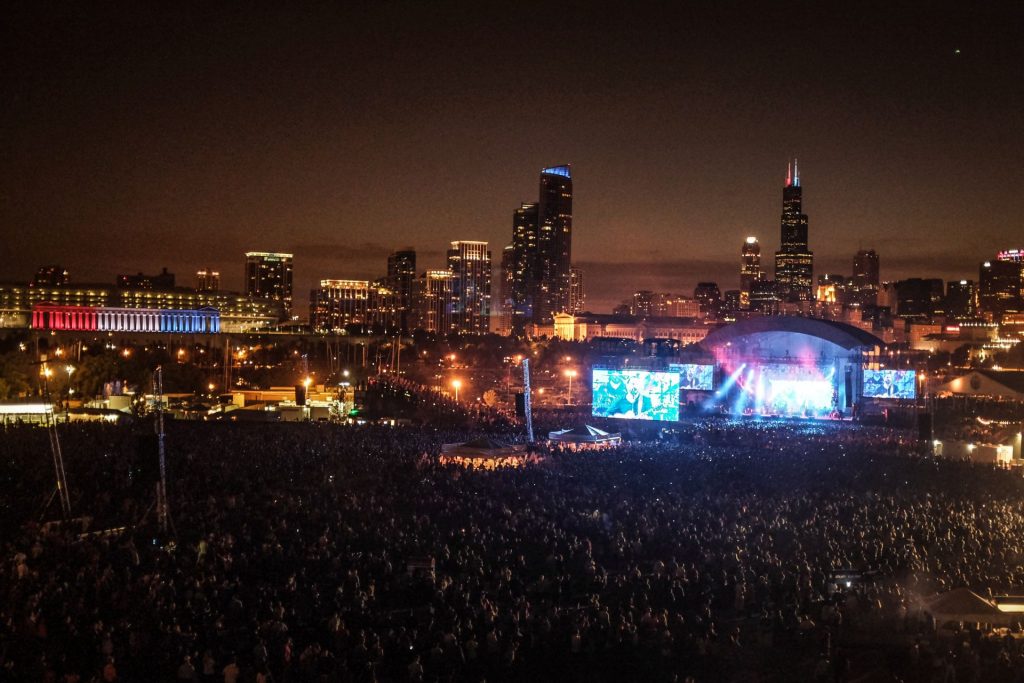 The Huntington Bank Pavilion is situated on the northern section of Northerly Island, a man-made peninsula in Chicago.
Open only in the summer months – from May or June, to September or October – this outdoor space calls for warm weather and mild nights.
The incredible acoustics and atmosphere of the venue, as well as its scenic park setting, make the Huntington Bank Pavilion on Northerly Island worth a trip.
1. It's an escape within city limits if you're a local, and worth a tour stop if you're visiting town.
Located near the Adler Planetarium, Shedd Aquarium and Soldier Field, Northerly Island is a hub for concert attendees and tourists alike.
2. The scenery is top-notch.
The amphitheater overlooks stunning views of the Chicago skyline and Lake Michigan, offering gorgeous sunset vistas.
3. Earth, Wind and Fire played the venue's first performance.
In 2005, the funk band played the first show at the Huntington Bank Pavilion. During this time, the Pavilion had a seating capacity of 3,666 and an additional admission capacity of 4,500. It wasn't until 2013 that the city of Chicago granted the theater permission to increase capacity.
4. The Huntington Bank Pavilion currently has a capacity of over 30,000.
With a seating capacity of 14,000 and lawn seating that can accommodate 22,000 people, the theater grew exponentially since its creation. Concert-goers sitting by the pavilion and on the lawn can enjoy incredible views of the Chicago skyline and Soldier Field.
5. The audience is situated under an open sky.
Most of the seating areas – including the floor and the grandstand – do not have an overhead cover. Since shows are not canceled or postponed when it rains, dress warmly if rain is in the forecast.
Keep in mind that umbrellas are not allowed on the property, as they can be a safety hazard and can obstruct other patrons' views.
If you really want to avoid unfavorable weather, you can opt to sit in the VIP boxes, which are covered.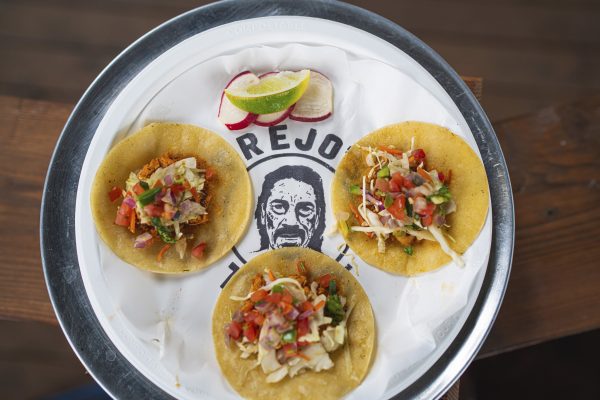 6. You won't go hungry on Northerly Island.
There are plenty of food and drink vendors once you enter the theater. Grab one of Questlove's Cheesesteak™, named for the GRAMMY Award-winning drummer's innovative spin on the Philly classic made with Impossible™ plant-based meat. Or how about actor Danny Trejo's famous Los Angeles Trejo's Tacos, or Italian dishes from Top Chef's Fabio Viviani? Or hand-crafted gourmet hotdogs and sausages from Dog Haus or fresh pizza? And don't miss Art Bird's fried chicken, a favorite of Lady Gaga and Michelle Obama. The drinks are top-notch, too. Gulp down refreshing drinks from our brand new signature cocktail program, curated by world-class mixologist and 2014 American Bartender of the Year, Sean Kenyon.
7. There are plenty of places to park on Northerly Island.
You can park at Soldier Field North Parking Garage up to one hour before the venue opens for $30. At regular shows, you can purchase VIP parking in the Adler Planetarium Lot, which is closer to the venue, for $35. However, at expanded shows when the lawn is open for seating, the cost of the Adler Lot increases to $49.
8. Travel by public transportation, too.
The 146 CTA bus, which stops all over, including by the Loop, goes to the northernmost point of Northerly Island. If you plan on taking the bus to a concert at the Huntington Bank Pavilion, get off at the Solidarity Drive & Lynn White Drive stop.
Hit this highlight of Chicago's North Side for a summer full of excitement. Be sure to check out the full list of upcoming shows to see if one of your favorite acts is coming to Huntington Bank Pavilion at Northerly Island.