Step Inside: EverBank Stadium – Home of the Jacksonville Jaguars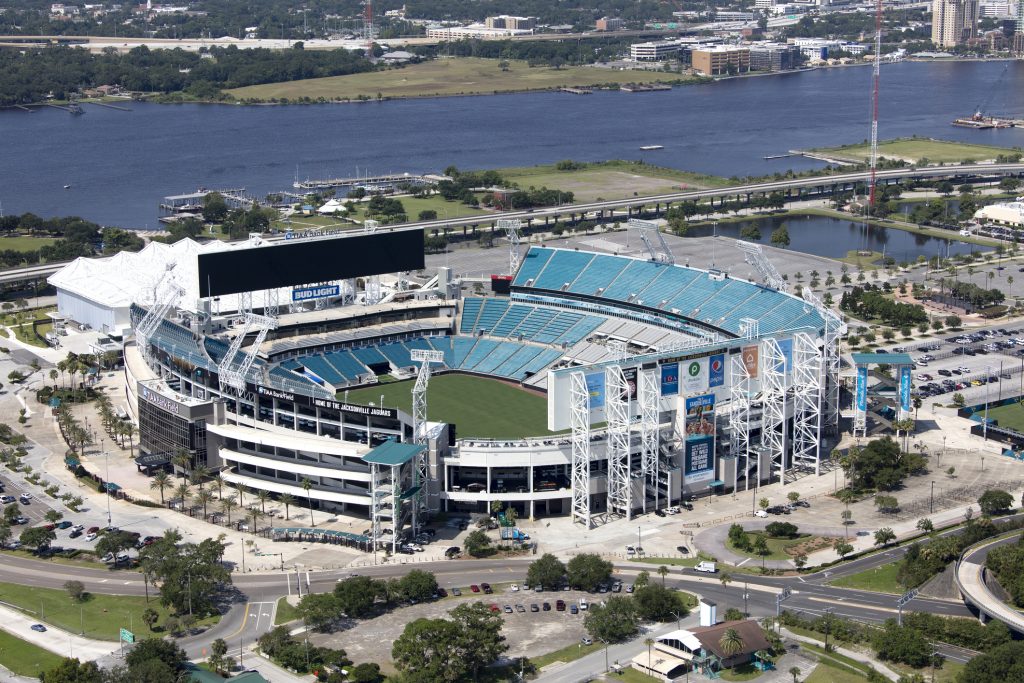 Stadium History | Parking & Admission | Seating & Capacity | Food & Concessions
Venue Quick Facts
Venue Name
EverBank Stadium
Location
Jacksonville, FL
Address
1 EverBank Stadium Drive, Jacksonville, FL 32202
Phone #

(904) 633-6100

Capacity
67,838
Opened
August 18, 1995
Architect
HOK Sport
Website
https://everbankstadium.com/
EverBank Stadium is once again the home field for the Jacksonville Jaguars. Locally-based financial services company EverBank purchased the naming rights of the stadium for the second time in 2023 after being the naming rights holder from 2010 to 2018.
Located along the St. Johns River in downtown Jacksonville, EverBank Stadium's opening coincided with the Jaguars' debut season as an NFL expansion team in 1995. The facility has since undergone several renovations, including in 2004, 2014, and 2017, with the latter including the installation of the largest HD video in the NFL at the time. It also boasts a separate amphitheater performance space, the Sky Patio, which offers unbeatable stadium and city views, as well as two swimming pools behind the north end zone.
EverBank Stadium hosts annual college football contests like the Gator Bowl, and the rivalry game between the University of Florida Gators and the University of Georgia Bulldogs. The facility has also been the site of major events, such as Super Bowl XXXIX in 2005 and the 2007 college football faceoff between Florida State and Alabama that became known as the River City Showdown, which still holds the stadium's attendance record with 85,413 fans.
The address for EverBank Stadium is currently 1 EverBank Stadium Drive.
What events are coming up at EverBank Stadium?
See upcoming events and buy tickets for EverBank Stadium right here on Ticketmaster.
EverBank Stadium Field History
Opening in 1995, EverBank Stadium has been the home to the Jacksonville Jaguars since the team's inaugural season. Opening as the Jacksonville Municipal Stadium in 1995, it was renamed EverBank Stadium in July 2023. Commonly referred to by Jaguar fans as "The Bank," EverBank Stadium has seen a wide range of NFL and other world-renowned events in its almost 30 years of operation. Besides the constantly packed NFL games held there, the first major event at EverBank Stadium was Super Bowl XXXIX in 2005. EverBank Stadium underwent a $63 million renovation for Super Bowl XXXIX, adding the Terrace Suite, the 25,000-square-foot Bud Light Party Zone sports bar, a 20,000-square-foot Sky Patio and 20 new escalators and four new elevators. In 2014, EverBank Stadium added the then world's largest in-stadium video board with their 362 feet wide and 60 feet high end zone display. Two years later, a $90 million renovation helped redesign the US Assure Club by adding the first 50-yard-line walkout patios in the NFL, a new South end zone tunnel, as well as a new 5,500-capacity amphitheater and covered flex field known as Daily's Place.
Along with NFL games, EverBank Stadium has been home to events, including concerts by U2, NSYNC, Lynyrd Skynyrd, The Rolling Stones, Green Day, Fall Out Boy, Weezer and Def Leppard. This stunning stadium has also seen a number of international soccer games, wrestling events, and college football games, and it's the annual location for the Gator Bowl.
Parking and Admission at EverBank Stadium
While parking passes are sold out at EverBank Stadium for the 2023 NFL season, there are cash lots within walking distance of the stadium. Fans who do not have mobile parking passes will not be able to enter the EverBank Stadium parking lots. Parking lots typically open four hours before kickoff for Jacksonville Jaguars games and close two hours after games end. Tailgating is permitted and encouraged at EverBank Stadium, however, prohibited items and actions include, but are not limited to: weapons, fireworks, soliciting, selling products, drones, model aircrafts, kites and ball playing in the parking lots and roadways.
EverBank Stadium Bag Policy
EverBank Stadium follows the NFL's Clear Bag Policy, meaning the only bags allowed in the stadium are clear plastic, vinyl or PVC bags that do not exceed 12″ x 6″ x 12″. Small clutch bags no larger than 4.5″ x 6.5″ and one-gallon plastic bags are also permitted. Prohibited items inside EverBank Stadium include, but are not limited to, cameras with detachable lenses longer than 6″, clothing with profane or obscene language or content, coolers or containers, bottles and beverages from outside the stadium, drones, weapons, lasers, inflatables, laptops, noisemakers, seat cushions, signs or banners larger than 2′ x 3′, strollers or infant carriers, umbrellas, video and audio recording equipment, tobacco products and e-cigarettes. One sealed water bottle smaller than 16.9 oz and unwrapped food in an approved clear bag are permitted inside EverBank Stadium.
EverBank Stadium Capacity & Seating Options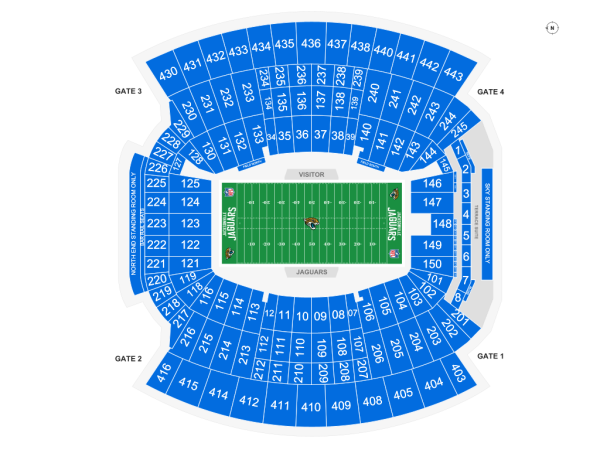 EverBank Stadium has a capacity of just under 68,000. Along with thousands of general seating options, EverBank Stadium has a number of premium seating locations, including the Executive Suites, Fields Auto Group Terrace Suite, Gallagher Club East and West, VIP Field Club Seats, Farah & Farah Fan Deck – North End Zone Bar Rail and Terrace Cabanas. Executive Suites offer custom food and beverage options in a personal, air-conditioned space with excellent views of the field. The Fields Auto Group Terrace Suite is a large club space that includes premium seating and the finest food and beverage options. Gallagher Club East and West offer fans a cushioned seat in an ideal location on the 50-yard line with a bar rail, bar table and a sofa on a beautiful patio. VIP Field Club Seats are located directly behind the opposing team and offer access to Club East and a private bar. Farah & Farah Fan Deck – North End Zone has bar railing seats on the North end zone in a cabana setting.
What are the best seats at EverBank Stadium?
The best seats at EverBank Stadium vary depending on the event and personal preferences. Check out EverBank Stadium seating charts and find your favorite seat today.
Food & Beverage Options at EverBank Stadium
View this post on Instagram

Along with dozens of classic concession stands featuring hot dogs, burgers, ice cream, candy and soda, EverBank Stadium also offers a number of other specialized food and beverage options throughout the stadium. Notable fan-favorites include Tailgate Grill, 904 Burger, Mister Softee Portables, Fat Rooster, Bono's BBQ, Smokey Q's BBQ, Monster Slice, Coastal Taqueria and Duval Coastal Kitchen. Beer, wine and cocktails are also located at bars throughout the stadium.
You Might Like
Step inside Acrisure Stadium, home of the Pittsburgh Steelers, and learn more about this PGH staple for sports and entertainment.
Step inside Gillette Stadium, home of the New England Patriots & Revolution, and learn more about this Massachusetts staple for sports and entertainment.
Explore the fierce spirit of the Monsters of the Midway as they rally behind their team. From iconic players to memorable moments, discover the enduring prid...