Step Inside: Dodger Stadium – Home of the Los Angeles Dodgers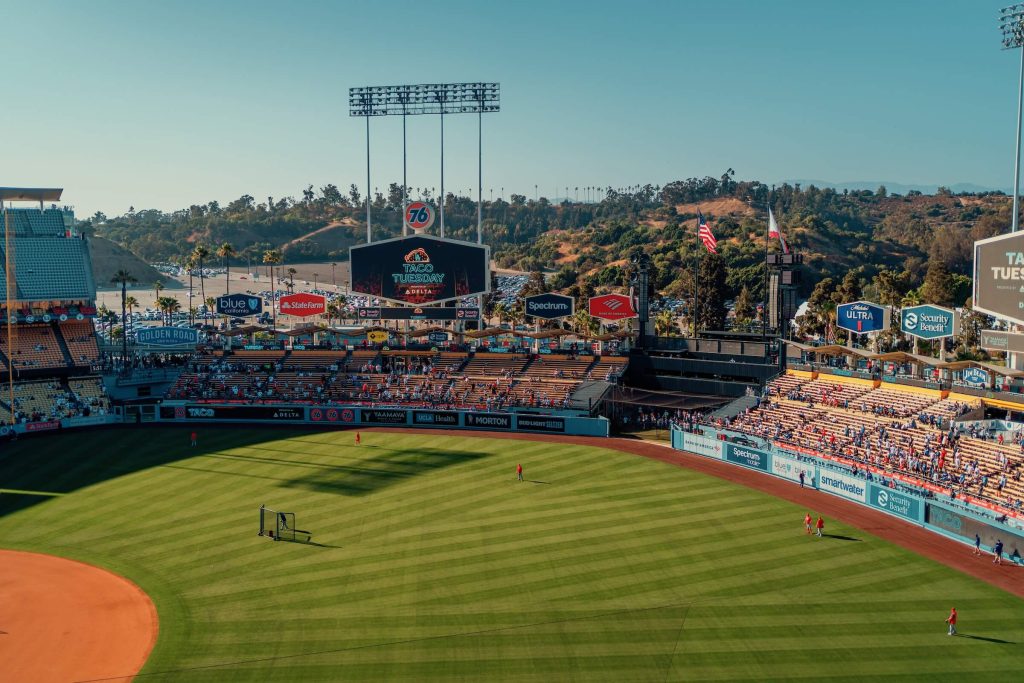 Stadium History | Parking & Admission | Seating & Capacity | Food & Concessions
The largest ballpark in Major League Baseball, Dodger stadium is located just a few miles from downtown Los Angeles in the Elysian Park neighborhood. The stadium is less than an hour drive from Universal Studios Hollywood, the Los Angeles Zoo and California State University, Los Angeles, as well as several top-notch restaurants, diners and breweries.
What events are coming up at Dodger Stadium?
See upcoming events and buy tickets for Dodger Stadium right here on Ticketmaster.

Dodger Stadium History
Stationed less than 25 miles from the California coastline, Dodger Stadium enjoys the brilliance of glittering cityscapes alongside palm trees, coastal breeze and the temperate weather of a Mediterranean climate.
In addition to serving as home of the Dodgers, the stadium is a popular venue for concerts and other events. In recent years, the stadium has hosted concerts by musical artists such as Elton John, Lady Gaga, Billy Joel, Beyoncé, Metalachi, Madonna, and Taylor Swift, as well as stand-up comedian Gabriel Iglesias. The stadium has also hosted musical icons like U2, Michael Jackson, Simon & Garfunkel, and The Beatles.
In 2022, Dodger Stadium celebrated its 60th anniversary with murals, memorabilia and a new bronze statue. This included murals of Civil Rights activist Jackie Robinson, who broke the baseball color barrier in 1947. The stadium also added a sculpture of teammate Sandy Koufax to the Jackie Robinson statue in center field.
Parking and Admission at Dodger Stadium
Dodger Stadium provides general admission and preferred parking for their fans. Preferred parking allows you to choose an area for parking in advance, whereas general admission parking secures you an undetermined spot. For general parking, you will be directed where to park on arrival. Fans are encouraged to purchase parking in advance to improve flow and availability.
Dodger Stadium also encourages alternative transportation, including public transit and bicycling. Bike racks are listed on the stadium map and are provided at all levels and turnstiles. The Dodger Stadium Express is a popular public transport shuttle between Dodger Stadium and Union Station. Service starts 90 minutes before game time through the end of the 2nd inning for all home games and return service ends 45 minutes after the final out or 20 minutes after post-game events.
For patrons with disabilities, the stadium provides accessible parking spaces in lots B, D, F, G, K, L, N, and P. Patrons with disabilities can also request an ADA shuttle for assistance arriving at the entry gates.
Tailgating is not allowed at Dodger Stadium, but  fans are allowed to bring outside food into the stadium during games, as long as it's in a clear plastic bag that is 12″ x 12″ x 6″ or smaller. Alcoholic drinks are not allowed, but you can bring sealed plastic bottles of water, one liter or less. Outside food and beverages are not allowed in stadium suites.
Related: The Best Bars & Restaurants Around Dodger Stadium
Dodger Stadium Capacity & Seating Options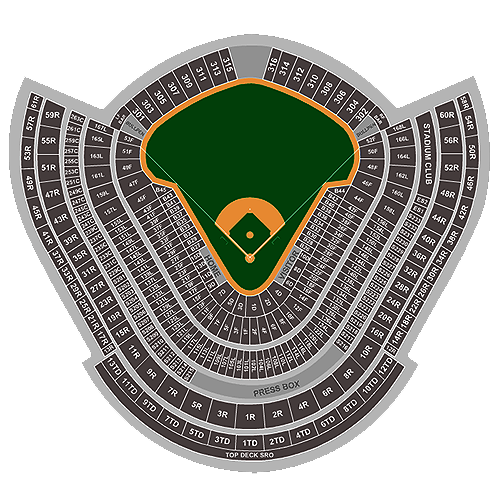 Dodger Stadium has 56,000 seats, making it the largest MLB stadium. Dodger Stadium seating areas include the field box, loge box, reserve level, top deck, and right and left field pavilion seating.
VIP seating at Dodger Stadium includes club seats as well as private suites. Club seats are on the third level of the stadium, where they are almost completely covered by the Reserve deck, and are known as the "Executive Club." This area provides smaller sections as well as a private bar and concessions area. Private Suites, known as Bank of America Suites, are indoor areas for 20 to 30 guests. They come with an outdoor deck that overlooks the ballpark, as well as concierge service and optional food and beverage packages.
What are the best seats at Dodger Stadium?
The best seats at Dodger Stadium vary depending on the event and personal preferences. Check out Dodger Stadium seating charts and find your favorite seat today.
Food & Beverage Options at Dodger Stadium
Food Options
Dodger Stadium offers food options to suit any palate, from vendors including King's Hawaiian Grill, Think Blue BBQ, Korean Rib Bowl, Bud and Burgers, and the Elysian Park Grill. Throughout the stadium, fans can find concession stands for ballpark classics like warm pretzels and, of course, the iconic 10-inch Dodger Dogs — either traditional style or plant-based. Mexican food is also popular and offered on different levels throughout the stadium. Some favorites include churros, the Carne Asada Torta from the LA Open Deck Circle, as well as tacos, grilled corn and more from La Taqueria Express.
In 2021, the stadium partnered with California Pizza Kitchen, Shake Shack, Sweet Chick, and Dunkin' Donuts, with whom they released their Dodgers Signature Latte — a blueberry crisp latte with whipped cream, caramel and cinnamon.
Fans who are looking for gluten-free, kosher or healthy food options can find a variety at vendors such as Jeff's Gourmet, Avoiding Gluten and Dodger Deli.
Beverage options
Dodger Stadium has a variety of alcoholic and non-alcoholic beverages for fans to choose from. This includes coffee from Dunkin' Donuts and Aguas Frescas from different vendors, with flavors such as Mango, Horchata, Strawberry-Kiwi, and more.
Alcoholic drinks, including locally brewed beers and specialty cocktails, are available at vendors such as Think Blue Bar, Herradura Ultra Bar and Hornitos Cantina.
The policy at Dodger Stadium is that alcohol cannot be brought into the stadium, and is limited to two beverages per person per purchase.
You Might Like
It's the hunt for October! Learn about the MLB playoff structure and how the seeding system works as teams compete for the Major League Baseball World Series.
If you're looking to travel outside of your hometown for a game, we've compiled a list of the best MLB stadiums to help you plan accordingly. Check out our t...
Baseball has always been a sport rich in tradition and history, and one of the most fascinating aspects of the game is the intense rivalries that have develo...