The Best Bars & Restaurants Around Dodger Stadium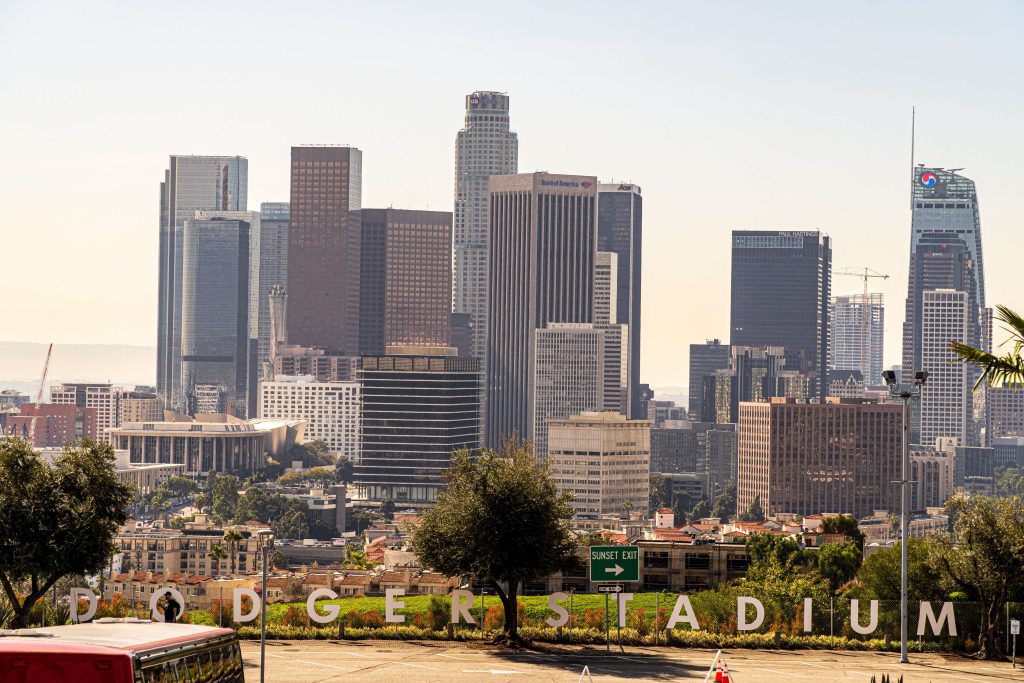 The Short Stop | Philippe The Original | The Echo/Echoplex | Brooklyn Ave Pizza Co | The Belasco | The Moroccan Lounge | The Wiltern
There are few things in our country that are more authentically American, quite like baseball. The good citizens of Los Angeles love America's pastime, and pour into Dodger Stadium at record rates. Dodger Stadium has led Major League Baseball in attendance for nearly a decade, with an average attendance of 47,440 people per game in 2021 once they returned to full-capacity crowds. However, if you're planning on attending a game, you might be asking yourself what is there to do around Dodger Stadium. So, we've compiled a list of the best restaurants and bars near Dodger Stadium that are sure to put you in the right mood to root, root, root for the home team.

---
The Short Stop
View this post on Instagram

What could be a better spot to grab a drink before a baseball game than one called The Short Stop? There is no "official bar" of the Dodgers, but The Short Stop holds the unofficial title. Grabbing drinks and a pregame snack is a time-tested tradition and it's also the closest bar to the stadium. The Short Stop opens daily two hours before first pitch, and has happy hour every day from 5–9 p.m.
---
Philippe The Original
View this post on Instagram

Philippe The Original has been a Los Angeles staple since 1908 as the "Home of The Original French Dip Sandwich." Folklore states that about 100 years ago, Philippe Mathieu was making a sandwich for a police officer when he accidentally dropped a french roll into the roasting pan, and history was born. Polish off your French Dip with one of the 10 beers on tap or any number of their bottled beer options. The best part? Philippe The Original is only a mile-and-a-half from Dodger Stadium.
---
The Echo/Echoplex
View this post on Instagram

The Echo and The Echoplex are neighboring live music venues/clubs that are solidified as one of the go-to destinations in Echo Park, booking some of the hottest indie bands. Voted as a top five music venue in Los Angeles Filter magazine, The Echo and The Echoplex have parking on-site and feature some of the best food trucks in all of L.A., all located roughly a mile away from Dodger Stadium. If you are strictly looking to quench your thirst, fear not, because both The Echo and The Echoplex have bars onsite.
---
Brooklyn Ave Pizza Co
View this post on Instagram

It may sound confusing to get a NY-style pizza before a Dodger game, but Brooklyn Ave Pizza Co is authentically California with their pizza, wings and papas with freshly added ingredients like beef chorizo, queso fresco and mole. Additionally, this spot is perfect to watch the pregame with TVs from wall-to-wall. With ice-cold beers on draft, boozy cocktails and wine you can take with you after you cash out, this fast-casual eatery is the perfect pregame spot before you watch the Dodgers catch a win.
---
The Belasco
View this post on Instagram

The Belasco theater, named after American theatrical producer and playwright David Belasco, is a 40,000-square-foot multiplex located in downtown Los Angeles near the Convention Center. Not only does this place host awesome live music events, but it's got several different drinking spots onsite, including a dedicated wine bar. The theater first opened in November 1926, but has grown in popularity over the last 20 years. Keep in mind this theater does have a dress code, but if you don't mind throwing on a blazer, this is the perfect pre- or post-game spot.
---
The Moroccan Lounge
View this post on Instagram

Slightly further from Dodger Stadium than some of our other options, The Moroccan Lounge makes up for it with great drink specials and unique cuisine featuring Jamaican-inspired food from Ozi's Kitchen. The Lounge doesn't have set hours for the venue, but if game night falls in line with a show, you will easily be able to get a table to pre-game. Additionally, the Moroccan Lounge has free street parking after 6 p.m. and is located five minutes from the Little Tokyo stop on the Metro Gold Line.
---
The Wiltern
View this post on Instagram

The Wiltern is a 1,400-seat, five-level live theater that is a perfect pre-game spot due to having two bars located in the rear of the venue. The Wiltern hosts local and national acts like Noah Cyrus and "Weird Al" Yankovic and has parking onsite. Despite being four miles from Dodger Stadium, patrons can hail ride shares and public transportation to get to the game after a few rounds.  See our post for capacity, parking and bag policy information.
---
In truth, there are several dozen phenomenal spots to grab a drink before or after a Dodgers game. But if you want to visit a spot that is time-tested and embraces the culture of L.A., then one of the spots above is sure to deliver like Mookie Betts at the plate. So, if you're looking to unwind after work but before first pitch, or you want to drink until last call, check out these Los Angeles venues near Dodger Stadium for a good time. 
You Might Like
Step inside EverBank Stadium, home of the Jacksonville Jaguars, and learn more about this Florida staple for sports and entertainment.
Step inside Paycor Stadium, home of the Cincinnati Bengals, and learn more about this Ohio staple for sports and entertainment.
It's the hunt for October! Learn about the MLB playoff structure and how the seeding system works as teams compete for the Major League Baseball World Series.