Step Inside AT&T Stadium: Home of the Dallas Cowboys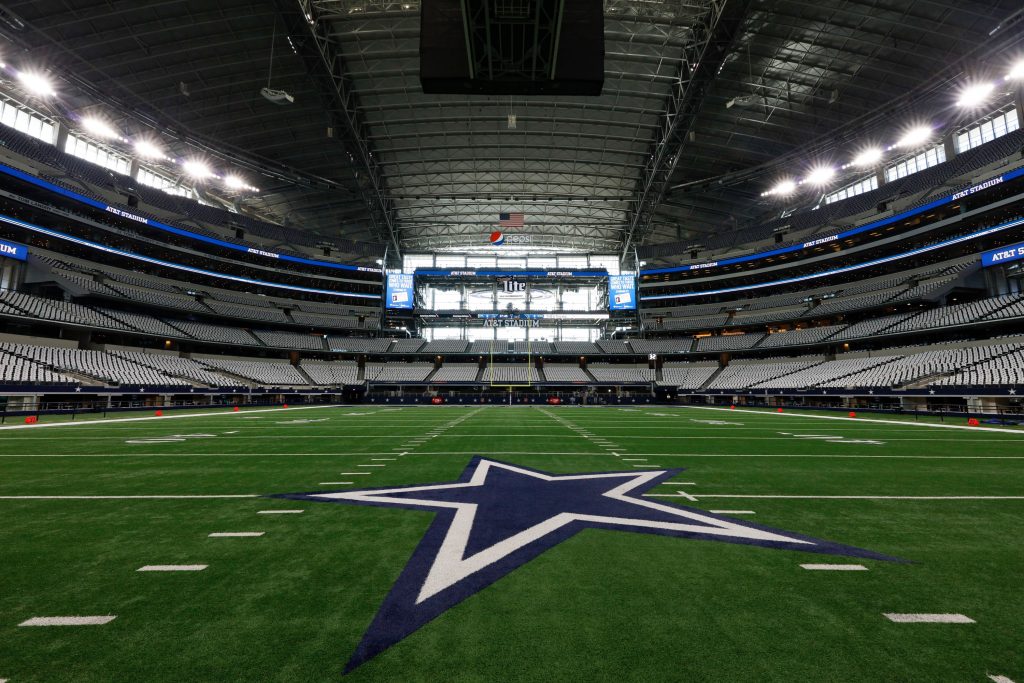 Stadium History | Parking & Admission | Seating & Capacity | Food & Concessions
AT&T Stadium in Arlington, Texas is the home of the NFL's Dallas Cowboys. Beyond serving as the home turf for "America's Team," the massive sports venue has also housed annual touchstones like the Goodyear Cotton Bowl Classic and the Big 12 Championship Game. Other special events that have been hosted at the stadium include Super Bowl XLV in 2011, the NCAA men's basketball Final Four in 2014, the inaugural College Football Playoff National Championship and the 50th Academy of Country Music Awards in 2015, and the 2018 NFL Draft. In 2021, AT&T Stadium hosted Rose Bowl, becoming the only venue since 1942 to host the event outside of its titular Pasadena, California location.
Opening in 2009 under the name Cowboys Stadium, the state-of-the-art facility's astronomical $1.15 billion price tag was matched by some of the most spectacular features of any sports venue. At the time of its unveiling, the distinctive central display board held the world record for largest high-definition video screen and the stadium's retractable dome stands as the fourth-largest dome in the world. Additionally, AT&T Stadium is one of the largest stadiums across the NFL. A September 2009 game continues to hold the NFL regular-season attendance record at 105,121 fans, while the stadium also holds the record for highest-attended basketball game in history after hosting the 2010 NBA All-Star Game.
The official address for AT&T Stadium is 1 AT&T Way.
What events are coming up at AT&T Stadium?
See upcoming events and buy tickets for AT&T Stadium right here on Ticketmaster.

AT&T Stadium History
Commonly referred to as Jerry World (a nod to Cowboys owner Jerry Jones), AT&T Stadium has a massive, retractable roof and boasts one of the largest seating capacities and HD screens of any NFL stadium. Completed in May of 2009 for $1.15 billion in initial construction costs, AT&T Stadium is one of the most expensive sports venues that has ever been built.
Beyond serving as the home of the Cowboys, AT&T Stadium has also hosted a wide variety of sporting events, including NBA All-Star games, NCAA college football and basketball games, Concacaf professional soccer matches and professional boxing events. AT&T Stadium has also been host to the NFL Super Bowl, College Football Playoff National Championship, Big 12 Championship game, Rose Bowl, Goodyear Cotton Bowl Classic, NCAA Men's Final Four, AMA Supercross Championship and multiple world championship boxing matches. In 2026, AT&T Stadium will host multiple FIFA World Cup matches.
AT&T Stadium is also a world-class music and entertainment venue. Performers such as Paul McCartney, Kenny Chesney and Taylor Swift have graced the stage in front of massive crowds over the years. The stadium has also hosted WWE WrestleMania events, Monster Jam events and Dickies Iron Cowboy Invitationals for professional bull riding.
AT&T Stadium Features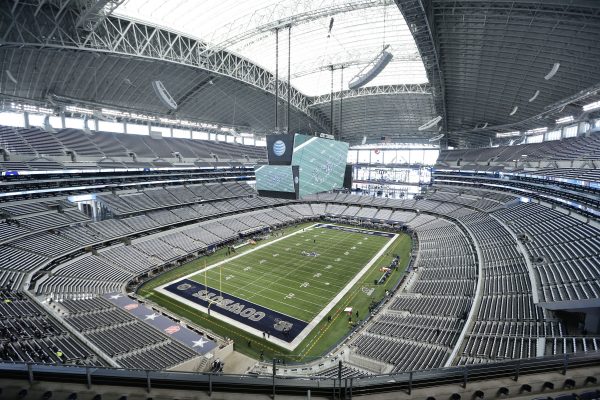 AT&T Stadium features a 105,000 square foot retractable roof, the largest of its kind, along with openable end-zone walls that give an outdoor experience when the weather cooperates. And no matter where you're sitting, it's impossible to miss the 600-ton LED screens suspended over the field…
Stretching 72 feet high by 160 feet wide, the Mitsubishi-made screens have a total viewing area of 11,393 square feet – equivalent to over 3,200 52-inch flat screen TVs. This earned a Guinness World Record for the largest high definition video screens in the world, until they were surpassed in 2014 by the screens at EverBank Stadium (home of the Jaguars). The scoreboard is so close to the action that punters have hit it during games, resulting in the NFL giving the stadium its own rule – balls that hit the screen must be re-kicked.
Parking and Admission at AT&T Stadium 
AT&T Stadium is surrounded by approximately 12,000 parking spaces within 15 numbered lots, with an additional 12,000 spaces of overflow parking in lettered lots that surround the neighboring Globe Life Field, home of MLB's Texas Rangers. Accessible parking is available for vehicles with a valid parking pass and clearly displayed disabled parking placard or license plate on a first-come, first-served basis. Mobility assistance shuttle carts are also available for guests with disabilities and limited mobility from each of the various lots at AT&T Stadium. Parking for buses and oversized vehicles requires a special parking pass and is available only in lots 14 and 15. Tailgating at AT&T Stadium is only allowed in designated parking spots and in specific lots on a first-come, first-served basis.
AT&T Stadium Bag Policy
Bags approved for use at Cowboys games and other stadium events are limited to clear plastic, vinyl or PVC bags not exceeding 12″ x 6″ x 12″ in size. Resealable, one gallon storage bags and wallets or clutch bags no larger than 4.5″ x 6.5″ are also allowed in the stadium. 
AT&T Stadium Capacity and Seating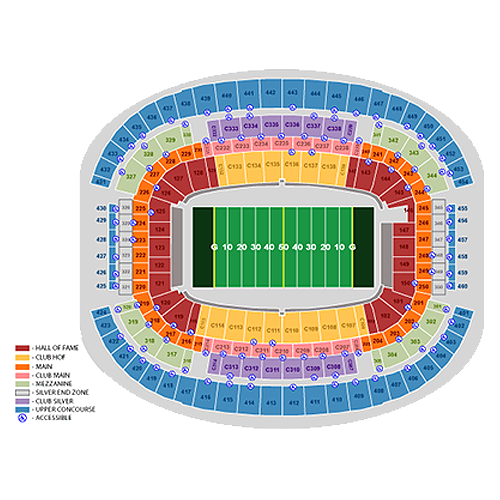 AT&T Stadium comfortably seats 80,000 guests with expanded capacities that allow for more than 100,000 people to attend events. Behind each end zone are six elevated platforms that can be retrofitted with extra seats to accommodate more guests with Party Pass tickets. Behind the Party Pass section are large glass door panels that can be opened to allow natural light and fresh air to circulate into the stadium. Club seating and luxury suites are located in the upper levels of AT&T stadium, offering guests added amenities like private restrooms, catering options, Wi-Fi and VIP club access.

What are the best seats at AT&T Stadium?
The best seats at AT&T Stadium vary depending on the event and personal preferences. Check out AT&T Stadium seating charts and find your favorite seat today.
Food and Beverages at AT&T Stadium
Food and drink options at AT&T Stadium are bountiful. Guests looking for stadium classics with a Texas twist should check out Hall of Fame Concessions and Upper and Main Concourse areas. Concessions at AT&T Stadium include Cowboy Cheesesteak, Al Pastor Tacos, Ultimate Nachos, Cowboy Cheesesteak Hand Pie and more. Club and Suite level menu options include lobster mac and cheese, muffuletta, steak sandwiches and fried mozzarella burgers. Fans looking to quench their thirst have a wide variety of options, including soft drinks, craft beers, seltzers, cocktails and Black Rifle Coffee.
Things to Do at AT&T Stadium
If you have the time, you can take a tour of the stadium's carefully curated art galleries or dine at the Stadium Club – a 19,000 square foot restaurant offering first-class dining with the comfort of a sports bar atmosphere. The many concession stands around the arena go beyond the basics, offering delicious items like gourmet nachos and fire roasted turkey burgers. And for those on a budget, the Cowboys "Party Pass" sections offer unique standing room only tickets to fans at affordable prices.
AT&T Stadium also features a unique "fan experience board" – a robotic, 130 foot LED display that fans interact with via the Cowboys app. You can upload fan videos and photos to be displayed on the big screens and, during the most intense moments of the game, unite with the rest of the crowd to make the display move, rumble, and flash.
Beyond the football on the field, a highlight of every home game is the Dallas Cowboy Cheerleader halftime show. Widely respected as one of the best cheerleading squads in the NFL, these talented women endure a grueling tryout process where 600 aspiring women from across the country compete to be one of "America's Sweethearts." And when they're not pumping up the crowd with their dazzling routines, the squad's outreach off the field raises money for notable charities such as the Salvation Army, the March of Dimes, and the Make-A-Wish Foundation.
You Might Like
Step inside Acrisure Stadium, home of the Pittsburgh Steelers, and learn more about this PGH staple for sports and entertainment.
Step inside Gillette Stadium, home of the New England Patriots & Revolution, and learn more about this Massachusetts staple for sports and entertainment.
Explore the fierce spirit of the Monsters of the Midway as they rally behind their team. From iconic players to memorable moments, discover the enduring prid...