Step Inside: Arthur Ashe Stadium in Queens, New York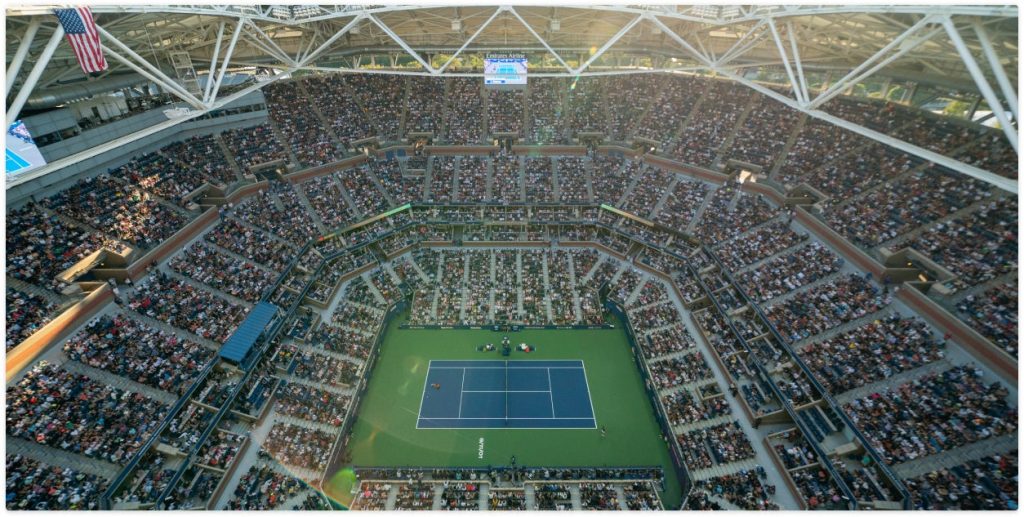 Stadium History | Transportation & Parking | Seating Options | Rules & Guidelines | Food & Beverages
Arthur Ashe Stadium History
Arthur Ashe Stadium is named after legendary tennis player Arthur Robert Ashe. Born in Richmond, Virginia, Ashe was the winner of the inaugural 1968 US Open — the first in which professionals could compete. By 1975 he was ranked the No. 1 tennis player in the United States. He passed away in New York in February 1993. 
Located at Flushing Meadows-Corona Park in Queens, New York, Arthur Ashe Stadium opened in 1997 as part of the USTA Billie Jean King National Tennis Center. When the Arthur Ashe Stadium opened, it replaced the Louis Armstrong Stadium as the main tennis facility in the park. The stadium opened by hosting the US Open and Grammy winner Whitney Houston sang "One Moment in Time" during the inauguration ceremonies and a tribute to the late Arthur Ashe. The first official tennis match that was played on the court was at the US Open in 1997, where Thailand's Tamarine Tanasugarn beat Chanda Rubin from the United States in two sets. 
When it opened in 1997, the stadium as originally built without a roof, but after years of event delays due to weather, a lightweight retractable roof was completed in 2016. With a capacity of 23, 771, Arthur Ashe Stadium is the largest tennis stadium in the world. The stadium features a bronze statue of the tennis player Arthur Robert Ashe, sculpted by Eric Fischl. Titled "Soul in Flight" and sponsored by the USTA, the statue features Ashe standing tall with his left arm pointing up. It's inscribed with a quote from Ashe that reads: "From what we get, we can make a living; what we give, however, makes a life."
Getting to and Parking at Arthur Ashe Stadium
Getting There by Car
If you're traveling by car to the US Open, putting in USTA Billie Jean King National Tennis Center into your GPS will get you there. To save time, the USTA recommends using either the Grand Central Parkway exit 9E or Whitestone Expressway Exit 13D or Long Island Expressway Exit 22B.
Parking
If you're headed to the US Open, there are a few things you should know about Arthur Ashe Stadium parking. 
If there is a New York Mets home game, US Open attendees will be directed to park in the Blue Zone and Orange Zone parking lots. There will be NYPD and parking lot staff to direct you where to park.

If there isn't a New York Mets home game, US Open attendees can park in the Mets Stadium parking, also known as the Yellow Zone lot. There will be NYPD and parking lot staff to direct you where to park.
Parking information is subject to change, so make sure you check for any updates before leaving. To park at Arthur Ashe Stadium, it's $25 for vehicles and $50 for buses. 
Public Transportation
If you rather take mass transit to the US Open, it can save you time and money. Here are a few ways to take public transportation when traveling to your Arthur Ashe Stadium visit. 
Subway: The 7 train offers service from Grand Central Terminal to Mets-Willets Point Station. It has connections for all Metro-North Trains from Westchester and Connecticut. You can also get service from the Port Authority Bus Terminal.
Long Island Rail Road: The Long Island Rail Road provides easy service to Mets-Willets Point Station from Woodside. For New Jersey train customers, there's also convenient connections from Penn Station. 
For more information on taking public transportation to Arthur Ashe Stadium, visit the MTA website at mta.info. 
Arthur Ashe Stadium Seating Options and Capacity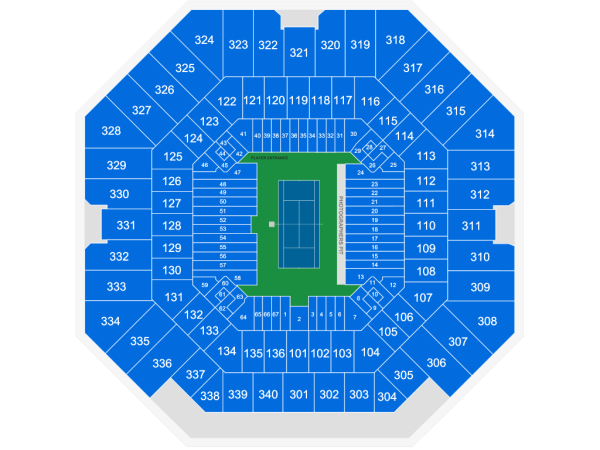 Arthur Ashe Stadium can seat up to 23,771 fans, which makes it the largest tennis stadium in the world. There are a variety of seating options available Day and Evening Sessions of the US Open. The levels of seating for the US Open at Arthur Ashe Stadium include the upper level Promenade seating, mid-level Loge seating, Luxury Suites that sit just above courtside, and Courtside seats for that front-row view. If you're wondering if Arthur Ashe Stadium is covered, it is. Due to several years of delays because of weather, in 2016 Arthur Ashe Stadium added a lightweight retractable roof. More information about seating and US Open ticket options can be found at ticketmaster.com/usopen.
Arthur Ashe Stadium Rules & Guidelines
In an effort to keep everyone attending the US Open safe, the USTA has implemented a number of important security measures in conjunction with local, state and federal law enforcement. Here are a couple important things to keep in mind when getting ready to attend a match at the US Open.
All US Open attendees will go through a screening process before passing through the gates. It's recommended to arrive early to avoid delays.

There is an Arthur Ashe Stadium bag policy. The policy is a limit of one bag per guest, and all bags are subject to search and must not be larger than 12"W x 12"H x 16"L. You will not be able to store your bag on the

USTA Billie Jean King National Tennis Center grounds. For a fee, you can store your bags outside the East Gate and South Gate entrances.
What can I not bring to the US Open?
Backpacks 

Hard coolers or like containers

Sealed packages of any kind

Glass bottles or cans

Aerosol cans or noise-making devices

Alcohol

Video cameras or recording devices

Computers or laptops

Weapons (regardless of permit)

Animals 

Flags, banners or signs

Any materials, items or apparel constituting unauthorized advertising or promotion

Laser pointing devices

Tennis racquets

Drones (UAS-Unmanned Aircraft Systems) or other model aircraft

Selfie-sticks or other telescopic devices

Any other items deemed dangerous or inappropriate by US Open personnel, in their sole discretion
What can I bring to the US Open?
Single compartment drawstring bags

24oz or less reusable water bottes made from metal or plastic

Cell phones and SLR cameras, with lenses up to and not exceeding 300mm, with video or recording capabilities

Service animals
Food and Beverage Options at Arthur Ashe Stadium
Tennis fans visiting Arthur Ashe Stadium for the US Open will find no shortage of exciting food and beverage options available throughout the stadium. Keep reading for a list of must-have Arthur Ashe Stadium food selections.
OMG Taco

Located at Gate 3, OMG Taco serves up a tasty menu of Mexican street food. From tacos and nachos to chips and guacamole, your appetite is sure to be satisfied here.
Bar Tartine
Located at Gate 6, Bar Tartine services up the most authentic and tasty artisanal flatbreads. You can pair their selection of flatbreads with a great selection of beverage options too, like a Heineken or Honey Deuce — the signature cocktail of the US Open.
Hill Country
New York is a long way from Texas, but you can still get your fix of comfort food at Hill Country. Located at Gate 9, Hill Country brings authentic barbeque straight from the Texas Hill Country to Flushing Meadows. A tip from the US Open? Try the chopped brisket sandwich featuring pit-smoked meat, house pickles and sliced onions.
Fly Fish @ Oyster Bar
Located at Gate 4, you can feast on oysters, lobster rolls and crab cakes at Fly Fish @ Oyster Bar. Plus, you won't go thirsty with a selection of beverages to go with your seafood.
Pat LaFrieda Meat Co.
Try out the signature filet mignon steak sandwich from Pat LaFrieda — known as New York's "King of Meat." There's also a chicken parmesan sandwich, a double patty burger and vanilla milkshakes.
Ben & Jerry's Ice Cream
When your sweet tooth is calling, head to Gate 35 for an arry of ice cream, milkshakes and smoothies from Ben & Jerry's.
Franks & Sausages

You can try out New York Italian sausage, the Coney Island foot long frankfurther, a baked pretzel braid and more at Franks & Sausages, located at Gates 22, 23, and 27.
Fuku
Located at Gate 32, Fuku — from the owners of Momofuku — is known for their friend chicken sandwiches, plus a variety of chicken and seasonal offerings.
Grand Slam Grill
All of the food you'd want to enjoy while watching the US Open can be found at the Grand Slam Grill, located at Gates 26 and 34. Choose from an all-beef frankfurter, New York-style Italian sausage, hamburgers, chicken tenders, fries, and more.
Grey Goose Bars
It wouldn't be an Arthur Ashe Stadium visit without trying the signature drink of the US Open — the Honey Deuce. Try it out for yourself at the Grey Goose Bars located at Gate 26.
Italian Experience
If you're craving Italian food, look no further than the Italian Experience. Located at Gates 25 and 36, here's where you'll find a variety of traditional pizzas and grilled panini sandwiches.
The Open Bar
Here's where you'll find US Open signature cocktails, plus wine by the glass and beer. There's also snacks at The Open Bar — located at Gates 27, 33 and 38 — like wraps, sandwiches, kettle chips, baked pretzel braids, and crackerjacks.
Prime Burger
Located at Gate 29, at Prime Burger you can have the "World's Greatest hot dog," plus burgers like the name suggests, and seasoned french fries.
For more information about the US Open, visit our Fan Guide.