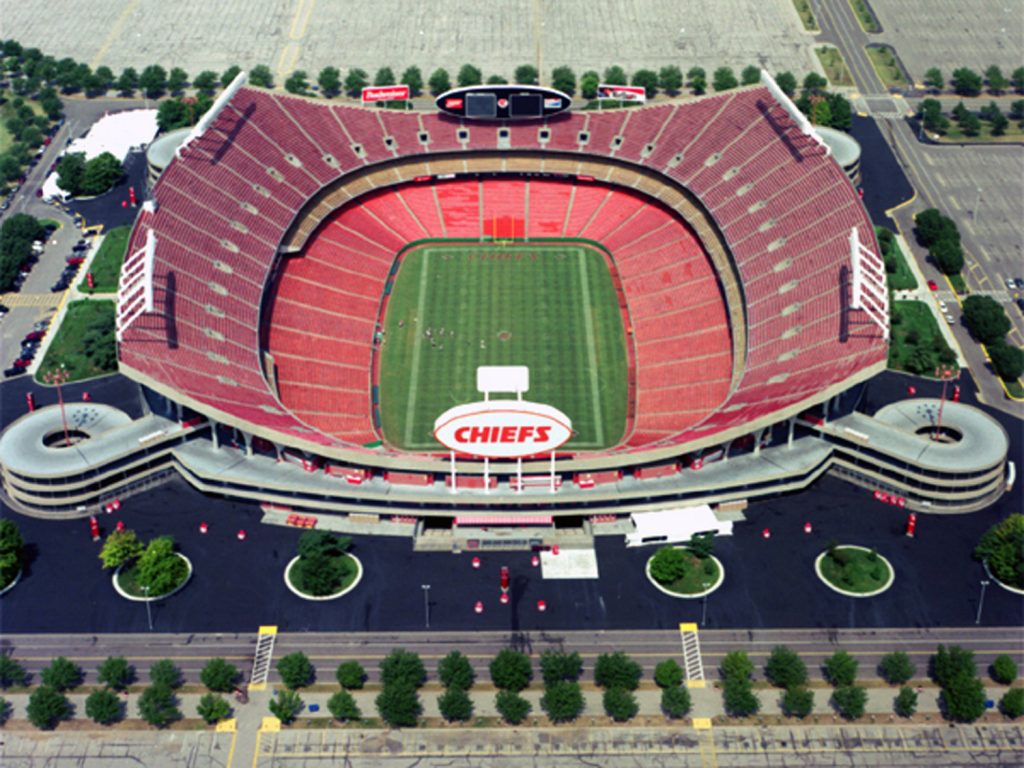 Prepare your ears and your stomachs: Kansas City's Arrowhead Stadium not only attracts the NFL's noisiest fans, but offers some of the juiciest, finger-licking-est barbecue this side of the Mississippi. Home to the Kansas City Chiefs since 1972, Arrowhead has hosted numerous nail-biting games — both for the NFL and NCAA's Big 12 Conference — and has also opened its doors to top music performers from U2 to Taylor Swift. It's even landed in the Guinness Book of World Records for being the loudest open-air stadium in the world. It can pack in a rowdy crowd of over 76,000, making it the sixth-largest NFL stadium. Visit Arrowhead for any Chiefs home game and you'll quickly understand why fans lovingly call it the Sea of Red. 
Arrowhead Stadium History
Arrowhead Stadium has had a long and influential history in professional football. In 1966, when the American Football League (AFL) and National Football League (NFL) joined forces, the NFL created a new rule requiring all stadiums to seat at least 50,000 people. Just two years later, construction began on Kansas City's new football venue on the eastern border of the city to abide by this rule and accommodate the area's growing number of fans.
As one of the first stadiums constructed after the AFL-NFL merger, Arrowhead was a leader in stadium design. It introduced the use of arrows on the yard markers at the goal line (which eventually became a requirement throughout the NFL) and was the first to be a part of the two-stadium Truman Sports Complex, which also includes Kauffman Stadium, home of the Kansas City Royals.
On November 5, 1970, sports mogul and Chiefs owner Lamar Hunt christened the stadium Arrowhead and the Chiefs officially inaugurated it in style on August 12, 1972, when they defeated the St. Louis Cardinals 24-14 in a preseason game. Over the next two decades, the Chiefs — and the Sea of Red that follows them — would dominate the stadium, and in 1996 they opened up their home to Major League Soccer team the Kansas City Wizards, who played at Arrowhead through 2007. 
In 2010, a newly renovated and expanded Arrowhead Stadium was unveiled, featuring an improved seating arrangement and stunning new suites, plus impressive attractions like the 28,000-square-foot Hall of Honor and the Chiefs Sports Lab, an interactive exhibit promoting healthy living for kids of all ages. More upgrades followed in 2019, including a state-of-the-art scoreboard that can withstand even the brightest afternoon sun, and shiny new seats in the upper deck that come furnished with a game-watching necessity: cupholders. And don't miss the dedicated drum deck just under the scoreboard for the Chiefs' special pre-game drum ceremony.
Arrowhead Stadium Events
Over the decades Arrowhead Stadium has been a home away from home for Kansas City Chiefs fans — and they will certainly let you know it. If you plan to attend a game, you may want to bring some earplugs, or at least warm up your own vocal cords. In a battle with Seattle's CenturyLink Field, Arrowhead Stadium stole the title for the world's loudest open-air stadium when noise levels reached 142.2 decibels in 2014 during the Chiefs' Monday Night Football game against the New England Patriots. The Chiefs went on to win, of course. 
For sound that's just a little more melodic, Arrowhead Stadium has also served as one of Missouri's premier musical venues. Back in the 1970s, artists like The Rolling Stones, Elton John and The Beach Boys graced its stage. More recently, Arrowhead has welcomed some of the world's top performers, including Taylor Swift, Ed Sheeran and Kenny Chesney.
Arrowhead Stadium Food and Concessions
It's tempting to make the trip to Arrowhead Stadium exclusively for the food — especially if you're a barbecue-lover. Head to the Hall of Honor's BBQ Alley for a multitude of mouthwatering meats from local Kansas City brands, including Plowboys Barbeque (home to the American Royal Championship Brisket Sandwich) and Smoke Brewing Company (be sure to get their Loaded BBQ Fries).
Elsewhere, Mac Shack has every type of mac & cheese you can imagine, including bacon-jalapeño and a "BBQ Burnt End" version, while Chickie's & Pete's serves up their famous crabfries, The Coop offers guilt-free cauliflower wings and Peace Love & Waffles reimagines waffles as a BBQ essential. You'll have plenty of opportunity to wash all those goodies down with a Stone Cold Jones Soda, a refreshing beverage created by KC Soda Co. and Chiefs defensive tackle Chris Jones.