Step Inside: Acrisure Stadium – Home of the Pittsburgh Steelers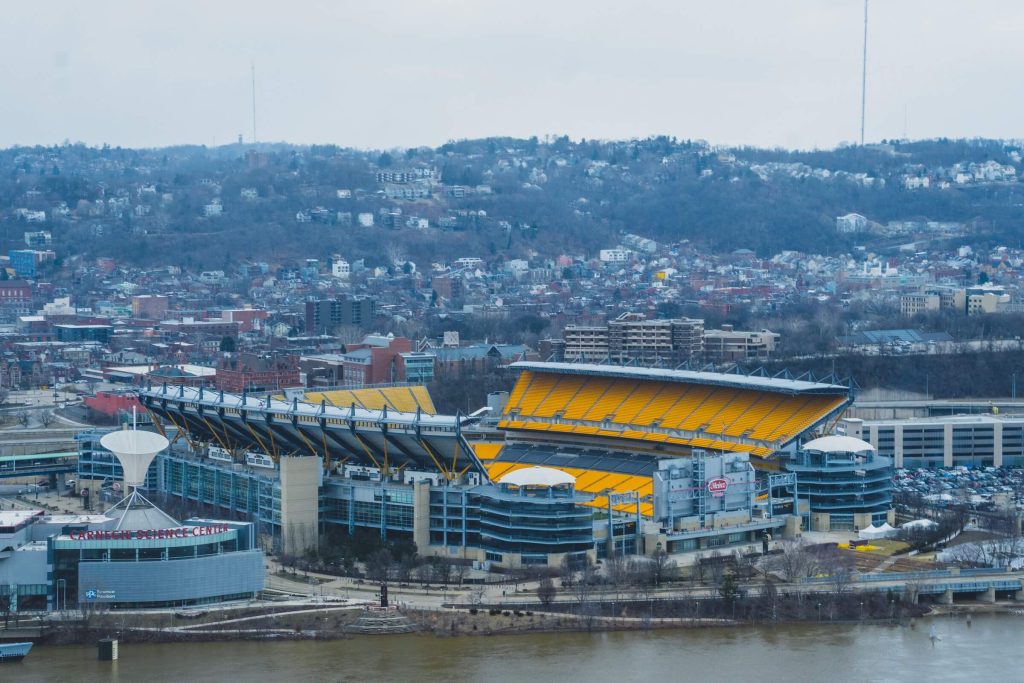 Stadium History | Parking & Admission | Seating & Capacity | Food & Concessions
Venue Quick Facts
Venue Name
Acrisure Stadium
Location
Pittsburgh, PA
Address
100 Art Rooney Ave, Pittsburgh, PA 15212
Phone #

(412) 697-7150

Capacity
68,400
Opened
August 18, 2001
Architect
Dennis Wellner, Ben Barnert, Jim Chibnall, Jon Knight, Ben Stindt
Website
https://acrisurestadium.com/
Acrisure Stadium, home of the Pittsburgh Steelers, is located along the Ohio River in the North Shore neighborhood of Pittsburgh, Pennsylvania, which also boasts world-class museums, attractions and a scenic bike path. The stadium was designed using 12,000 tons of steel as an ode to Pittsburgh's history of being the nation's steel capitol.
The address of the stadium is 100 Art Rooney Avenue, Pittsburgh, Pennsylvania.
What events are coming up at Acrisure Stadium?
See upcoming events and buy tickets for Acrisure Stadium right here on Ticketmaster.
Acrisure Stadium History
Acrisure Stadium is not only home to the NFL's Pittsburgh Steelers, it's also the home turf of the Pittsburgh Panthers of the NCAA Division I Football Bowl Subdivision in the Atlantic Coast Conference. Occasional hockey games have been played here as well.
Originally called Heinz Field when the stadium opened in 2001, it became known as Acrisure Stadium in 2022, named for the global insurance broker headquartered in Grand Rapids, Michigan. Prior to that, the Steelers' home was nearby Three Rivers Stadium, which closed in 2000.
After breaking ground in June 1999, the first football game took place at Acrisure Stadium in September 2001. Since that time, most of the Steelers' home games at the 68,400-seat stadium have sold out, continuing an impressive streak that began at the previous stadium in 1972.
A collection of memorabilia from the Steelers and Panthers can also be found in the stadium's Great Hall.
Acrisure Stadium is also a popular concert venue, having featured performances from artists including Lady Gaga, Garth Brooks, One Direction, Luke Bryan and many others. Taylor Swift set an attendance record here during The Eras tour on June 17, 2023 with a performance that brought in 73,117 people – the largest ever audience in its history.
View this post on Instagram
Parking and Admission at Acrisure Stadium
Several nearby parking garages located downtown and in Station Square offer stadium parking. Many are just a short walk from the stadium or you can ride the Light Rail for free from downtown.
If you'd like to purchase parking passes in advance, pre-sold parking for season ticket holders is available through ALCO Parking — call (412) 323-4455 or email presoldhelpdesk@alcoparking.com.
Non-season ticket holders can purchase pre-sold parking through SpotHero.
When entering the stadium, only bags that meet the following criteria will be allowed inside: Clear plastic, vinyl or PVC bags that do not exceed 12″ x 6″ x 12″. One-gallon clear plastic freezer bags are also permitted, as are small clutch purses that are no larger than 4.5″ x 6.5″. Exceptions may be made for medically necessary items if they clear inspection at the gate. Official NFL team logo clear plastic tote bags are allowed inside and can be purchased through The Steelers Pro Shop and at Steelers Pro Shop locations.
Backpacks, diaper bags, camera bags, purses larger than 4.5″ x 6.5″, computer bags and fanny packs will not be allowed inside the stadium.
Acrisure Stadium Capacity & Seating Options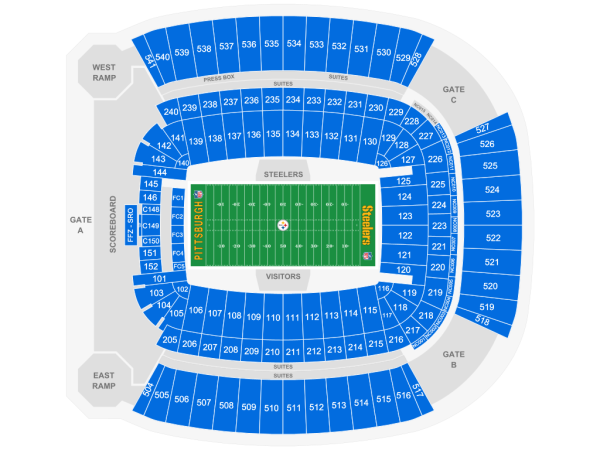 Acrisure Stadium offers a wide array of seating options throughout the 68,400-capacity stadium. In addition to standard seating, the stadium also features several climate-controlled luxury suites that offer catered food and beverages, a space for entertaining guests, a personal suite attendant, access to exclusive restrooms and more. Also, club lounges such as the North Club offer several amenities as well as views of downtown Pittsburgh. Meanwhile the West Club gives visitors stunning views of Mt. Washington and the Ohio River, à la carte concession options, a state-of-the-art bar and soft-seating lounge areas.
What are the best seats at Acrisure Stadium?
The best seats at Acrisure Stadium vary depending on the event and personal preferences. Check out Acrisure Stadium seating charts and find your favorite seat today.
Food & Beverage Options at Acrisure Stadium
View this post on Instagram

There are plenty of food options offered throughout Acrisure Stadium, including Greek-style dishes at Papa Duke's Gyros, handmade pierogi platters from Pierogi House, and Pittsburgh-style steak or capicola sandwiches from Primanti Bros. There's also popular stadium fare, including nachos at Nacho Crave, pizza and beer at Caliente Pizza & Draft House and gourmet burgers at Burgatory.
You can also find an ice-cold mixed drink at Spirits 33 or grab a beer on-the-go from Bud Light Walk Thru Bru.