A Sports Fan's Guide to Boston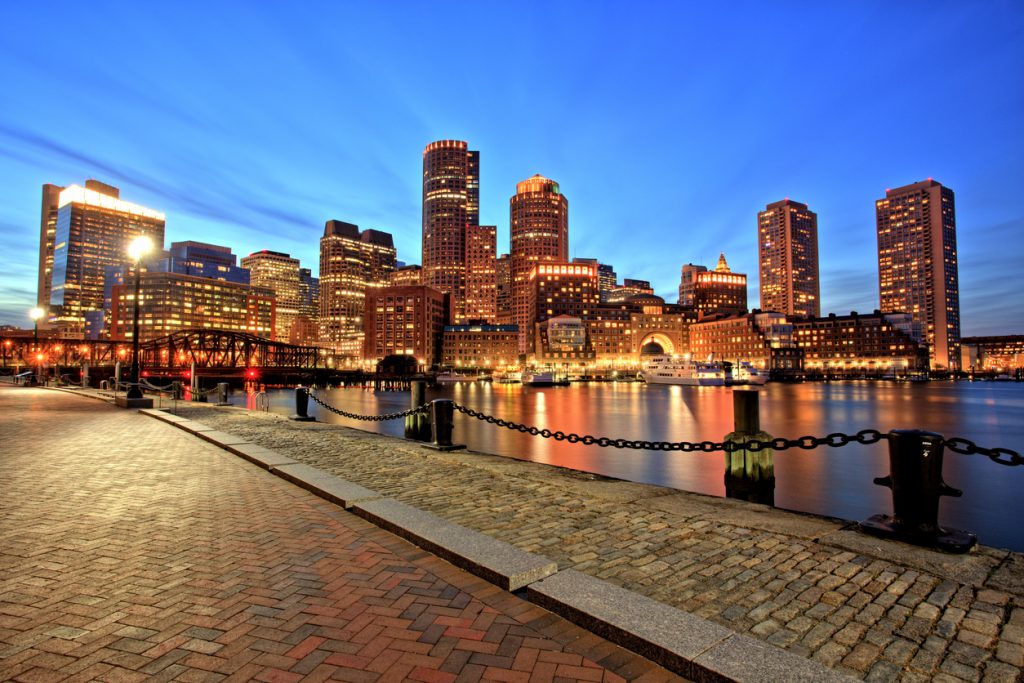 If there's one thing Boston loves, it's sports. The Red Sox, Bruins, Celtics and Patriots all have a special place in the city's heart — and that's not even counting the many college teams who inspire face-painted fans to go nuts. While big games are the main attractions for Fenway Park, TD Garden and Gillette Stadium, all three have plenty of attractions nearby for eating, drinking and celebrating – perfect for a night out with friends or a romantic interest.  
Things to Do Near Gillette Stadium
Gillette's location in Foxborough makes attending a Patriots game or a big concert worth a day trip — and luckily the stadium's adjoining complex, Patriot Place, has a bunch of places to eat, drink, hang out and engage in one-of-a-kind activities.
A three-in-one entertainment offering,

Splitsville Luxury Lanes / Howl at the Moon / Topgolf Swing Suite (220 Patriot Place)

offer bowling, sing-alongs and golfing, all under one roof. Splitsville's 12 lanes allow you and your friends to compete for strikes; Howl at the Moon updates the piano-bar ideal for the streaming-music era (and gets everyone singing along); and Topgolf Swing Suites brings simulated versions of golf and other games (including Quarterback Challenge, which allows you to play Tom Brady for a day) to Patriot Place.  

The sprawling adventure-game facility

5 Wits (202 Patriot Place)

lures you and your friends into one of two adventures: Espionage, a game where your group gets entangled in a global web of spies, and 20,000 Leagues, a twisty museum mystery based on Jules Verne's classic

20,000 Leagues Under the Sea

.   

Muse Paintbar (217 Patriot Place)

lets you indulge your inner artist with stroke-by-stroke coaching toward your very own masterpiece. The supportive, fun environment allows even the art-averse to immortalize their inner visions on canvas.

The Nature Trail and Cranberry Bog (1 Bass Pro Dr.)

leads visitors to Ocean Spray's Foxborough bog, a 32-acre wetland and preserve with paved trails — and the last cranberry bog in the city.

Six String Grill and Stage (273 Patriot Place)

is a honky-tonk replete with paintings of Dolly Parton, concerts by the likes of Bret Michaels and Jerrod Niemann and a bar menu featuring queso, burgers and pizza.
Things to Do Near TD Garden
Located directly above North Station, TD Garden has been the hub for a ton of development in recent years — including the Hub on Causeway, where the famed statue of Bruins great Bobby Orr now resides.
Banners Kitchen & Tap (82 Causeway St.)

takes the sports-bar concept to its maximum potential: In addition to its 60 draft beers, raw bar and vast lunch and dinner menu, the 25,000-foot space boasts a 39.5-foot-diagonal LED TV (billed as the largest on the East Coast) as its main screen (others are scattered throughout the space). Three Topgolf Swing Suites, which can be used to simulate baseball, hockey, "zombie dodgeball" and other games, are also on-site. 

If you have time and inclination to really go all out on an entertainment extravaganza,

Big Night Live (110 Causeway St.)

is a plush concert venue with the Guy Fieri-helmed street food haven Guy's Tequila Cocina on-site.

The Lovejoy Wharf taproom for beloved Everett brewery,

Night Shift Brewing (1 Lovejoy Wharf),

has an "experimental" brewery for adventurous beer drinkers, as well as a coffee bar with beans roasted on-site. It also serves food until late, has 30 constantly rotating draft lines and sells cans of its offerings for those looking to continue the party elsewhere.

A short walk from TD, Boston's North End is the place to go for home-style Italian food and historic sites. Weigh in on the "supreme cannoli of Boston" debate by sampling the wares at

Mike's Pastry (300 Hanover St.)

and

Modern Pastry (257 Hanover St.)

, or order up a pie at the near-century-old

Regina Pizzeria (11 1/2 Thacher St.)

.

Visit the

Old North Church (193 Salem St.)

to get a glimpse of oldest-school Boston — it was built in 1720 — and to salute Paul Revere's discovery that the British were coming by sea.
Things to Do Near Fenway Park

The Fenway neighborhood has undergone dramatic changes over the past few years, with new apartment buildings and other attractions popping up around Boston's baseball cathedral. It's a win-win for anyone attending a game or event.
Lucky Strike Social Boston (145 Ipswich St.)

is a 70,000-square-foot complex where you and your pals can engage in bowling, billiards and video games. Food is available both amidst the amusements and at the adjoining

Cheeky Monkey Brewing Company (3 Landsdowne St.)

taproom.

The Verb Hotel (1271 Boylston St.)

, a converted Howard Johnson's with brightly colored windows and an outdoor pool, hosts

Hojoko

, a boisterous "American izakaya" that serves up sushi and other Japanese street-food offerings. Its front room, "vinyl bar"

The Groove

, offers a more chilled-out atmosphere and a Hello Kitty-themed caviar service.  

The lines stretching outside

Tasty Burger (1301 Boylston St.)

are always long after a Fenway event, but their sizzling burgers and piles of lightly fried onion rings are worth the wait and then some. (There's also a full bar and pool table inside, if you want to hang around and soak up the atmosphere.)

Top Chef

runner-up Tiffani Faison has created a mini-empire on Boylston Street.

Orfano (1391 Boylston St.)

, her newest restaurant, is a modern update on homey Italian-American food, with steaks, chops and pasta, as well as decadent desserts and a gin-centric cocktail menu. The "adult snack bar"

Fool's Errand (1377 Boylston St.)

, the barbecue joint

Sweet Cheeks Q (1381 Boylston St.)

 and the tiki-tastic

Tiger Mama (1363 Boylston St.)

round out her suite of restaurants.  

If you're attending with a group with diverse palates,

Time Out Market Boston (401 Park Dr.) is the way to go — its 15 stalls serve up everything from health-minded smoothies to decadent burgers, and there are also full bars with rotating cocktail menus and a Trillium taproom. The "tacos" at Gogo Ya, which are built inside tempura-fried sheets of nori, are also a highlight.