Supporting Real Salt Lake: Fan Clubs & Supporter Sections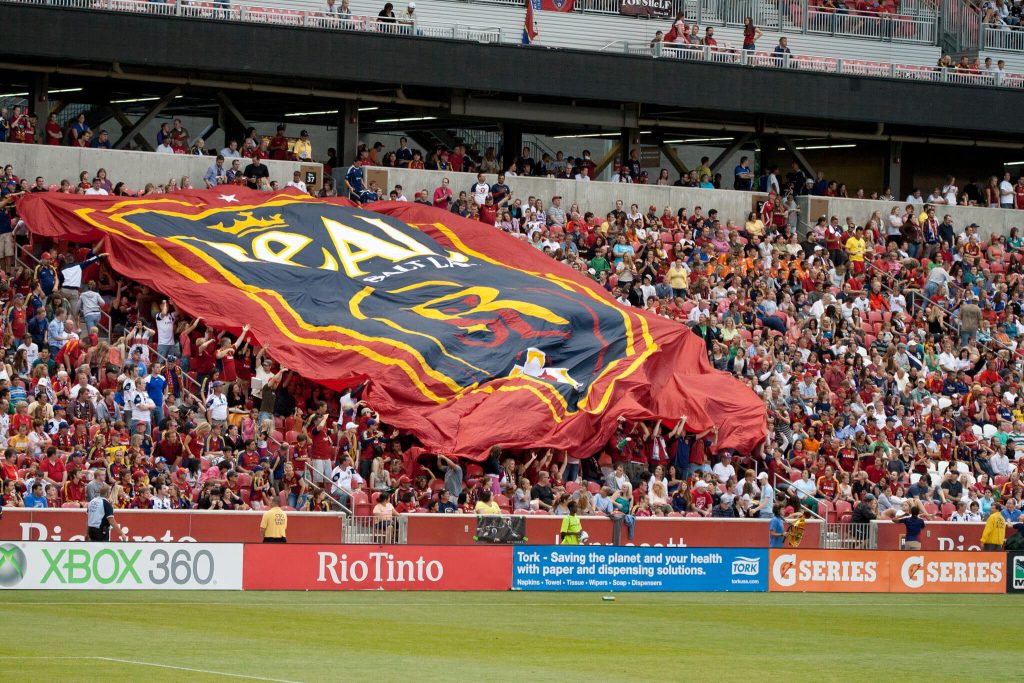 What are the Real Salt Lake supporter clubs called?
There are many supporters clubs for Real Salt Lake: Salt City United, Rogue Cavaliers Brigade, Section 26, Riot Brigade, and La Barra Real. As of 2019, the clubs have been grouped under a larger unified umbrella group named The Riot. 
In 2019, coach Mike Petke and the Real Salt Lake front office unified the many supporter groups with promises to make players available for post-game meet and greets, group-only picnics, and meeting conference rooms to practice chants. Today, the groups Riot Brigade, Salt City United, La Barra Real, Rogue Cavaliers Brigade, Section 26, and Section 35 have been united under the aforementioned name The Riot. Follow the entire collective on Instagram, YouTube, or Twitter.
Rogue Cavaliers Brigade
Who are the Rogue Cavaliers Brigade?
The Rogue Cavaliers Brigade (or the RCB) are the oldest supporters group for Real Salt Lake. Formed in 2005, the RCB is a diverse group of independent Real Salt Lake fans with the motto "Vae Victus," Latin for "Woe to the Vanquished." 
Where do Rogue Cavaliers Brigade sit?
The RCB tailgates north of Rio Tinto Stadium at the South end of the Auric Solar Lot. According to the group's website, the entrance to the lot is 77 W 9000 S and costs $10 to park. Tailgating typically starts four hours prior to kickoff.
How do Rogue Cavaliers Brigade members show team pride?
RCB sells plenty of merchandise at tailgating events, including "Vae Victus" member scarves, "We've Come For Your Wives" scarves, rainbow Pride scarves, "Rocky Mountain Cup" scarves, member T-shirts and tank tops, hoodies, beer koozies, patches, and more. You can also buy merchandise through the club's website.
How do I join Rogue Cavaliers Brigade?
Visit roguecavaliersbrigade.com for all membership information. First year membership costs $25 and includes an RCB Shirt. Renewal is $20. You can also follow RCB on Facebook and Twitter.
Salt City United
Who are Salt City United?
Salt City United is an independent supporters group for Real Salt Lake. According to their Facebook page, "We stand the entire match, we sing, we yell, we drink (most of us)."
Where do Salt City United sit?
Ahead of every match, Salt City United will post on their social media channels how, when, and where they plan to meet. Check the group's Facebook or Instagram page for the most up-to-date information.
How do Salt City United members show team pride?
During games, Salt City United members tend to stand and clap, wave flags, bang drums, and yell words like "Believe!" Flags are available for anyone to borrow in bins placed around the stadium — just make sure to return them after the game. Many of the members have also gotten tattoos to show their team pride, but that does not appear to be a requirement. 
How do I join Salt City United?
Follow Salt City United on Facebook, Twitter, or Instagram. You can also email the group at saltcityunited.info@gmail.com.
Riot Brigade
Who are Riot Brigade?
Founded in 2011, Riot Brigade is a Real Salt Lake supporters group that regularly meets for home matches, tailgates, watch parties, team practices, away matches, and other events. Riot Brigade became an official supporters group in 2013 by the Front Office of the Real Salt Lake soccer club. 
Where do Riot Brigade sit?
Riot Brigade regularly posts updates around where they will be meeting on their official Facebook page. A typical tailgate takes place at Rio Tinto Stadium's Auric Solar Lot where the group has food, drink and merchandise for sale. During games, Riot Brigade tends to gather in section 10 or 11 or at Rio Tinto Stadium's South goal to facilitate team chanting and drumming. Sitting in these areas isn't required, though.
How do Riot Brigade members show team pride?
Riot Brigade members engage in songs, chants and rhythmic drumming to show support. Riot Brigade also prints and distributes songs and chants around the South goal and the rest of the stadium so all fans can participate.
How do I join Riot Brigade?
Find out more information about Riot Brigade via their Facebook page or by emailing riotbrigadesec10@gmail.com.
La Barra Real
Who is La Barra Real?
La Barra Real is a Real Salt Lake supporter group made up of almost exclusively Hispanic and Spanish-speaking Real Salt Lake fans. 
Where do La Barra Real sit?
All information around La Barra Real is on the group's Facebook page, where they post updates around where the group is gathering on match days.
How do La Barra Real members show team pride?
Historically, La Barra Real sit in and around the stadium in red, yellow and blue colors. They wave red and blue flags, play drums and horns, host watch parties, and organize holiday parties.
How do I join La Barra Real?
Check for updates on how to join by visiting La Barra Real's Facebook page.
Photo by Sam Klein via Flickr
You Might Like
What are the Philadelphia Union Supporter clubs called? The most prominent Philadelphia Union Supporter Club is Sons Of Ben, which was founded in 2007. Other...
LA Galaxy has some of the most passionate fans in the MLS! Learn more about the top fan clubs and supporters of LA Galaxy on gameday.
What are the Austin FC Supporters' Groups Called? Austin FC has a number of popular supporters' groups: Austin Anthem, La Murga de Austin, Los Ve...