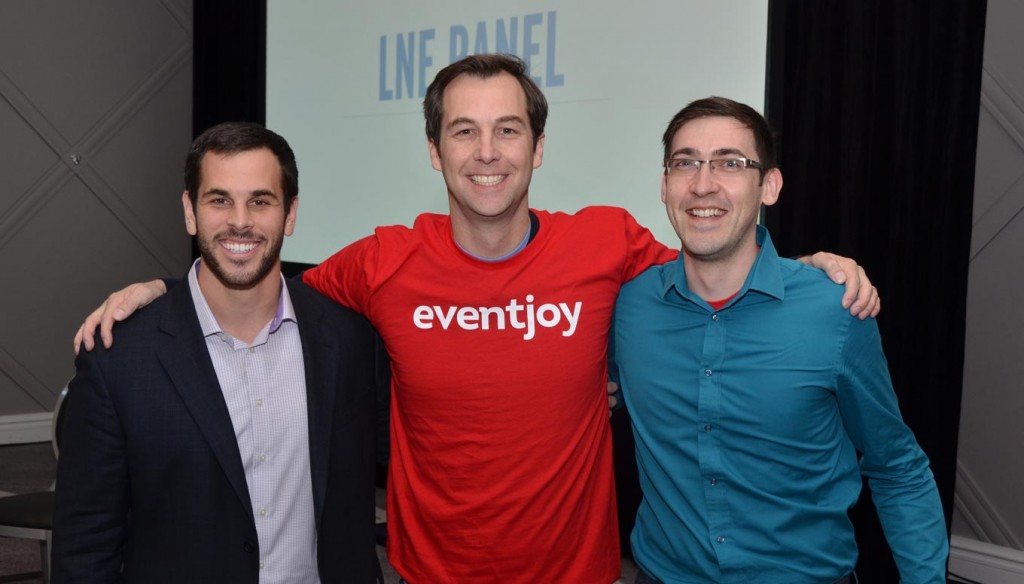 Event goers: ever been to an industry conference or local meet-up and wished you were more connected to what was going on around you at the event? Maybe you were looking to network with like-minded people. Or perhaps you wanted comprehensive, location-specific info on event happenings as they unfolded.
And how about you, event organizers? It takes a lot of work to pull off an amazing and memorable event. Does the process of building and promoting an event website and monitoring the registration process ever have you so overextended that you're left with little time to engage your guests once you get them in the door?
Enter Eventjoy, a mobile first ticketing platform that embraces and empowers both event organizers and their attendees.
Todd Goldberg and Karl White founded Eventjoy in early 2014, and today the company lets anyone create an event website and sell tickets for free within minutes.
Recently, Eventjoy joined the Ticketmaster family (woot!) and we had the opportunity to sit down with Todd for a Q&A to learn more about the team and the product. Here's what went down.
Q. Welcome to the Ticketmaster family. When did you join and how is it going so far?
A. Thanks! It's been an exciting few months since we joined Ticketmaster last September. We moved into a new office in the heart of San Francisco and have been on a hiring frenzy to grow the Eventjoy team. We've also been learning the Ticketmaster landscape, specifically around concepts like scale and promotion.
Q. Tell us more about the Eventjoy journey. How did you get started?
A. I [Todd] met Karl at Startup Weekend — a 54-hour hackathon to launch an idea — two years ago. We immediately bonded over how we live on our mobile devices, but at business conferences most of the time we're not sure what's going on…things like who else is there, what activities are happening, and where we can go to take part. We dove into how we could solve organizer challenges, especially on event day, with a mobile first event ticketing platform.
Q. Why mobile first?
A. Events in general are inherently mobile and our phones are always on us. Event goers are relying on their phones more so than ever to buy tickets, spread the word to friends, and stay informed about the events they care about. For organizers, they're constantly on the move during the event so managing it from a mobile device makes sense. When you couple both of these facts together, it was a no-brainer to build mobile first products for both organizers and attendees.
Q. In addition to mobile, the themes of community and self-service seem to be at the heart of Eventjoy. Can you share more about this?
A. Self-service and community are essential elements to Eventjoy. To us, self-service means empowering people with useful and fun tools to organize events without the need for an instruction manual or a contract. We removed the complexity that can often overwhelm new organizers, and have created something simple enough that anyone can be off and running in no time at all.
Community is at the core of great events and it's something that we've built into the Eventjoy experience. This allows us to better connect organizers and their attendees from the time a ticket is purchased to weeks after the event has ended.
Q. When would someone use Eventjoy?
A. Eventjoy is for both event organizers and event goers. Organizers who plan everything from conferences and fundraisers to festivals and parties use Eventjoy to manage their events and communicate with their attendees. On the flip side, event goers can discover events and make the most of an event experience through our attendee app.
Q. What sets you apart from others?
A. Our focus on product is what sets us apart…everything is geared to the mobile experience. We're also not afraid to constantly innovate and roll out game-changing new features like real-time chat between organizers and attendees.
Q. How do you want people to remember Eventjoy?
A. We want to inspire people to organize things they care about. That means ensuring that organizers know they can rely on a tool like Eventjoy to help them accomplish their event goals and create an experience that their attendees will rave about for years to come.
Q. What's next?
A. We just launched a brand new app for event goers [iOS only at this time]. Attendees can use it to find events, buy tickets, and engage with event organizers through 1:1 communication within the app. While we grow our team, we're continuing to invest in great product features and scaling Eventjoy to millions of users across the world.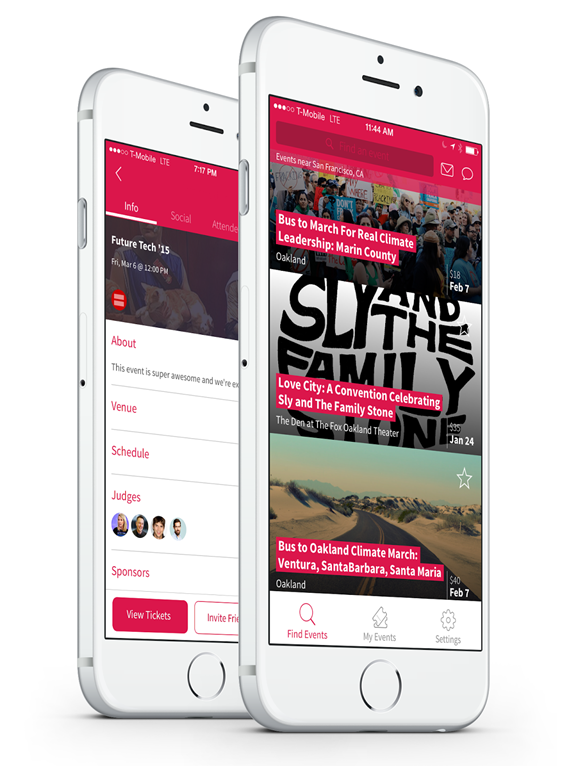 Images the new EventJoy app for attendees.
Tags