Supporting Philadelphia Union: Fan Clubs & Supporter Sections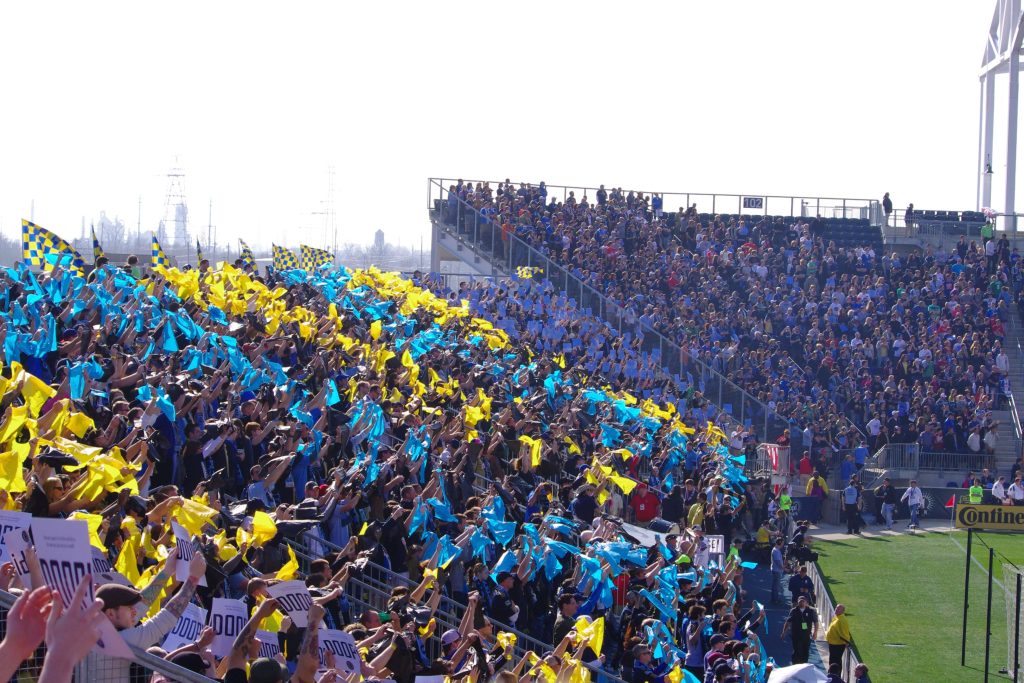 What are the Philadelphia Union Supporter clubs called?
The most prominent Philadelphia Union Supporter Club is Sons Of Ben, which was founded in 2007. Other active supporter groups include La Union Latina and The Keystone State Ultras.  Smaller groups have been created over the years, however there has been little chatter within their respective online communities.  These clubs include the Tammany Saints, the IllegitimateS, the Corner Creeps and the Bridge Crew.
Sons Of Ben
Who are the Sons Of Ben?
The biggest Philadelphia Union Supporter Club, Sons Of Ben (SoB for short) was founded in January 2007, three years before the Philadelphia Union played their inaugural season in MLS. The Philadelphia Union were officially expanded by Major League Soccer in 2008. Sons Of Ben is named for historic Philadelphia figurehead Benjamin Franklin.
SoB formed by traveling around Philadelphia supporting soccer games across the city. They would attend college soccer and semi pro indoor soccer matches. Eventually, they grew its membership to more than 1,000 supporters, who collectively pushed for a Major League Soccer team in Philadelphia.
"This is probably the most Philadelphia thing ever, but it was three guys who got together at a bar and were basically not happy that Major League Soccer had overlooked such a huge media market and a city that's got such a rich soccer tradition," SoB president Matt Gendaszek told WHYY in 2021. "They said to themselves, 'We should start a support group for a team that doesn't exist and make as much noise as we can so Major League Soccer has to take notice.' And what they did was they organized the group."
Today, the SoB is a legitimate 501(c)(3) charitable organization that holds fundraisers across the Philadelphia region for groups such as ACCT Philadelphia, Special Olympics Pennsylvania and St. Baldrick's Foundation, which supports childhood cancer research.
Where do Sons Of Ben sit?
Sons Of Ben sit in The River End (TRE) of Subaru Park for every home game. They also frequently hit the road in support of the Philadelphia Union.
How do Sons Of Ben show support?
Sons Of Ben have an anthem, "I'm Looking Over a Four Leaf Clover," and use the Philadelphia civic colors of light blue and yellow, as opposed to darker shades officially used by the Philadelphia Union. Sons Of Ben also have a game day chant book available on their website with lyrics to 11 chants, including "No One Likes Us."
Sons Of Ben also like to use the "Doop," aka their nickname for a song that plays over Subaru Park speakers after every Union goal: "Maria (I Like It Loud)" by Scooter. They also sing, bang drums, operate smoke machines, and yell their support for the entirety of every 90-minute match.
How do I join Sons Of Ben?
A yearly membership to Sons Of Ben is $30 to $35 and includes a knit scarf, an enamel pin, a keychain, a sticker, and a discount to all tailgates. You can find out more information on Sons Of Ben's website, Twitter, Facebook, and Instagram accounts. Sons Of Ben also record and publish a podcast called "Sons Of Ben: The Pod," which promises to be "your spot for Philadelphia Union talk and Sons of Ben news."
Keystone State Ultras
Who are the Keystone State Ultras?
The Keystone State Ultras are an independent supporters group for the Philadelphia Union.
Where do the Keystone State Ultras sit?
The Keystone State Ultras occupy section 140 in Subaru Park.
How do Keystone State Ultras show support?
The Keystone State Ultras' colors are light blue, dark blue and white. Their hashtags are #VamosPhiladelphia #NeverGonnaStop.
 How do I join the Keystone State Ultras?
 Follow Keystone State Ultras on Twitter or Instagram to find out more about joining.
La Union Latina
Who are La Union Latina?
La Union Latina is a Philadelphia Union fan club comprising Philadelphia's Latinx and Spanish-speaking community.
Where do La Union Latina sit?
La Union Latina sit in Section 114 of Subaru Park. Prior to games, they tailgate at Lot C at Subaru Park. Check the group's Facebook page for the most up-to-date information.
How do La Union Latina show pride?
La Union Latina wear yellow, red and blue. They also wave flags and organize pre-game tailgating parties with food and live music.
How do I join La Union Latina?
Email launionlatina114@gmail.com and/or follow La Union Latina on Facebook.
Tammany Saints
Who are the Tammany Saints?
The Tammany Saints were founded in 2009 and get their name from the Lenni-Lenape chief. Their mission is to "just enjoy the game."
Where do the Tammany Saints sit?
Tammany Saints sit in section 101 at Subaru Park. Their mission: "Just enjoy the game."
How do I join the Tammany Saints?
Follow the Tammany Saints on Facebook.
IllegitimateS
Who are the IllegitimateS?
The IllegitimateS formed after the opening game at Subaru Park (formerly PPL Park) against the Seattle Sounders in June 2010. Their motto is "Defend the Corner."
Where do the IllegitimateS sit?
The IllegitimateS sit in section 133 below the area reserved for away support.
How do I join the IllegitimateS?
You can learn more about the IllegitimateS on their website.
The Bridge Crew
Who are the Bridge Crew?
The Bridge Crew was co-founded by Benjamin Bedard in 2011.
Where does the Bridge Crew sit?
The Bridge Crew sits in sections 120 and 121 at Subaru Park (formerly PPL Park).
Corner Creeps
Who are the Corner Creeps?
The Corner Creeps was founded in 2010 by Damian Cusumano. They are primarily known for sporting tattooed appearances.
Where do the Corner Creeps sit?
The Corner Creeps have historically sat in Section 134 in the River End.
Photo by Gary W. via Flickr