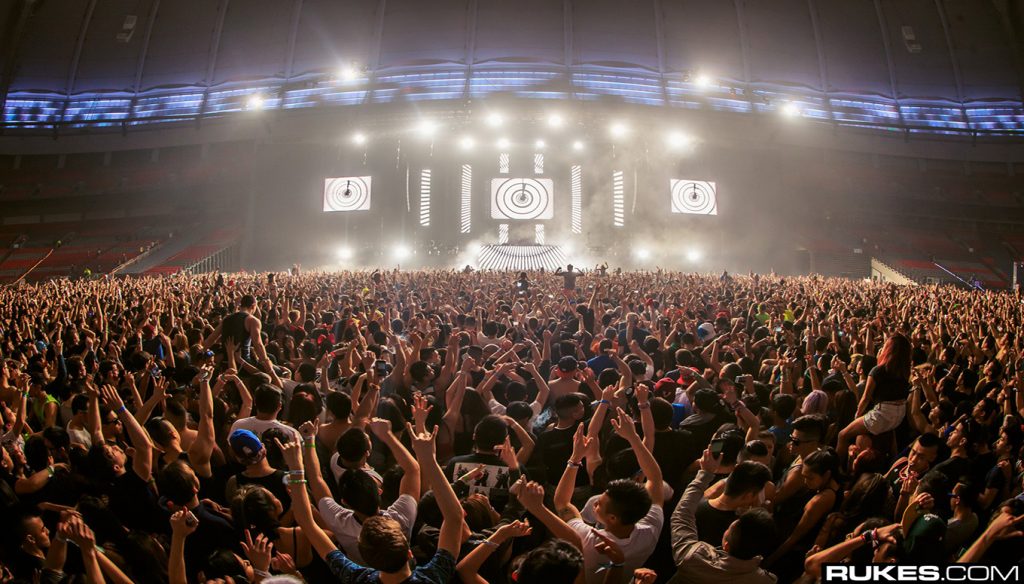 Oh the Weather Outside is Frightful, but Festivals in Canada Are So Delightful
Winter in Canada isn't always the most welcoming of seasons, but if you're looking for an extremely attractive distraction – festival season is just around the corner! (Or 6 months away, but who's counting?)
Check out some of these exciting festivals coming to Canada in 2017 – and a couple to get you warmed up this month!
Rebel, Toronto, ON
Who's gonna be there?
Why should I go?
Solaris is "Toronto's largest winter music festival"– if you need more reasons to dance this holiday season, Marshmello and Zedd are sure to satiate your EDM needs!
Follow Solaris Festival!
BC Place, Vancouver, BC
Who's gonna be there?
Why should I go?
If you can't make it out to the east coast for Solaris, Contact has the west coast covered. Contact is "Western Canada's Largest Indoor Music Festival". Flume and Zeds Dead are sure to create a mind-blowing soundtrack for both nights of this amazing festival.
Follow Contact Festival!
Western Fair District, London, ON
Who's gonna be there?
Why should I go?
Trackside is a Canadian country-lover's dream. Budweiser Gardens, Live Nation, London Music Hall and Western Fair District bring you a two-day, country music experience this Canada Day weekend. The partnership will bring some of the top names in country to the Forest City for an unforgettable music experience.
Follow Trackside Festival!
Hollinger Park, Timmins, ON
Who's gonna be there?
Why should I go?
You won't have to pick between fireworks and live music this Canada Day if you choose the Timmins International Fireworks Festival! International fireworks teams compete and put on an amazing show (look out for Team Canada, Team France, Team China, Team Italy, Team Ukraine, Team U.K., Team Brazil, and Team Finland). Not to mention some of the biggest Canadian and international acts hitting the stage!
Birds Hill Provincial Park, Winnipeg, MB
Who's been?
Basia Bulat (2015)
The Head and the Heart (2012, 2016)
A Tribe Called Red (2013)
The Avett Brothers (2010, 2013)
Cold Specks (2013)
Gord Downie and The Country of Miracles (2010)
Feist (2012)
Emmylou Harris & Her Red Dirt Boys (2010)
Who's gonna be there?
Artist announcements expected in early 2017!
Why should I go? 
The Winnipeg Folk Festival has nine stages of music to explore, some nestled in clearings in the woods, others in the middle of a prairie field with enough room to dance the afternoons away. It's a party worth attending (especially with the early-bird pricing currently available)!
Follow Winnipeg Folk Festival!
Tudhope Park, Orillia, ON
Who's been?
The Milk Carton Kids (2016)
Rita Coolidge (2016)
The Good Family (2016)
Who's gonna be there?
No artists publicly announced yet, but as one of the longest running folk festivals, you can expect some great names to be on the line up
Why should I go? 
Mariposa Festival is one of the longest running folk festivals in North America (56 years!). Mariposa is renowned for its wide range of folk/roots artists, with 100+ performances of every kind on its 11 stages that showcase music, dance and spoken word.
Follow Mariposa Folk Festival!
Tags
You Might Like
As we prepare for Lollapalooza's virtual 2020 installment, let's look back at the moments that made the festival iconic.
Which live event was the best of 2019? Cast your vote.
Headed to Voodoo? Here's everything you'll need.