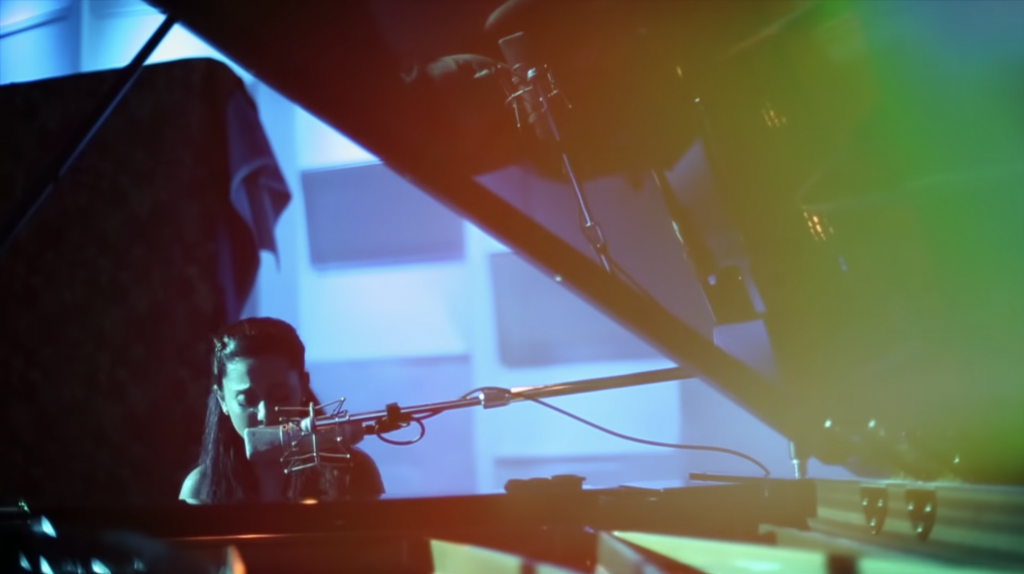 Elliot Santiago is a writer and thrill-seeker who was raised in the Bay Area and now resides in Brooklyn, NY. As an Associate Editor for HYPEBEAST, he reports the latest news in footwear, fashion and music. Outside of work, he enjoys spending time with friends & family, listening to his favorite artists like Kanye West, Snoh Aalegra, SZA and Drake, taking film flicks, indulging in NYC food joints and keeping up with the Golden State Warriors.
Valentine's Day is just around the corner, and whether you'll be celebrating with a significant other, your single best friend, or the Hinge date that earned themselves a second dinner, there's nothing like cranking up the speakers with some lovey-dovey tunes to backdrop the evening and dictate the mood. 
By now, there's certainly a smorgasbord of heart-throbbing playlists that are discoverable via your go-to streaming service, and these outlets will certainly lead you to classical ballads such as an "I'll Make Love To You" by Boyz II Men or Jason Mraz's ever-iconic "I'm Yours". And don't get me wrong, these are undeniable bangers for this time of the month, but to spice things up a bit, we're directing you to an assortment of musical visuals emblematic of the February 14th holiday.
Original variations of love songs will always be appreciated and respected for what they are, but there's just something about an artist modifying a track with their own personality, emotion and tone that strikes a chord within the softest spots of our souls. 
Below, you'll find an array of infatuated covers sung by chart-topping artists such as Childish Gambino, Justin Bieber, Snoh Aalegra, Ariana Grande and more. Pair these sentimental visuals with that of a candlelit Doordash'd dinner along with your favorite bottle of vino, and you're in for a romance-repleted festivity.
Childish Gambino – So Into You by Tamia
For triple j's "Like a Version" video series in 2015, Donald Glover aka Childish Gambino hopped on the mic to reimagine Tamia's "So Into You". The highly-revered polymath delivered his silky smooth sound to the iconic R&B tune from 1998, and somehow kept his fingers constantly snapping up a beat for an impressive four minutes of the entire segment.
Justin Bieber – With You by Chris Brown
Before Justin Bieber manifested himself into the musical sensation we know him as today, he had to start somewhere. For those who have followed along the Canadian artist's journey, you know of his humble beginnings as a young 12-year old on YouTube blessing us through the screen with his angelic voice. And one of the clips that caught his manager Scooter Braun's attention was this impressive snippet of him covering Chris Brown's "With You". 
Rex Orange County – No One by Alicia Keys
While only 22 years young, Rex Orange County has amassed a sizable amount of fans for his nasal-yet-buttery vocals and superfluity of emotional tracks. Seen here is the UK-native putting his own simpy-but-charming twist on Alicia Keys' "No One" which originally dropped in 2007. ROC has been known to perform this rendition of the song throughout his touring runs, so definitely try and catch him when live concerts return.
Ariana Grande – Die In Your Arms by Justin Bieber
One year prior to the debut of her first album Yours Truly, heavyweight pop maven Ariana Grande gave us a sample of her vocal capabilities in the form of a heartfelt cover of Justin Bieber's "Die In Your Arms" from his Believe record. A select few already knew that she possessed impressive pipes as she would occasionally belt out on Nickelodeon's Victorious show, but little did we know that her talents would eventually realize her into becoming one of the most notorious artists of our generation.
Kiana Ledé – Best Part/Love Galore/One Of Them Days Daniel Caesar ft. H.E.R/SZA/Kiana Ledé
While still in the early stages of her career, singer-songwriter Kiana Lede has commanded the attention of many for her melodic talent. During June 2019, the LA-based artist applied her own sensibility to Daniel Caesar and H.E.R.'s "Best Part" and mashed it up with SZA's "Love Galore" and her very own "One of them Days" to form an earnest-yet-beautiful medley.
Snoh Aalegra – U Remind Me by Usher
A force in today's soulful R&B space, Snoh Aalegra has purloined the hearts of many for her honey-sweet vocals and get-you-in-your-feels bodies of work. For Genius and Burberry's "When Sounds Collide" initiative, the Swedish artist was tapped to perform her own iteration of Usher's "U Remind Me" — track #2 off of his 8701 album from 2001. Aalgera absolutely bodies this and morphs the iconic bop into slow and passionate splendor. 
Pitch Perfect – Love On Top by Beyonce
2020 was the year that society was forced to embrace more online musical performances. And so to benefit families in Lebanon suffering from the pandemic, Universal Pictures and UNICEF called upon the cast of Pitch Perfect to spread some positivity via a high-spirited recital of Queen Bey's "Love on Top". When the world needed The Barden Bellas most, Brittany Snow, Anna Kendrick, Rebel Wilson and the rest of her crew delivered.
Kina Grannis – Can't Help Falling in Love by Elvis Presley
If you're talking about the greatest love songs known to mankind, Elvin Presley's "Can't Help Falling in Love" automatically springs to mind, and Kina Grannis surely hijacked our hearts when she covered The King of Rock'n Roll's classic ballad from 1961. The acoustic guitar-backdropped rendition sky-rocketed in recognition as she was spotted singing it in the 2018 film Crazy Rich Asians during the wedding scene which, if I may add, also makes my tears jerk everytime I envision the water flowing down the aisle moments before Araminta makes her entrance into the cathedral. 
Us the Duo – Like I'm Gonna Lose You by Meghan Trainor ft. John Legend
Us the Duo, the talented LA-based couple comprised of Michael and Carissa Rae Alavarado, can credit much of their virality to the days in which they were oft-seen covering songs on Vine and curating entertaining medleys on YouTube. And one clip that fits the Valentine's Day narrative here is their heartwarming rendering of Meghan Trainor and John Legend's "Like I'm Gonna Lose You". Together, they playfully go verse for verse on the song, while Michael's underrated beat-boxing skills are shown off throughout. 
Tori Kelly – Thinking About You by Frank Ocean
Like Us the Duo, singer-songwriter Tori Kelly also infiltrated the realm of music through consistent output of YouTube videos. During her early years of content uploading, Kelly was widely recognized for her beautiful take atop Frank Ocean's widely-esteemed "Thinking About You". The atmospheric instruments seen on the Channel Orange legend's number are stripped away and swapped for a simple acoustic guitar and the LA-based singer's melismatic prowess. 
Honorable Mentions:
Usher – You'll Be In My Heart by Phil Collins
In the spirit of Phil Collins comically getting shouted out on Twitter in recent memory, it's only right that we somehow fit his work into this list. The English singer and producer was certainly in a different type of bag when he created the soundtrack for Disney's Tarzan, and Usher's version of "You'll Be In My Heart" is a special one. Unfortunately, there's no full video of the Confessions artist performing this, but the quality of this edit hits too hard not to acknowledge.
Blackpink – L.O.V.E by Nat King Cole
Blink fandom has peaked to soaring heights, especially following the release of their Blackpink: Light Up the Sky documentary and their recent virtual concert. And so to honor the famed K-Pop collective, it's appropriate that we shine a light on Rosé and Lisa's cutesy cover of Nat King Cole's "L-O-V-E". Also while we're on the topic, SZA recently took to IG to publicly state that she's been pondering on a collaboration with Blackpink, and that is 100% something the fans need to see come into fruition.
Kolohe Kai and Josh Tatofi – I Can Love You Like That by Boys II Men
Hawaii is ground for romance and relaxation, and when it comes to music, that island soul is not only heard, but felt from the artists that are born there. Two talents from Honolulu, HI — Kolohe Kai and Josh Tatofi — joined forces during the latter half of Summer 2020 to vocally entertain us with a love-inducing performance of "I Can Love You Like That" by Boys II Men.
If you enjoyed these artists, add them as Favorites in the Ticketmaster app to get notifications when they go back on tour near you.