Los Angeles Rams Fans: Roaring with Rams Pride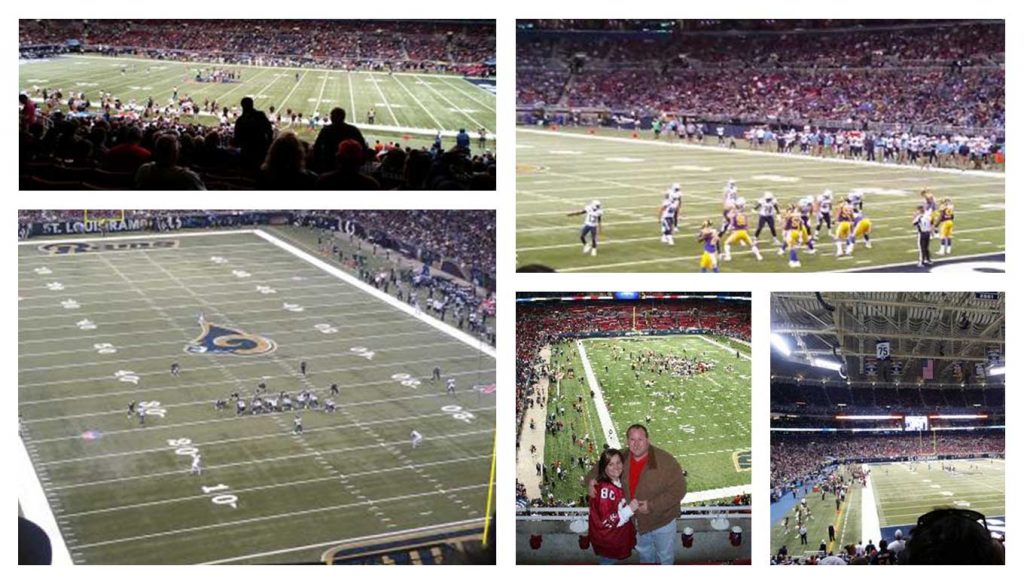 What it Means to be a Los Angeles Rams Super Fan
Los Angeles Rams superfans are a unique group, as they have endured the constant moving of their favorite throughout the years. The Los Angeles Rams were established in 1936 in Cleveland, Ohio, moved to Los Angeles in 1946 until 1994 when they moved to St. Louis, Missouri. They remained in St. Louis until 2016, when they moved back to Los Angeles. Regardless of where the Rams were located, true superfans remained loyal. Rams fans are known as the "Ramily." This Ramily has strong holds across the entire country and multiple international fan groups as well. Fortunately for Los Angeles Rams superfans, the team has had success at every location they've called home. The Rams are the only NFL franchise to win championships in three cities, first in Cleveland in 1945, Los Angeles in 1951 and 2021 and St. Louis in 1999.
Los Angeles Rams superfans participate in underprivileged youth football programs, supporting black owned businesses, city beautification programs, supporting the LGBTQ+ community and second chance programs, as well as auctions for food drives and other local community charities. Rams Nation fights to support equality for everyone, regardless of race, gender or orientation.
Rams fans are known for showing up to support their team. In 2022 the Rams had an average attendance for their home games of more than 72,000 fans a game.
Los Angeles Rams Fans on Gameday
Game day for the Los Angeles Rams is a thrilling event for all superfans. Starting off with a tailgate that opens five hours before kickoff, Rams fans show up early to cook, drink, eat, have fun and join in the comradery of other fans. Tailgating is only located in the Pink Zone of SoFi Stadium in Inglewood, California. The Pink Zone consists of Lots I, J, P and Q. SoFi Stadium is a newly built stadium that has a seating capacity of 70,240 and can be expanded with a total capacity of 100,240. The Los Angeles Rams have a "Countdown to Kickoff" tradition that includes a Countdown to Kickoff show inside the American Airlines Plaza, giveaways by the team mascot Rampage and performances by the Los Angeles Rams Cheerleaders.
A new Rams tradition is watching the NFL's first Mariachi Group. The Mariachi Rams are a world class mariachi band that performs classic mariachi music with a modern twist. The Mariachi Rams perform live before and during every home game at SoFi Stadium.
Memorable Moments in Los Angeles Rams Fandom
One of the most recent memorable moments for the Ramily was their 2022 Super Bowl win over the Cincinnati Bengals. After moving back to Los Angeles in 2016, a spectacular 2021 regular season, led by quarterback Matthew Stafford, ended with the Rams' first Super Bowl victory in more than 20 years. This Super Bowl was exceptionally special for the Los Angeles Rams, as it was won at their home field at SoFi Stadium.
Ram and Roll
What do the Rams have in common with one of their football neighbors up north, the San Francisco 49ers? How about rock star aspirations. Just as the 49ers have the pop anthem "We're the 49ers," the Rams recorded "Let's Ram It!" back in 1986. There's quite a few lyrical games on the track, including: "I come from the end, lookin' for the sack/I don't stop comin' 'til I put 'em on their back." But what makes the song worthy of every Grammy ever is the accompanying music video.
A few players have gone on the record saying they made the song and video knowing full well they lacked certain skills, like rhythm or the ability to distinguish tones. But that's what makes the song so endearing – a bunch of rough and tough football players cut loose and had a little fun.
More recently, the Rams relied on another song: Diddy's "Coming Home." The uplifting anthem was featured in a video celebrating the Rams' LA homecoming. Sure, it's pretty fitting and all, but it lacks the grace of "Let's Ram It!"
Famous Los Angeles Rams Fans
View this post on Instagram

Since the Los Angeles Rams have been based in Los Angeles for a majority of their franchise, they obviously have a large number of celebrity fans who also call Los Angeles home. Actor Rob Lowe is a life-long Rams fan, as is actor Danny Trejo. Trejo constantly shares photos on social media of himself wearing Rams gear and supporting his team. Actress Jessica Alba is a Rams fan who brought her parents to the 2022 NFC Championship game. Rapper Kendrick Lamar is another famous Los Angeles Rams fan. Los Angeles Lakers legend Magic Johnson is a passionate Los Angeles Rams fan, who always posts photos on social media whenever he is at a Rams game. Flea from the Red Hot Chili Peppers is also a Los Angeles Rams fan and has even performed with his band at the 2016 opening game.
Other notable Rams fans include:
Ryan Seacrest
Actor Josh Gad
Grant Gustin – aka TV's The Flash!
Holly Robinson Peete
Colin Hanks
Actress/model Garcelle Beauvais