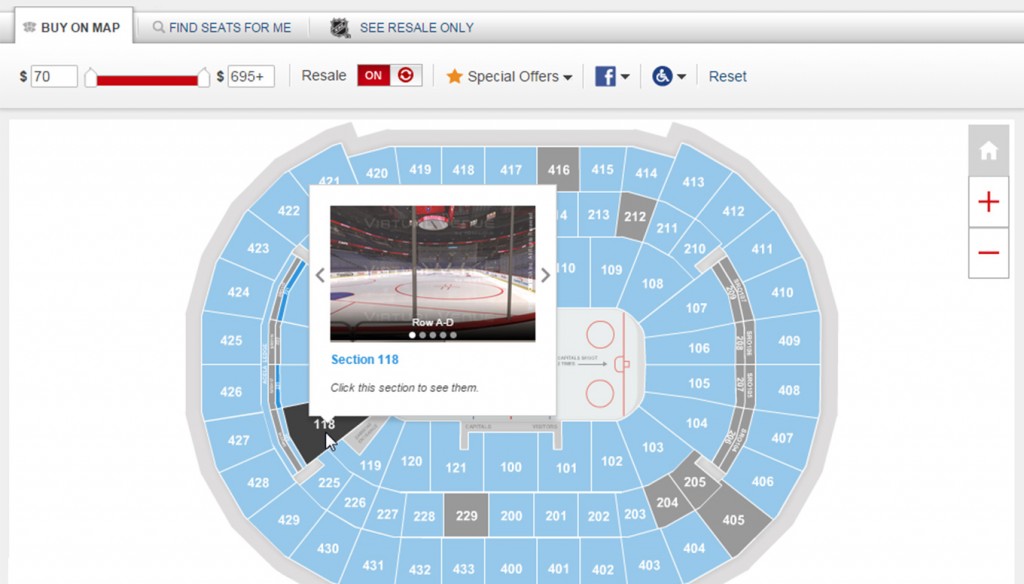 Finding the exact seats you want for your next show, game, or performance is essential, and our interactive seating charts make it easy. The pressure can be intense when the clock is ticking and other fans may be trying to buy the same tickets as you. We get it – so here are a few simple tips that'll have you using interactive seat maps like a pro.
Explore Ticketmaster Interactive Seat Maps
The Ticketmaster interactive seat maps show you all available tickets, all in one place – including resale tickets sold by fans, VIP packages, and accessible seats.
To get started simply click on a section to zoom in on seats. Toggle left and right, and zoom in and out as needed to navigate around the venue. You can hover over a seat to see the price/details, and you can click a seat to select it (review selected seats directly below the map). If you click a seat being resold by a fan, you might see a popup first – simply select the ticket quantity you want and click "Buy". If you see special offers, learn more about the offer by clicking the "?" next to the offer displayed.
One important thing to note: seats you select aren't officially reserved (i.e., other fans can still buy them) until you click "Buy Tickets" and pass the security check.
Offer Codes & Passwords
If you have an offer/presale code, enter it in the offer code box to unlock the offer on the map. If you have multiple codes, enter and submit them one at a time.
Tip: Check out a variety of ticket presale options here to get the best offers & seats.
Power User Filters
Pricing: Depending on the event use the price slider or the price dropdown to highlight seats in a specific price range (seats that match will be dark blue).
Special Offers & Ticket Types: If special offers or different ticket types are available, narrow your search by clicking on the specific items that interest you. NOTE: You can only view a locked offer once you have entered the appropriate offer code.
Resale: You can see 100% verified fan-to-fan resale right on interactive seat maps too (available for select events). You can turn off fan-to-fan resale above the map.
Tip: If you're in a hurry, click "Find Seats For Me" and then use the simple dropdown(s) to have us find the best available seats for you fast.
Review & Buy Tickets
To review your selected seats, click "Show Details" directly below the map. Remember – seats you select aren't officially reserved for you until you click "Buy Tickets" and pass the security check. When you're done selecting your seats and ready to check out, click "Buy Tickets".
Share On Facebook
Log in to use your Facebook account with Ticketmaster so you can see where your friends and family are sitting. Tag your own seat and even friends' seats to keep your whole crew in the loop.
---
We plan to make interactive seating charts available for as many events as possible. High-demand events are the exception. When a popular event first goes on sale, tons of fans try to buy tickets at the same time. The interactive seating chart is off because we can find seats for you faster to boost your chances of getting in.
For more info about interactive seat maps, check out our FAQs for US and Canada here.
What Fans Say About Interactive Seat Maps
I wish all @Ticketmaster @LiveNation events had the interactive seat map. Would make ticket buying a lot easier.

— Pam ?? (@pampambambam) April 24, 2015
I love how ticketmaster releases hella seats the night before the game. Me and the interactive seat map are best friends.

— Stephanie (@djstephb) April 18, 2015
the only time I like buying concert tickets is when the interactive seat map is available

— sam (@samgodfrey_) December 5, 2014
Tags