The Coolest Features at NFL Stadiums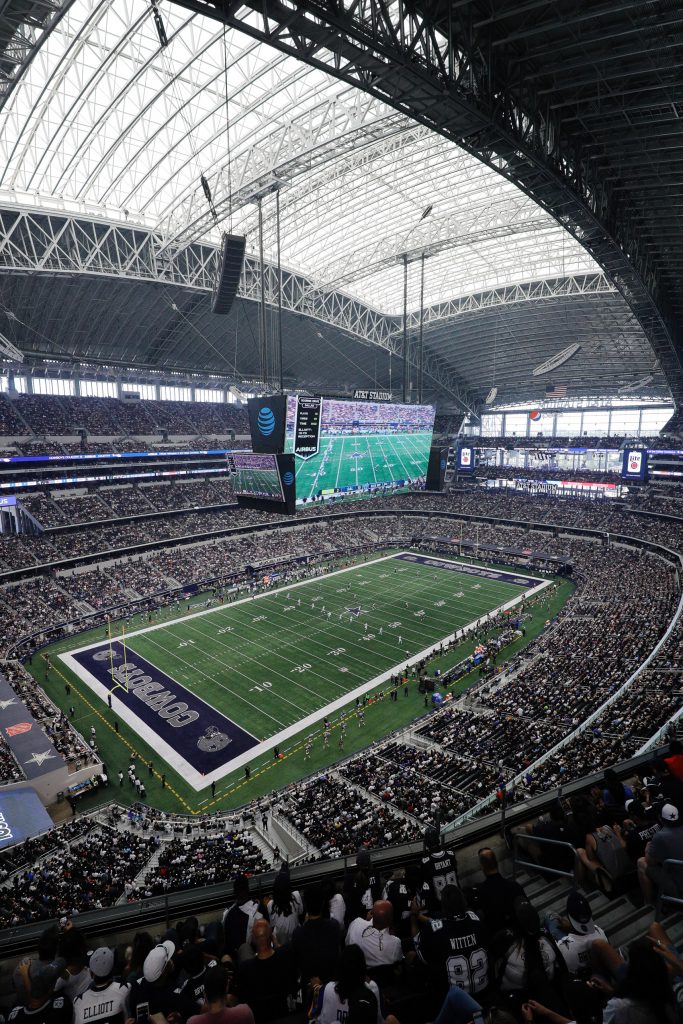 There's never been a better time to experience an NFL game in person. Teams around the league are constantly raising the bar when it comes to building awe-inspiring stadiums and filling them with features and amenities that fans have to experience live to believe. Here's a list some of the coolest stadium features around the NFL.
Opened in 2017, Mercedes-Benz Stadium in Atlanta features a mechanized roof that can open and close dependent on the weather. Its eight retractable "roof petals" appear to expand and contract like a camera aperture — however, this is actually an optical illusion created with the help of some brilliant engineering, as the panels are actually sliding in a straight line and create the illusion of a bird's wings extended. Mercedes-Benz Stadium was on full display as the site of Super Bowl LIII.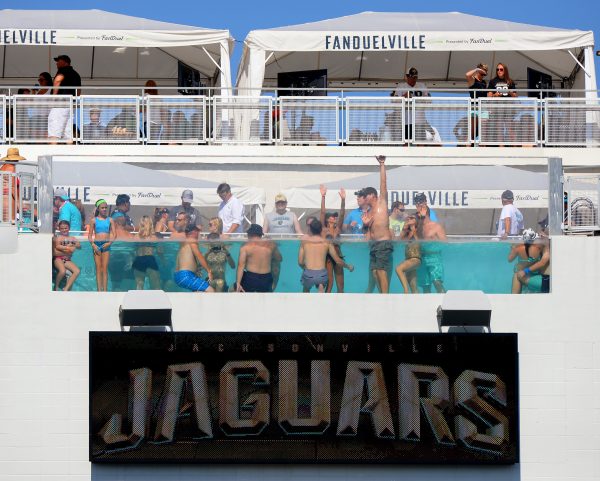 Thanks to a $63 million stadium upgrade in 2013, fans at TIAA Bank Field have a unique way to stay cool on game days. The home of the Jaguars offers a one-of-a-kind gameday experience, with access to chic cabanas that come with comfortable lounge chairs, HDTVs, and luxurious swimming pools that overlook the field. They also added the NFL's first in-stadium dog park in 2018. Pet Paradise Park offers limited tickets to fans who want to bring their pooch to the game and the dog park raises money for the Jacksonville Humane Society.
Being in the heart of Silicon Valley has its advantages — the 49ers set their gameday experience apart in the form of the Levi's Stadium app. The first of its kind, the app allows fans to watch replays, order food, and purchase tickets for the next game, all from the comfort of their seats. Fans also get access to a host of other helpful features at Levi's Stadium, such as turn-by-turn directions to your seat, search functions to explore the stadium, and real-time game stats.
Raymond James Stadium, aka "Ray Jay," comes with a unique a fan experience in Buccaneer's Cove — an entertainment area modeled after a 19th century pirate village. Set up in the north end zone, the centerpiece of the attraction is a 103 foot long replica pirate ship that weighs upwards of 43 tons. The ship was made by the same company that produces amusement park props for Disney. Its cannons erupt after every Bucs touchdown and other achievements.
Dolphins fans can live large thanks to "The 72 Club" at Hard Rock Stadium, named after the undefeated 1972 Dolphins team. With extra-wide, double-padded seats and private screens to watch highlights and replays, the Dolphins premium seating service offers the ultimate live experience without sacrificing all the comforts of watching the game from home. Even commuting to the game is a luxury experience, as the club offers a personalized valet service and VIP parking spaces.
Vikings Voyage is an interactive space inside U.S. Bank Stadium where fans can explore the team's history through several exhibitions, such as life-sized sculptures of Vikings legends and a showcase of how the team's equipment has changed over the years. There's also an immersive VR experience where fans can run through a series of NFL combine drills as if they were a player themselves, testing their speed, vertical jump, and tackling strength.
Beyond its incredible 72×160 foot scoreboard, AT&T Stadium also features a unique "fan experience board" — a one-of-a-kind, high-resolution LED display equipped with rotating panels and high-powered strobe lights that flash during pivotal moments in the game. Fans use a mobile app to control the board's lights and sounds and can also upload pictures of their gameday experience to the board that are broadcast across its 130 foot screens.
Step into the future this season and experience football like never before. Purchase tickets here or in the widget below from Ticketmaster – the Official Marketplace of the NFL.