Epic Stadium Tours for Your Bucket List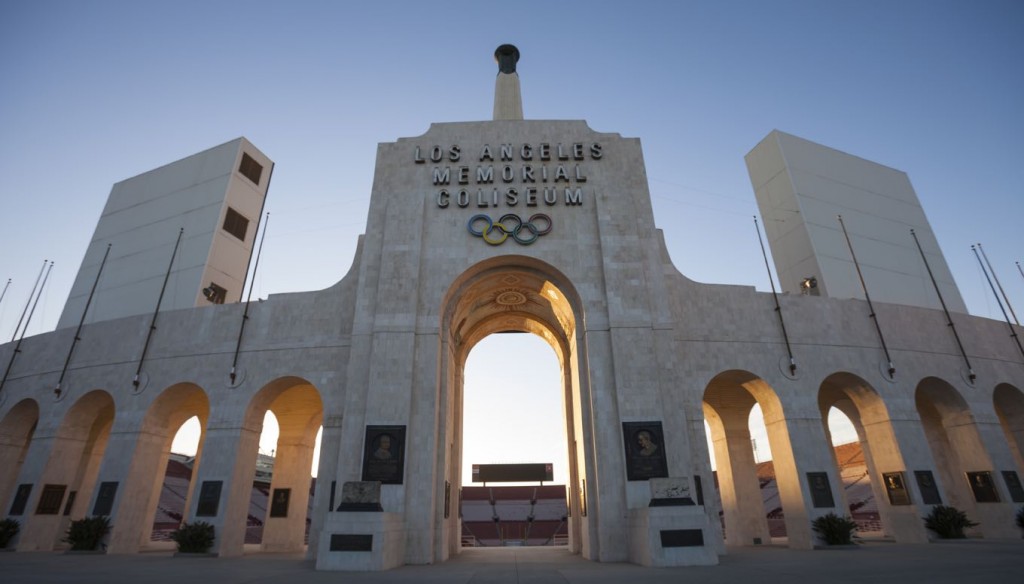 Do your friends and family lovingly refer to you as a diehard sports fan? Do you find yourself daydreaming about the smell of hotdogs, the taste of soda pop, and the deafening boom of a cheering crowd? Then drop what you're doing and check out these 10 stadium tours that will not only satisfy your craving, but will also enrich your sense of history and wonder for the sports that you hold oh so dearly.
1. Los Angeles Coliseum Historic Tours
Originally built as a WWI Memorial in 1921, and now the largest venue in college football's Pac-12, the L.A. Coliseum is a massive, yet beautiful structure that welcomes the USC Trojans every fall. The size and the allure is so compelling that it has even brought attention from the The Special Olympic World Games, who had a beautiful and inspiring Opening Ceremony featuring lively performances by Stevie Wonder, J Balvin and Becky G along with inspiring speeches from football player Jamaal Charles and the First Lady Michelle Obama.
Many historic L.A. moments have happened at the @lacoliseum. Plan a visit the #WorldsGreatestStadium for a tour: http://t.co/H3Qv0QceBc

— discoverLA (@discoverLA) April 29, 2015
Having opened in 1966, the Angels Stadium in Anaheim, CA is the fourth oldest MLB stadium in the country, witnessing countless historical baseball moments and even once provided a home to the NFL's L.A. Rams before they relocated to St. Louis. The Big A as it is lovingly called is rife with enough nostalgia to please any sports fan.
Stadium tour with @Angels Science of Baseball educators from Anaheim, Irvine, Orange, Santa Ana, and Tustin. #STEM pic.twitter.com/jJQzW6f23y

— Ricardo Valerdi (@sciencebaseball) August 30, 2014
3. University of Phoenix Stadium Tour
It's pretty cool when a stadium can have moving parts that offer numerous ways of experiencing sports and concerts. The University of Phoenix Stadium is the first to incorporate a retractable natural grass playing field, allowing it to even move outside the stadium when the weather proves to be worthy. Whoa!
Private tour: University of Phoenix Stadium earlier this week. #Superbowl2015 #SuperBowl #behindthescenes #SB49 #NFL pic.twitter.com/ubqF6J4zNW

— Food Hunter (@foodhunterguide) February 2, 2015
4. New York Yankees Stadium Tour
Whether it's the MLB or the MLS that attracts you each season, the beautiful—and quite new—Yankee Stadium claims the rich and lengthy sports history that has become a major cultural heartbeat for New York City.
#NYCTour2015 New York Yankees stadium tour followed shortly by our boat tour of Manhattan pic.twitter.com/Nmy6zEPb3P

— The Eastwood Academy (@EastwoodAcademy) April 8, 2015
Built in 2010, the MetLife Stadium acts as the home turf for two NFL teams, and the only stadium to be such, in New Jersey, becoming a mecca for Giants and Jets fanatics to come together and worship the glory that has taken place within its holy walls.
Just getting a VIP tour of MetLife stadium ? pic.twitter.com/jgMMLOcwAG

— Hannah (@HannahOrloff) July 29, 2014
6. Safeco Field Stadium Tour – Mariners
Not only does the Safeco Field boast a retractable roof—a necessary feature for the notoriously unpredictable Seattle weather—but it has also become outfitted with ultra modern technologies that allow fans to access features of the game via their Nintendo DS devices. Cool!
RT @TheFoot163: @Mariners Took a tour today of SafeCo Field, what an AMAZING stadium you have! Coming back in 2015! pic.twitter.com/PlHuxx6rKa

— Patchin Lukens Osso (@700espn) October 29, 2014
7. Minute Maid Park Stadium Tour – Houston Astros
Texas lays claim to some of the most ardent sport fans the country has to offer, and the Minute Maid Park gets to house thousands of them during Astros season. The stadium echoes much of the history of not only the sport, but the city itself, incorporating the memory of the Union Train Station that the site is built next to.
At Minute Maid Park in Houston on our baseball stadium tour. pic.twitter.com/plqQbSDaXK

— brentolsonawski (@sociobrent) June 4, 2015
8. Turner Field Stadium Tour – Atlanta Braves
Atlanta's Turner Field has gone through many stages of evolution; first it was the main stage for the '96 Olympics; then it became the home of the much-adored Braves; and now, it is soon to be (controversially) abandoned for a stadium in the suburbs. But don't worry, this is a stadium who will never lose its rich athletic history.
Home to one of the most profitable sports teams in the world, the Dallas Cowboys, this stadium located in Arlington Texas has witnessed some of football's most intense moments. The AT&T Stadium Tour is a perfect way to revisit all those nail-bitingly glorious games that have grown to define the stadium's presence.
Took a tour of AT&T stadium ??? pic.twitter.com/7mbhz3zggI

— Snider (@OhSnap_ItsVana) July 18, 2015
10. Lincoln Financial Field – Philadelphia Eagles
The Lincoln Financial Field located in South Philly houses a notoriously rowdy crowd when the Philadelphia Eagles are back in season. And now fans can get even more rowdy with excitement, because the stadium is currently undergoing renovations that ought to make your football experience even more awesome.
Philadelphia Trip: Flight ✔️ Hotel ✔️ Eagles Ticket ✔️ Stadium Tour Ticket ✔️ I love my life ??? ✔️ Fly Eagles Fly ✔️ @Eagles @Eagles_fans10

— Tara Leigh (@TaraOrser) July 24, 2015
Tags
You Might Like
Hallowed halls of history and new era majesty surrounding the Nation's Capital.
The essential spots to take in music entertainment throughout the Valley of the Sun.
A handful of H-Town's finest destinations for live entertainment.