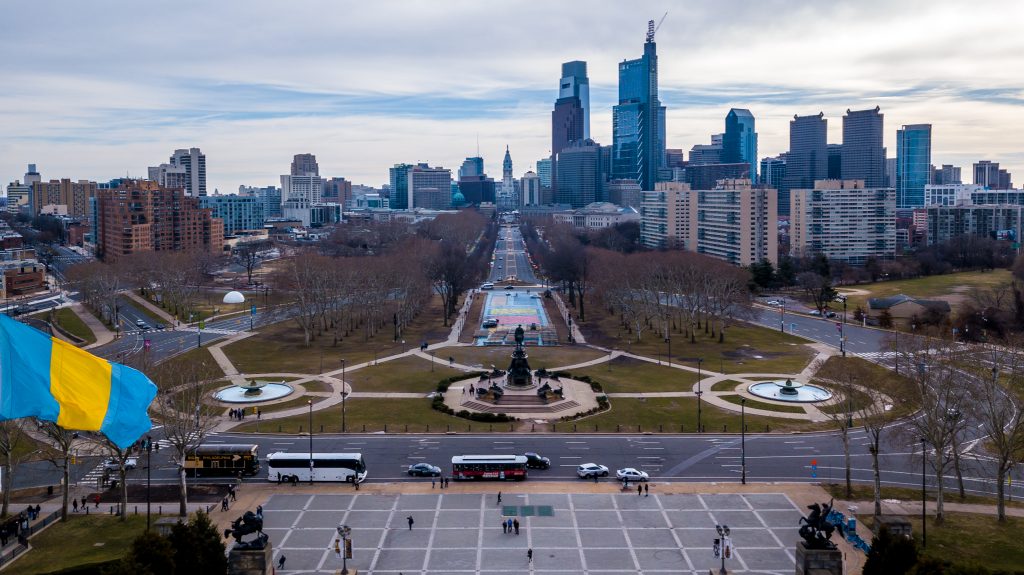 If you're heading out to an event in the City of Brotherly Love, you'll be delighted by all the options for eating and drinking before or after your event. Or even both. Below we've listed all the major venues in the city and the nearby restaurants and bars that you absolutely need to check out.
Best Bars and Restaurants Near Lincoln Financial Field, Wells Fargo Center and Citizens Bank Park
Located at the edge of Broad Street, the Sports Complex with Lincoln Financial Field, Wells Fargo Center and Citizens Bank Park has a number of hangout options nearby.
Chickie's & Pete's (1526 Packer Ave. or 3601 Broad St.) started in the Northeast four-plus decades ago and became a Philadelphia institution, as famous for its crab fries (crinkle cuts topped with Old Bay seasoning) as it is for its institutional love of the Eagles.
Tony Luke's (39 E. Oregon Ave.) is another Philadelphia mainstay that's beloved for its roast pork sandwiches and old-school atmosphere.
The Xfinity Live! (1100 Pattison Ave.) complex adjacent to the sports arenas is full of dining options, including the homegrown brewery Victory's craft-beer extravaganza Victory Beer Hall, the swanky Mexican-Asian watering hole 1100 Social and an outpost of Cheesesteak Corner mainstay Geno's Steaks. (And there's the Chickie's & Pete's.)
Best Bars and Restaurants Near BB&T Pavilion 
Food and drink options await you on both sides of the Delaware River nearby BB&T Pavilion. 
The Victor's Pub (1 Market St., Camden, NJ) is a family-owned joint that offers burgers and sandwiches alongside Italian-influenced specialties like pazotti balls and mussels fra diavolo.
Market Street Pizzeria (1 Market St., Camden, NJ) serves up delicious brick-oven pizzas and Mexican standbys — quesadillas, tacos and burritos.
If you're coming to the pavilion via the RiverLink Ferry, you'll be right near Old City, which is full of colonial charm. City Tavern (138 S. 2nd St.) serves up classic American fare in a structure built in 1773, Ariana Restaurant (134 Chestnut St.) is a BYOB eatery specializing in Afghani food, Han Dynasty (123 Chestnut St.) keeps its Sichuan kitchen open late and The Continental  (138 Market St.) is an Old City stalwart for cocktails and small plates. 
Best Bars and Restaurants Near The Mann
Fairmount Park's concert hall has its own restaurant, or you can venture into nearby Bala and check these eateries out by The Mann.
Crescendo (5201 Parkside Ave.) offers alfresco buffet dining right at The Mann. (You must have concert tickets in order to make a reservation.)
Al-Sham (201 City Line Ave., Merion Station) has a vast Middle Eastern menu and a nearby hookah bar.
Sardi's Pollo A La Brasa (4510 City Ave.) is a great place to satisfy a craving for Peruvian chicken.  
Bala Thai Bistro (126 Bala Ave., Bala) serves up refined Thai food in a BYOB setting, while Pescatore (134 Bala Ave., Bala) — also BYOB — specializes in rustic Italian food. 
Best Bars and Restaurants Near The Met Philadelphia
Located near the junction of Broad Street and Fairmount Street, The Met has a ton of options nearby. 
Bar Hygge (1720 Fairmount Ave.) is as cozy as its name suggests, with an enticing selection of libations and a wide variety of small plates. 
Santucci's Original Square Pizza (655 N. Broad St.) specializes in (you guessed it) square, sauce-topped pizzas that have become a Philadelphia tradition.
Johnnie Bleu (812 N. Broad St.) is a cozy spot for a pre-show cocktail or some wings. 
Best Bars and Restaurants Near The Fillmore Philadelphia presented by Cricket Wireless
Fishtown has made a name for itself as a place for restaurants and bars. These are just a tasty sample of what the area has to offer by The Fillmore.
Barcade (1114 Frankford Ave.) has a ton of old-school console games — like Donkey Kong and Crystal Castles — as well as pinball tables and craft beer. 
Love & Honey Fried Chicken (1100 N. Front St.) serves up Southern-fried goodness like chicken plates and chicken sandwiches alongside deviled eggs, potato salad and scrumptious pies. 
Sancho Pistola's (19 W. Girard Ave.) pairs its Mexican dishes with a vast menu of craft beers and mezcals. 
Best Bars and Restaurants Near Theatre of Living Arts
South Street is still one of Philadelphia's storied strips, and its food and drink offerings offer glimpses of classic Philly style by the Theatre of Living Arts.
Jim's Steaks South Street (400 South St.) may seem tiny, but it's one of the city's cheesesteak palaces. Get one "Whiz wit" (with Cheez Whiz and onions), "Provo witout" (provolone cheese, no onions), or however you like it. 
Lorenzo and Son's Pizza (305 South St.) offers massive slices that are perfect for sopping up any post-show energy. 
Tattooed Mom (530 South St.) is a friendly dive with cheap drinks, cheeky events and the long-running tradition that is Taco Tuesday. 
Best Bars and Restaurants Near Union Transfer
Union Transfer's building doesn't house a Spaghetti Factory anymore, but the surrounding area has a ton of food options to compensate.
Love City Brewing Company (1023 Hamilton St.) hosts a rotating array of food trucks while serving up beer in its tasting room. 
Prohibition Taproom (501 N. 13th St.) has been a bar since the 1800s, and it's the quintessential gastropub with hearty food, great beer and a solid jukebox. 
Standard Tap (901 N. 2nd St.) is great for large groups, and its beer selection and stick-to-your-ribs food offerings define "elevated beer bar." 
Best Bars and Restaurants Near Tower Theater presented by Cricket Wireless
The cuisines available near Tower Theater at the 69th Street Terminal come from all over the globe. 
Leandro's Pizza House (62 S. 69th St.) is a classic Philly slice joint. 
Pupuseria y Restaurant el Cuscatleco (29 Garrett Rd.) offers south-of-the-border specialties from Mexico and Ecuador, as well as other Central American locales — take your pick of chaulafan, fajitas or carne asada.
H Mart (7050 Terminal Square) is a huge Asian grocery store that includes food stalls like the dumpling specialists Mandu Roo, the sushi spot Tomo, and the Korean counter Jian Korean Cuisine.