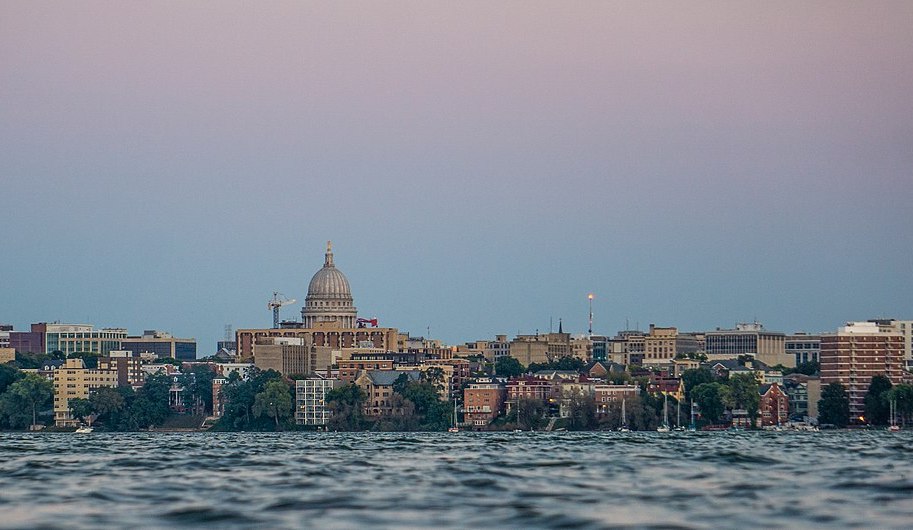 Madison, Wisconsin, is one of the Midwest's great college towns, a hub for sports and culture that caters to entertainment fans of all kinds. Whether you're into checking out tunes at a club or theater, or taking in University of Wisconsin–Madison sporting events, the city also suffers no shortage of delicious bars and restaurants for both pre- and post-show gatherings.
Bars & Restaurants Near Kohl Center
The Kohl Center itself boasts an array of tasty food options, including local favorites such as Wisconsin-style mac & cheese and Babcock ice cream. However, since the 17,000-seat-plus venue is located on the University of Wisconsin–Madison campus, there are plenty of delicious options nearby for pre- and post-game dining. 
Head a block north of the venue to find the Madison outpost of

The Nitty Gritty (223 N. Frances St.)

. While the beloved restaurant's birthday celebrations are legendary — patrons get a free drink in a festive mug and a balloon, among other things — the spot also prides itself on offering a huge menu featuring hearty bar food made with locally sourced ingredients.

Go one more block north and you'll discover a cluster of good eateries, highlighted by another Madison food tradition,

Dotty Dumpling's Dowry (317 N. Frances St.)

. Indulge in their mouthwatering burger menu, ever-rotating menu of craft beers and sweets such as fudge-bottom pie. 

Fans can grab no-frills bar food and drinks at

Vintage Spirits & Grill (529 University Ave.),

which has a weekday happy hour and an extensive beer and cocktail list, and late-night nosh at

Ian's Pizza by the Slice (319 N. Frances St.).
Bars & Restaurants Near The Coliseum at Alliant Energy Center
The Coliseum at Alliant Energy Center offers showgoers plenty of drinks and concessions options, although you'll have to drive a bit to catch a non-arena meal at either one of the nearby area hotels, or at restaurants located north of the venue.
Splurge on a feast at the nearly century-old

Wonder Bar Steakhouse (222 E. Olin Ave.)

, which boasts a throwback menu full of steaks, seafood and old-fashioned cocktails, as well as an impressive wine list with bottles at all price points.

Anyone craving authentic Mexican food should make a pre-event beeline for

Taqueria Guadalajara (1033 S. Park St.)

and its menu full of filling tacos, burritos and tortas.

Asian food fans are also in luck, as there are also several casual spaces to grab a meal, including the Chinese-focused

Jade Garden (1109 S. Park St.)

and

Double 10 Mini Hot Pot (1272 S Park St.)

, and the Japanese restaurant

Ramen Station (1124 S. Park St.).
Bars & Restaurants Near The Sylvee
The Sylvee, a music hall-style venue that opened in 2018, is located downtown on the same street as plenty of bars and eateries.
Located a stone's throw from the venue is

Tangent

(

803 E. Washington Ave.)

, a restaurant helmed by the folks behind the beloved local beer outpost

Vintage Brewing Company. Tangent offers a hearty mix of salads, sandwiches and seafood.

Head about a block away and you'll find the

Bos Meadery Tasting Room (849 E. Washington Ave.),

where you can unwind with the aid of their many house-made libations.

 

Just as close is the

Robinia Courtyard (829 E. Washington Ave.)

which features several eateries in one cozy location, complete with idyllic outdoor seating.

Grab a pre-show drink at

The Black Locust Cafe

, a sleek and airy café serving beer, coffee and kombucha at night, or

MadisonTap,

which proudly serves beer sourced only from the Badger state.

About a block away in the other direction from the Sylvee is another cluster of places to grab a drink and bite to eat, including

The Brink Lounge (701 E. Washington Ave.)

, which boasts a wine- and pizza-heavy menu, and the

Brass Ring Bar & Restaurant (701 E. Washington Ave.),

which serves up casual bar food.
Bars & Restaurants Near Orpheum Theater
The historic Orpheum Theater — a former vaudeville and movie theater that offers snacks such as pizza, popcorn and candy — is located in a bustling downtown area with plenty of dining and drinking options.
Those looking for a decent meal at reasonable prices need only visit

Nick's Restaurant and Lounge (226 State St.)

, a family-owned joint opened in 1959 that specializes in diner food with a heavy Greek influence. For an even quicker bite, there's the nearby carb-lover's heaven

Noodles & Co. (232 State St.)

.

Having a pre-show beer (or a nightcap) at the venerable

Paul's Club (204 State St.)

is an experience, as the low-key, no-frills joint is known for its unusual decor: a live tree.

Cask & Ale (212 State St.)

, a whiskey lounge with more than 300 options and interesting craft beer, is another solid choice for a drink.

Head west on State Street away from the Orpheum, and you'll immediately come across an impressive slate of eateries focused on global cuisines, including the veggie-friendly Nepalese restaurant

Himal Chuli (318 State St.)

, as well as

Taiwan Little Eats (320 State St.)

and

Crandall's Peruvian Bistro (334 State St.)
You Might Like
One more place to catch excellent entertainment on the strip.
The Home of the Blues celebrates music, sports and entertainment of all kinds.
The Sooner State boasts a premier destination for sports, music and a vast array of other entertainment.