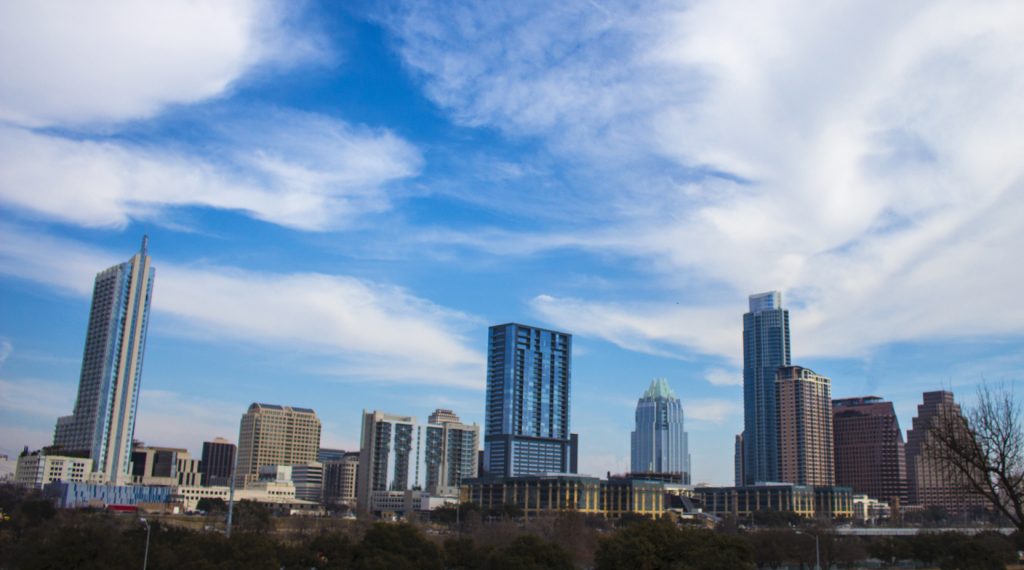 Austin is the Live Music Capital of the World, so it only makes sense that food and drink options would be both plentiful and exceptional any time of day. Below we've rounded up some of the best options near the city's famed venues. Whether you are a local, or just catching a few after-shows during Austin City Limits, there is something perfect for you.
Best Bars & Restaurants Near Austin City Limits Music Festival
Headed to Zilker Park to catch the Austin City Limits Music Festival? We've got some recommendations for a few places to grab food or drink before and after you head into the fest.
Uncle Billy's Brewery & Smokehouse (1530 Barton Springs Rd) serves up slow-smoked meats and sandwiches, and has the perfect beer pairing for anything on the menu. If it's not too hot, be sure to lounge outside on the shaded patio.
Casa De Luz Village (1701 Toomey Rd) is a veggie and vegan-friendly option near Zilker Park, offering colorful picturesque dishes, including hearty salads, fresh soups and more, all changing an a daily basis.
Barton Springs Saloon (424 S Lamar Blvd) is a no-frills bar that was converted from an old gas station. Come for affordable drinks; stay for the jukebox.
Best Bars & Restaurants Near H-E-B Center at Cedar Park
The 8,000-seat H-E-B Center sits in the Austin suburb of Cedar Park, but what the area may lack in bustle, it makes up for in hidden gems tucked into strip malls and shopping centers.
Blue Corn Harvest Bar & Grill (700 E Whitestone Blvd.)

is a favorite stop just south of the arena — their farm-to-table Mexican comfort food includes succulent pulled-pork enchiladas, baja shrimp tacos and a house margarita made with roasted pineapple. 

For something portable,

Ike's Love & Sandwiches (1335 E Whitestone Blvd.)

has a massive menu of unique combinations of meat, cheese and sauce on bread. Anything involving meatballs (veggie or beef) is a must-get, especially on a Dutch crunch roll. 

Meanwhile,

CR Surf & Turf (601 E Whitestone Blvd.)

reels in hungry regulars with a classic crawfish boil, oysters served every which way (raw, fried, baked or grilled), stuffed crab and steaks. For somewhat lighter fare, consider a po-boy or a fry basket.

On the beverage front,

Red Horn Coffee House and Brewing Company (13010 W Parmer Ln.)

has pick-me-ups covered, from your standard array of espresso drinks to an impressive wall of 30-odd taps where you can check out Red Horn's own beer along with other Austin favorites.
Best Bars & Restaurants Near Frank Erwin Center
Considering the Frank Erwin Center's location — on the University of Texas campus next to downtown Austin — there's no shortage of opportunities to find a brag-worthy bite or sip.
A mile away,

Salty Sow (1917 Manor Rd.)

takes gastropub grub to the next

next

level, dishing up duck-fat fries topped with a duck egg, slow-cooked beef shoulder on top of mashed spuds and — for a treat — bananas foster beignets with nutmeg ice cream.

Scholz Garten (1607 San Jacinto Blvd.)

is about as casual as it comes: a real-deal German biergarten that's been serving sausages, schnitzel and suds since 1866. The old-timey interior is lined with steins, and the outside sports picnic tables and a stage.

For a more modern Austin institution, check out

Cheer Up Charlies (900 Red River St.)

, a bright and friendly bar that specializes in juice-forward cocktails (they have homemade kombucha on tap) as much as they do cans of craft beer and Lone Star.

The Lost Lei (117 W 4th St.)

is a tiki operation that serves stiff and sweet rum drinks in colorful custom glassware. The rule for The Zombie is one per customer for good reason — have a sip too many and the plastic skulls that decorate the place might start talking.
Best Bars & Restaurants Near The Mohawk
With two stages and three bars, The Mohawk is an anchor venue in the Red River District, a place where music seems to be playing 24 hours a day, seven days a week, 365 days a year. 
Koriente (621 E 7th St)

serves up bubble tea and beautifully bright, photo-worthy bowls day and night. The ingredients are always fresh: veggies, mushrooms, rice or glass noodles, and proteins ranging from spicy chicken to sashimi-grade fish. 

One of several reliable food stands or trucks in the area,

Arlo's (900 Red River St.)

made its name by whipping up vegan burgers that rival the real thing. Their bac'n cheeze burger (available in "double") is a hit, especially with a heaping side of tots.

The Mohawk pours drinks of its own, but if you want to spread out your sips,

Bar 508 Mezcalerita (508 E 8th St.)

is a worthy stopover. They specialize in cocktails using tequila's smokey cousin, mezcal; let the bartenders talk you through a tasting if you're new to the beverage.

But sometimes you just want a good old dive bar with cheap shots, pitchers, pool and a patio.

Mugshots (407 E 7th St.)

offers all that, and is as notable for what it doesn't have: hype, frills or long lines. No visit is complete without a trip to the photo booth.

We'd be remiss not to include some of the best barbecue in the city (and maybe state of Texas). Make sure to get heaping piles of smoked brisket, ribs, pulled pork and plenty of sides at Stubbs Bar-B-Q (801 Red River St) and Franklin's Barbecue (900 E 11th St).
Best Bars & Restaurants Near ACL Live at The Moody Theater
ACL Live is the longest-running music series in U.S. TV history, and The Moody Theater is an appropriately classy home — despite its name, the Warehouse District is actually a bit fancy.
For an original upscale take on a Texas staple, visit

Lamberts Downtown Barbecue (401 W 2nd St.)

, where you'll find an appetizer of crispy wild boar ribs, coffee-rubbed brisket as a main and, on the side, a fancy-fied version of the classic iceberg wedge.

Equally part of Texas' culinary DNA is Mexican food, and

Comedor's (501 Colorado St.)

modern approach is as tasty as it is creative. Get bone-marrow tacos with smoked butter, pork belly over cochinita or a chocolate tamal — essentially a lava cake ball.

For good times and liquid refreshment,

HandleBar (121 E 5th St.)

will do. While the rotating taps, wine selection and craft cocktails are attractive, the biggest draw might be the adult playground on the roof, complete with giant Jenga blocks and a seesaw.

But

The Roosevelt Room (307 W 5th St.) is all about the drink itself. Their extensive cocktail menu is a tour through booze eras, but their originals offer a real experience — the rummy Black Beard, for instance, is served in a clove-smoked treasure chest.

You Might Like
Visiting New York City is a bucket-list destination for any decorated traveler. The vast array of different avenues of culture you can explore is endless: fo...
One more place to catch excellent entertainment on the strip.
The Home of the Blues celebrates music, sports and entertainment of all kinds.