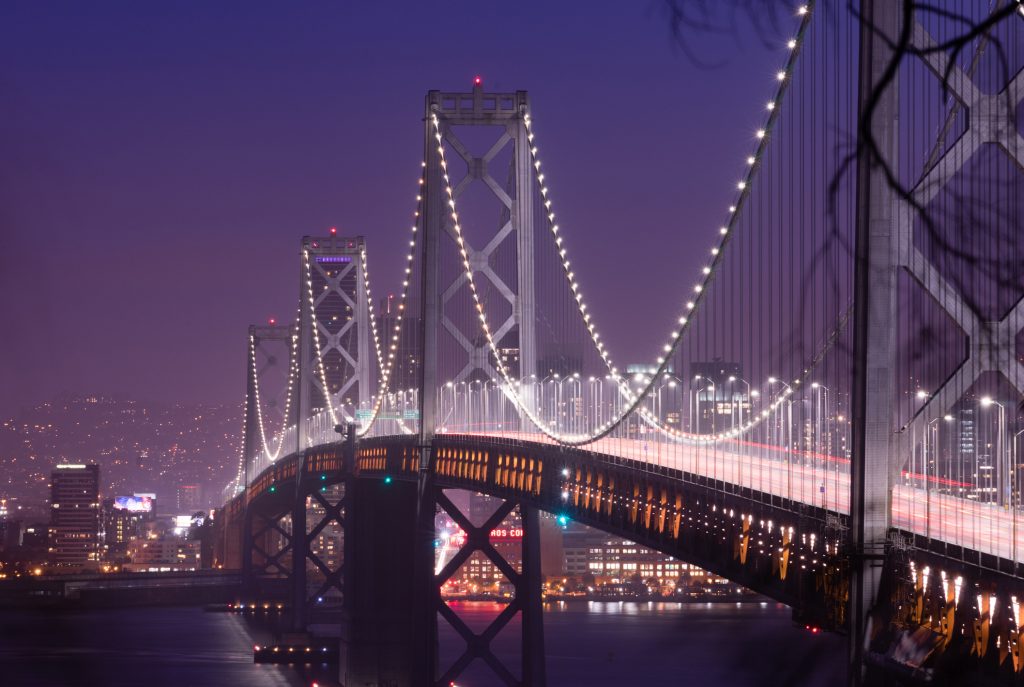 San Francisco is one of the country's great food destinations. California produce — abundant, often organic, always in season — takes center stage, and chefs make the most of the bounty, scrutinizing every ingredient and taking risks with even the most familiar food traditions. Whether you're in search of a quick pre-show (or post-show) bite or a meticulously prepared feast, prepare to be surprised and delighted.
Best Bars and Restaurants Near Shoreline Amphitheatre
Though it's located 35 miles south of the city of San Francisco, Shoreline Amphitheatre's dining options can tickle your taste buds as expertly as its northern neighbor.
 

Hungry for hearty Italian fare? Look no further than

Cucina Venti

(1390 Pear Ave.), which pairs mouth-watering meat dishes with an array of adventurous salads, flatbreads, pasta dishes and local, organic produce.

Adjacent,

The Voya (

1390 Pear Ave Unit B) offers game-changing Latin/Spanish fusion cuisine, with pulled pork and kobe beef sliders, a sumptuous ceviche menu and jicama salad. The ambiance is lovely  — think chandeliers and velour pillows.

A little over two miles from Shoreline, an IBM-engineer-turned-restaurateur runs

Dumpling Garden

(108 N. Rengstorff Ave.), which specializes in handmade (!) dumplings and noodle dishes from his native southern China. Delish.

Think of

Bushido

(156 Castro St.)

izakaya

dining as akin to Japanese tapas: Informal small plates packed with carefully crafted flavors. Dig into bento boxes, savory pancakes, a wonderfully wide selection of nigiri and sashimi and an abundant menu of vegan sushi.

Best Bars and Restaurants Near Bill Graham Civic Auditorium
Food options abound in downtown San Francisco. Here's just a handful of the many delectable restaurants near the Bill Graham. 
Hazel Southern Bar & Kitchen

(1446 Market St.) offers

four

kinds of wings. Need we say more? Yes? Okay: Mac 'n' cheese balls, gator skewers (yes, real gator), and shrimp and grits. Go!

 

Caribbean cuisine remains under the radar in many cities, but

Kaya SF

(1420 Market St) has turned it into an art form, with salt fish fritters, jerk chicken, and oxtail stew sharing the menu with brilliant rum-based cocktails.

For a real off-the-radar treat, try

PLÄJ

(333 Fulton St.), where the Swedish-born chef marries California fare with Scandinavia's elegant, rustic cuisine — think elk, potato dumplings, and herring. You can't lose.

If you're worried about getting to your show on time, San Francisco will never force you to settle for standard fast food. Head to the

Cadillac Bar & Grill

(44 9

th

St.) for fresh-squeezed margaritas (try the mango) and scrumptious Tex-Mex cuisine.
Best Bars and Restaurants Near The Masonic
Though not as busy as other neighborhoods, culinary delights abound on the flanks of tony Nob Hill, near the Masonic.
If you're going to the top of Nob Hill, milk it: Wow your date with panoramic views of the city and a pre-dinner cocktail at the

Top of the Mark

(999 California St.).

Pressed for time? Keep it simple (and close) with

Osso Steakhouse

(1177 California St.), which is famous for its dry-aged beef and fantastic Art Deco ambiance.

Rue Lepic French Restaurant

(900 Pine St.) is the spot for a dreamy, intimate dinner, with white tablecloths, top-notch French cuisine and just 12 tables. Be sure to make a reservation.

A few blocks away, you can dine family-style (or not) at the

Liholiho Yacht Club

(871 Sutter St.), whose path-breaking Hawaii-fornian cuisine swings through China and India.

For a splurge,

Sons & Daughters

(708 Bush St.) offers some of the best farm-to-table dining in the city. Think sturgeon caviar, Dungeness crab, truffles — and stellar wine pairings.
Best Bars and Restaurants Near The Greek Theatre at UC Berkeley
The Greek has excellent food on-site, including Korean chicken sandwiches, falafel, curries and quinoa salad. But if you have time, you may want to sample the fruits of Berkeley's ever-rich foodie scene.
Sip a mezcal cocktail next to

Comal's

(2020 Shattuck Ave.) outdoor fire pit, or sample Oaxacan-inspired dishes like tamales and wood-grilled chicken livers (for real) at a massive wooden communal table.

For a heady taste of Myanmar's storied street cuisine, head to

Tharaphu Burmese Street Food

(2037 Shattuck Ave.). Staples like tea-leaf salad rub shoulders with unusual options like chickpea porridge; it's all splendid and affordable.

Jupiter

(2181 Shattuck Ave.) has the most beloved craft beer garden in Berkeley, with a fire pit, live music and ambiance to burn. And did we mention the wood-fired pizzas?

If you're ready for a world-class food experience (and prices to match), hit the still-groundbreaking

Chez Panisse

(1517 Shattuck Ave.). Alice Waters created a food revolution right here, and if the restaurant prices feel steep, head upstairs to the cafe for a more wallet-friendly taste of heaven.
Best Bars and Restaurants Near The Fox Theater
San Francisco may have the international reputation when it comes to food, but Oakland's food scene has exploded in recent years. You can reap the benefits near Fox Theater.
Oaxacan cuisine is having a moment — okay, maybe a decade — and

Agave Uptown

(2135 Franklin St.) is a big part of the reason. Their mole is miraculous, and unusual offerings like molotes (scrumptious filled corn pastries) and tlayudas (almost like pizzas atop crispy tortillas) will keep you returning.

One of the best pre-show spots is

Classic Cars West Beer Garden

(411 26

th

St.), which successfully somehow combines vintage cars, an art gallery, a vegan restaurant and a beer garden. It shouldn't work, but it really does.

If you haven't scarfed down an order of chicken and waffles, you haven't really

tasted

Oakland. Head to the

Home of Chicken and Waffles

(444 Embarcadero West) before a show to sample this culinary joy that finds the perfect intersection of sweet, salty rand rich.

For an authentic taste of Japan,

Itani Ramen

(1736 Telegraph Ave.) offers delicious ramen, naturally, but also a lot of fun izakaya bites (crispy pig ears, anyone?) and house-made gyoza dumplings.
Best Bars and Restaurants Near August Hall
The food near August Hall runs the gamut, from diners to haute cuisine and everything in between. And you won't have to walk far for any of it.
Ignore the name.

Hogwash

(582 Sutter St.) is a great pre-show destination, with 30 craft beers to swill and tasty sausages to fill your belly.

For something a little more upscale (and spicy), try

Kin Khao

(55 Cyril Magnin St.) in the Park 55 Hotel. Lovely atmosphere, and they make all their Thai curry pastes in-house.

To get a taste of San Francisco's late-night scene, head to the

Pinecrest Diner

(401 Geary St.)

after

the show for American comfort food… and a bit of excellent people-watching.
Best Bars and Restaurants Near The Warfield
The Warfield is situated in downtown San Francisco, where grit and glamour live cheek-by-jowl, and casual dining options abound.
Tú Lan

(8 6

th

St.) is legendary in San Francisco: The cash-only hole-in-the-wall serves up some of the city's best Vietnamese pho and noodle dishes, but beware: Space is tight!

If cramped isn't your style, try

Popsons Burgers

(998 Market St.) for a quick pre-show nosh. Burgers, shakes, fries and, oh yeah, maybe a salad.

Mikkeller Bar

(34 Mason St.) keeps its focus on its wide selection of imported beers, but also serves up delicious sausages, sandwiches, and shareable plates for those not planning on a liquid dinner.

Whatever you do, don't call it pizza!

Montesacro Pinseria SF

(510 Stevenson St.) brings an ancestor of the pizza — the

pinsa

— to San Francisco, and as it turns out, pretty much

any

ancient Roman flatbread is delicious.
Best Bars and Restaurants Near The Fillmore
You don't have to venture far from The Fillmore to find a truly international mix of food options to fuel you.
Fat Angel Food & Libation

(1740 O'Farrell St.) pairs its extensive beer and wine list with a lovely mix of small plates of American comfort food.

Just a few blocks away,

Dosa on Fillmore

(1700 Fillmore St.) will beguile you with craft cocktails and beautifully spiced, groundbreaking Southern Indian cuisine.

If affordable Korean food — heavy on the kimchi and tofu — sounds like the thing, head out to

Arang

(1506 Fillmore St.). Their tofu soups inspire rapture.

Sheba Piano Lounge

(1419 Fillmore St.) is a bit of an institution. They're open late, they host live music every night, and they serve up Ethiopian culinary delights to boot. And you have to love the faux-rock wall meant to resemble Ethiopia's ancient Bet Giorgis church.
Best Bars and Restaurants Near The Great American Music Hall
Enjoy a classy pre-concert dinner before you head to The Great American Music Hall. 
Brenda's French Soul Food

(652 Polk St.) brings a bit of the French Quarter right into San Francisco, with beignets, po' boys, catfish and sweet potato dumplings to fuel a night on the town.

If that doesn't appeal, meat and beer lovers will appreciate

Rusty's Southern

(750 Ellis St.), a casual and delicious barbecue joint with a healthy list of craft beers.

One neighborhood stalwart eatery is

Pakwan

(501 O'Farrell St.), a reliable source of affordable (and delicious) Indian and Pakistani comfort food that's open late.

For Thai food fanatics, there's no better spot than

Lers Ros

(730 Larkin St.). Their menu runs deep with truly authentic Thai dishes,

and

they're open until midnight if you get the post-show munchies.
You Might Like
One more place to catch excellent entertainment on the strip.
The Home of the Blues celebrates music, sports and entertainment of all kinds.
The Sooner State boasts a premier destination for sports, music and a vast array of other entertainment.