The Best Pre-Show and Post-Show Spots in Orlando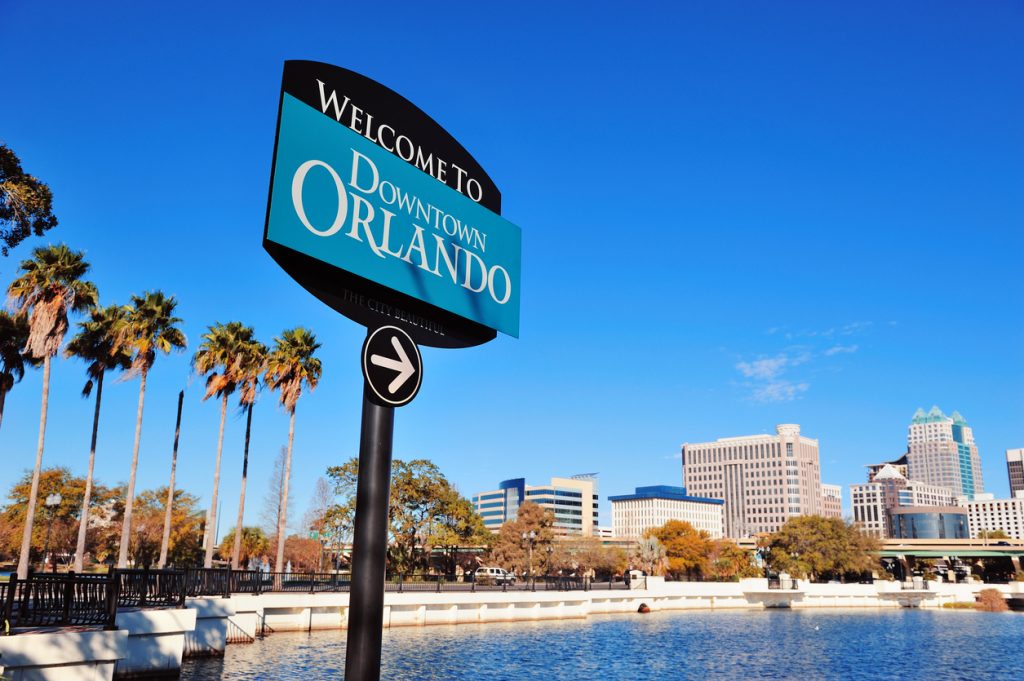 There's such a surprising spectrum of choices surrounding Orlando's key venues. From classic diners and Thai delicacies, to a host of craft beer and thoughtful cocktails, the local fare of this bustling Florida entertainment hub is sure to delight fans of every kind.
Best Bars & Restaurants Near House of Blues Orlando
If you have a thirst to quench on the way to a House of Blues Orlando show, make your way to Wine Bar George (1610 East Buena Vista Dr.)

, created by world-famous sommelier George Miliotes. It's a homey locale, designed to look like the best living rooms and coziest parlors in the world. Not only are there near 200 types of wine at Wine Bar George, but the experts inside will help you pair those vintages with irresistible food, like skirt steak, sea bass, and wine-braised chicken.

Or drop by

Bongos Cuban Cafe (1498 Buena Vista Dr.)

, created by Gloria Estefan and her husband, Emilio. Try their Cuban-style dishes such as stuffed plantain cups, empanadas, or the BBQ guava ribs, a house favorite. Wash it down with an old-fashioned Cuban mojito or a Miami-inspired piña colada to make it a complete meal and drink experience.
Best Bars & Restaurants Near CFE Arena
If you're making your way to CFE Arena for either a basketball game or a concert, you could do far worse than grabbing a burger at the appropriately-named Burger U (Tower 3, 4233 E Plaza Dr)

. Don't just stick to burgers, though; their beer selection is great, and the garlic fries are a favorite.

If you want something a bit more sophisticated,

4 Rivers Smokehouse (11764 University Blvd.) will give you the sit-down experience you're looking for. Get the ribs with a side of mac and cheese, and thank us later.
Best Bars & Restaurants Near Amway Center
Cocktails, cocktails, cocktails. That's the order of the game at

The Courtesy (114 N Orange Ave.), a hidden gem in downtown Orlando, steps away from the Amway Center. Don't just stick to the menu, either; the mixologists at the Courtesy know what they're talking about, and they will hook you up with a custom drink.

If you're hungry, wrap up your pre-game with some Spanish flair at

Ceviche Tapas Bar and Restaurant (125 W Church St.); share a bunch of the delicious Iberian dishes with your party and then head in to root for the Magic.
Best Bars & Restaurants Near The Amp St. Augustine
If you've ventured up the Florida coast to The Amp St. Augustine, stop by Odd Birds (33 Charlotte St.) to wet your beak. The courtyard will let you feel the seaside breeze while you lounge, and they not only have a wide selection of unique beers but also a solid litany of cocktails on the books.

And if you're feeling a little more experimental,

Llama Restaurant (415 Anastasia Blvd.) will transport you to Peru for a delicious meal; try the lomo, a traditional preparation of tender pork loin.
Best Bars & Restaurants Near TIAA Bank Field
Beer is good — craft beer is better. And when you're visiting the Jaguars' home stadium of TIAA Bank Field, there's hardly more fun to be had than tasting some of the best beers in the area. That's the philosophy that drives Hyperion Brewing Company (1740 N Main St Dr.) in Jacksonville.

For food, there's no better choice than

The Bearded Pig (1224 Kings Ave.), one of the best BBQ joints in northern Florida. Go wild, get messy, then head into the stadium for your event.
Best Bars & Restaurants Near Times-Union Center for the Performing Arts
If you're in a rush before hitting up the Times-Union Center, no worries. For pub grub, a beer, and some warm atmosphere, Fionn MacCool's Irish Restaurant and Pub (2 Independent Dr. #176) has you covered. This Irish pub really leans into its country of origin, adopting a more unique atmosphere than your dime-a-dozen Irish bars.

And for a more swanky sit-down feast, head over to

III forks (9822 Tapestry Park Circle), where it's hard to decide whether the dishes from the surf or the turf are more mouth-watering (so go for both!), and the cellar of 1,500 wines will give you more deliciously difficult decisions to make.
Best Bars & Restaurants Near Champion Stadium at ESPN Wide World of Sports
It might not be cheap, but if you're going to take in a ballgame at Champion Stadium, you might as well go all out and visit the Bull & Bear Steakhouse (14200 Bonnet Creek Resort Ln.) at the Waldorf Astoria Orlando. Nothing says sports quite like a delicious hunk of steak, washed down with a well-chosen red wine.

If your mood is a bit more playful, though,

Holler & Dash (6268 W Irlo Bronson Memorial Hwy.) is a fast and delicious alternative: Make sure you try the restaurant's biscuits, which you'll be thinking about days later.
Best Bars & Restaurants Near MIDFLORIDA Credit Union Amphitheatre at the FL State Fairgrounds
On your way to MIDFLORIDA Credit Union Amphitheatre, stop by Danny's All American Diner

(4406 N Falkenburg Rd.) for a traditional diner experience featuring outstanding comfort food. Sit in the back patio area or at one of the picnic tables up front, and take in the Florida sunshine while eating all your favorite dishes.

On the adventurous end of the spectrum, and a bit farther from the amphitheatre, is the

Wat Mongkolratanaram Thai Temple

(5306 Palm River Rd.), one of the most popular and sought-after restaurants in the city. It's a beautiful building hiding even better food inside, like their signature chicken satay.
Best Bars & Restaurants Near Hard Rock Live Orlando
Sometimes, you want to stop being an adult and transport yourself back to the sweet-eating days of your childhood. The

Toothsome Chocolate Emporium & Savory Feast Kitchen (6000 Universal Blvd.) is a child-at-heart's playground. It's at Universal City Walk, walking distance from Hard Rock Live Orlando, and will throw sweet and savory at you in equal proportions, and we wish you luck in not completely overstuffing yourself.

Or stroll a few yards away to

Velvet Bar (5800 Universal Blvd.), which is as soothing to your soul as its name would imply. More of a lounge than a bar, Velvet caters to the relaxed vibes you might be hungering for in the whirlwind that is theme-park Orlando. Sip your drink on the veranda looking over the pool, or take down a grilled cheese or cheese board.
Best Bars & Restaurants Near Camping World Stadium
If you're in the area for a game at Camping World Stadium, be sure to fuel up at The Boheme (325 S Orange Ave.), one of the city's swankiest and most unique lounge-restaurant hybrids. Try their Pacific Rim-influenced cuisine while taking in the scene at the Grand Bohemian Hotel, with the red tint washing over you as you dig in.

If you're looking for a more homey experience for a pre-game drink,

World of Beer (431 E Central Blvd. Ste. B) has you covered. If you have a beer in mind that you want to try, you can bet that this brick-laid bar will have it; it boasts over 500 bottles and 50 rotating taps in house.
You Might Like
Visiting New York City is a bucket-list destination for any decorated traveler. The vast array of different avenues of culture you can explore is endless: fo...
One more place to catch excellent entertainment on the strip.
The Home of the Blues celebrates music, sports and entertainment of all kinds.